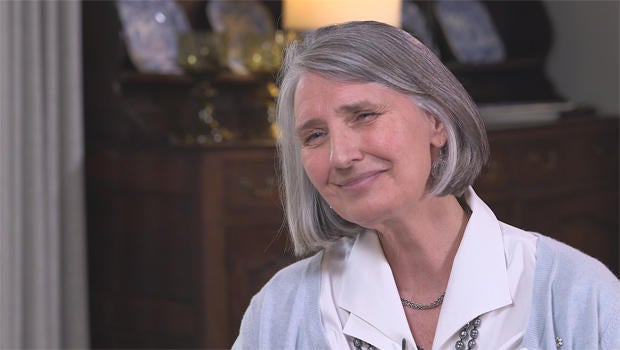 Louise Penny: How writing became her solace
The loyalty of her millions of readers speaks volumes about the appeal of Louise Penny's mystery novels. Martha Teichner traveled to Penny's hometown to see for herself:
There should be a name for fans of Louise Penny's murder mysteries: The L Pack, or the Penny Posse maybe.
To say they come from far and wide in large numbers to attend her book events is no exaggeration. They've come all the way to the Canadian town of Knowlton, in the eastern townships of Quebec, where Penny lives, and her books are set.
"Some of you have come a great distance with me," Penny said to them, "so I'm thrilled to meet each and every one of you."
It's as if her readers want to immerse themselves in the setting of her books, which are as much about the backstories of her murders -- why people kill -- as whodunit. Penny has published 12. They now routinely debut at number 1 on the New York Times bestseller list, or close to it.
Her next, "Glass Houses," comes out next month.
"My books are about many, many things, probably least of all murder," Penny said. "They're about life. They're about choices, and taking responsibility for what you do. But really, I think at their heart, they're about love and friendship."
And food. (Her characters all eat exceptionally well.)
The made-up village of Three Pines (which Penny, tongue-in-cheek, informs readers can't be found on any map, although her publisher has conveniently had one drawn) is meant to be a safe place -- a refuge or sanctuary for people who are lost.
The name has historical significance. Legend has it, during the American Revolution, the trees were a signpost for loyalists to the British crown fleeing north to Canada, to safety. "So what people would do is, they would plant a cluster of three pine trees on their home, when they were at the border, as a signal to these people that they were safe," Penny said. "And that's how I got the name for the village."
Her detective is Chief Inspector Armand Gamache. "If I got lucky enough that the books were published and became a series, I didn't want to grow weary of my main character. So, I decided I would create a man I would marry," Penny said.
But before Penny herself managed to find Three Pines and all its inhabitants, she, too, was lost: "I was drinking more and more and more. The phone never rang. The doorbell never sounded."
She had it made, or so it seemed. From the age of 21, she was a reporter and then an anchor for CBC radio, the Canadian Broadcasting Corporation. But she was also a secret drunk. At 35, she walked into an Alcoholics Anonymous meeting, and changed her life.
"I left that meeting never having to drink again," she told Teichner. "It was unbelievable. The urge to drink, the need to drink disappeared."
Not long afterward, she met and married Dr. Michael Whitehead, a noted pediatric hematologist more than 20 years her senior, who told her that he would support her if she quit her job to write. For five years she tried to write the Great Historical Novel.
But then: "I looked at the bedside table, and very well represented there were crime novels. It was one of those moments where I just thought, Oh, maybe that's what I should write."
That first book was called "Still Life." "Quebec is a character, a very real character in the books," she said. "There is a very keen sense of place."
With each new book, Penny's following has grown, her fans seeking a piece of her fictional and real worlds -- the line between them often blurry.
Readers are convinced Kelly Shanahan's bakery is the bakery in the books. "People come in absolutely expecting that Louise Penny is here somewhere," Shanahan said.
And on this particular day, a Louise Penny sighting does indeed occur.
The local bookstore, Brome Lake Books, has become a stand-in for Myrna's New and Used Bookstore in the novels. "We usually have at least three groups a day coming through, not counting the bus tours and things like that," said owner Danny McAuley. "They're really looking for a connection to Louise. The books have touched them. They've touched them personally; they've been healed by the books."
And Penny has been extraordinarily open about her own life. Each month for her website, she writes what reads like an intimate letter to a close friend. It was there, in 2014, that she disclosed her beloved husband, Michael, had been diagnosed with dementia, and then last fall that he had died.
"So many others have been down this road before Michael and me -- there's comfort in that," Penny said.
When fans show up for book signings, it's not just about the books.
One fan, Marie Josee Pilon, told Teichner, "I love her books, but I love the individual. She's become part of a family."
Louise Penny has never laid eyes on most of these people before, but they are not strangers. After all, she showed them the way to Three Pines, the sanctuary where she has now gone to find herself once more, in her sadness.
"The writing became a harbor, it became a solace," Penny said. "It became a world I could control. Oddly enough, all the decisions I had made 12 years ago, about a place that I would like to live in and people I would choose as friends, turned out to be my saving grace."

For more info:
"Glass Houses" by Louise Penny (Minotaur Books), available on August 29 in Hardcover, eBook, Audio CD and Digital Audio Download formats

Thanks for reading CBS NEWS.
Create your free account or log in
for more features.