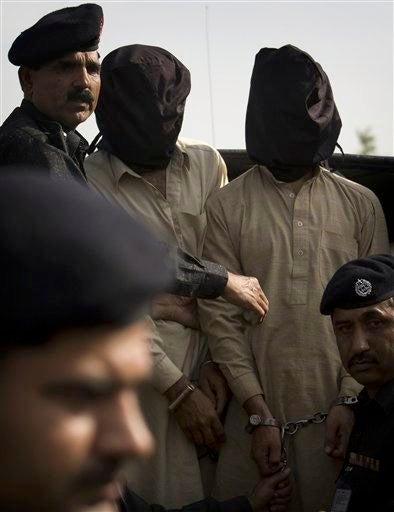 Lottery Scam Targets Elderly
This report was originally aired Sept. 26, 2004.
---
Every year, one out of three adults in the United States gets a call from a con man, and the very best in the business of telemarketing fraud are known in the con game as "the closers."

They are the smooth, persuasive talkers who convince people to send them millions of dollars based on a phone conversation.

Recently, the most talented closers in the business have been working something called the Canadian lottery scam, one of the largest, most successful cons ever.

Authorities believe variations of it have been used to swindle American victims - most of them retirees and widows - out of as much as $5 billion.

This is how it works. You get a call from someone saying you just won a huge amount of money in a Canadian sweepstakes, and the money will be delivered just as soon as the taxes are paid on the winnings.

Sound pretty good? Well, as Correspondent Steve Kroft reports, it sounds even better when you hear it from the closer.

William Foley (not his real name) made his living ripping off the elderly. He told people he was a lawyer, but he's actually a former bouncer at a strip club.

60 Minutes met him in Montreal, Ground Zero for the Canadian lottery scam because of the light sentences handed out for telemarketing fraud in Canada. But Foley had just been arrested and extradited to the United States, where he pleaded guilty to defrauding people in 24 states.

"I was one of the best there was at conning people out of their life savings over a telephone," says Foley, who spoke on condition of anonymity. He claims he has scammed millions of dollars from his victims. "I am currently awaiting sentencing on federal charges for my crimes, and in a nine-month period, they estimate $7 million (U.S.) -- and that's in nine months."

Foley says he's been conning people since 1995. "I always wasn't as good as I was now, but I would have to say, $30-40-50 million, perhaps, I coaxed out of people's pockets."

He did it by playing on the American dream of instant wealth, using kindness and patience to insinuate himself into the lives of elderly and lonely people.

"I developed rapports with my customers. I called them my clients, who were really the victims. I spoke to them every day," says Foley.

"I had to make the person on the other end of the phone feel like they were sitting in my office, but in a much smaller chair on the other side of the desk. And I was the one who controlled their destiny. I was the one who could change their lives for them. I could make them happy."

Like most of Foley's victims, Elva Giddings, 77, lived alone and had control over her own finances. But her biggest weakness was that she liked to enter sweepstakes. She would fill out forms she received in the mail and send them in, not realizing that sponsors compile lists of people who respond and sell them to telemarketers. The con men call them mooch lists.

That's how Foley got her number. When he called with news that she had won a second prize and $240,000 dollars in a big sweepstakes, Giddings wanted to believe her efforts had finally paid off. Kroft played her a tape of that conversation:

"He was smooth, very smooth. Almost too smooth," says Giddings.

Foley said all she had to do to collect the $240,000 dollars was to pay the taxes on her winnings, which came to $10,000. She also had to promise not to tell anyone, even her family and friends, until the sweepstakes sponsor was ready to announce the winners.

Giddings sent him the check, and as soon as it cleared, Foley reloaded the scam, telling Giddings that the first prize winner had been disqualified, and she could claim the $2 million grand prize if she could come up with another $70,000 to cover the additional taxes.

"I thought, I've done this much and I've gone this far," says Giddings. "Suppose he's telling me the truth and I'm looking at enough money to do some things that I'd love to do."

She sent the $70,000. Three days later, Giddings started getting nervous and contacted Foley, who consoled her and told her, "It's well worth it."

So why did they keep sending in the money? "Because they believe that they have a substantial amount of money coming back to them," says Foley. "We told them that because they were over the age of 65, that half of the tax monies that were due to the IRS on the prize winning were going to be subsidized by the company giving them the prize."

How could Foley do this to his elderly victims?

"There is a perverse thrill to being able to do that to somebody. To be able to take somebody's hard-earned money," says Foley. "How does an athlete feel when they win a big event? How does a lawyer feel when they win a case in court? It was the same for us. When that check was sent and we received it, we won."

The victims are told to send their checks to an address in Montreal, which is nothing more than a mail drop. From there, they're picked up by unsuspecting messengers who deliver them to the con men. And then, the con men send them overseas to be cashed.

But the scam artists prefer wire transfers to Western Union, so that the money can be picked up anywhere in Canada, making surveillance by the police all but impossible. The scam is so effective, so pervasive, that even with Western Union's cooperation, Canadian law enforcement estimates that 67 percent of all the money coming into Western Union offices in Ottawa is from fraud.

"[There are] thousands of people who do what I did. Maybe even just in Montreal alone, you may find a couple of thousand people," says Foley.

Texas Attorney Gen. Greg Abbott has made it his top priority because of the large number of victims in his state. "I've never seen a problem as serious as this before," he says. "I've never seen anything where so many people have lost so much."

60 Minutes talked to others who were taken by the Canadian lottery scam – but not by Foley. Martha Ensmigner, 80, lives in Cincinnati. Her family had to take over her finances before she gave away her entire life's savings.

"I was going to get $2 million. He was very, very convincing. And I trusted ... I believed that he would," says Ensmigner. "My son said, 'You were just trusting.'"

Doris Fletcher and her husband, who live in Delaware, borrowed more than $200,000 from finance companies and friends. "We have to pay them back. And we filed bankruptcy. And we were almost to lose our house," says Doris Fletcher. "I went to a hospital in February and stayed in there three months. I had a nervous breakdown."

Dalton Bissett and Willette Miller are both from Texas. Miller was warned by her banker not to send any money, but she did it anyway. "I'm mad now," she says. "And I'll do anything if I could save one person one dollar out of all this scam business."

What she decided to do was to lend her name and face to a statewide public service campaign to warn others about the Canadian lottery scam. It's called "Just Hang Up." But it's not that easy.

Abbott says it's very difficult to convince people that it's a scam: "Even after we provide them a detailed explanation of how it's a scam, they'll turn around and give more money to these scammers."

But the scammers don't rely exclusively on persuasion. If they feel a victim is slipping away, Abbott says, they may try intimidation. He played 60 Minutes a tape of one scammer bullying a female victim on the phone.

"That makes me so mad," says Abbott. "If we get our hands on that guy, we'll bring him to Texas justice."

But that's not so easy either. While Texas and other states have plenty of victims, they don't have any criminals. They all live and operate on the other side of the Canadian border, usually in big cities like Montreal.

And in this cellular age, it's increasingly difficult to catch them. For one thing, they're no longer tied to a fixed location. They use cell phones with stolen numbers and discard them every couple of days. The calls they make are all but impossible to trace.

Foley took Kroft to a local phone store in Montreal to show how quickly and cheaply a con artist could be in business. He was in the store no more than a few minutes. He bought a calling card, a pager, and a cell phone. "That's all you need," says Foley. "For under $100, you're in business."

It's like the cellular version of the boiler room.

"This is the mobile version," says Foley. "It's much safer. It's harder to get caught this way."

The calling cards are prepaid, with a fictitious name, and generate no phone records. The pagers provide an answering service for the toll-free call-back number. And the cell phones are replaced every couple of weeks.

"This is a billion-dollar industry. And so all types of organized crime are getting their hands into this. Because the money is there," says John Riverst, who along with Yves LeBlanc of the Royal Canadian Mounted Police, say organized crime is involved mostly in laundering large cashier checks, through banks in the Middle East.

What do they mean by organized crime? "The bikers, talking about Italian mafia," says LeBlanc. "Israeli organized crime," adds Riverst.

That's quite a coalition. "And the money comes through clean in New York City," says Riverst.

Riverst and LeBlanc ended up catching Foley through good old-fashioned legwork. An informant told them Foley liked to hang out in strip clubs so they began running surveillance there.

Once he'd been identified, they followed him home and discovered the phone number he was using discarded in the garbage. Then they began taping his phone calls, including one with Giddings.

"I hate to listen to that," Foley says, of his conversation with Giddings. "That sickens me."

Kroft then told Foley of another victim, Ed Granton, who needed a hip replacement. Foley had taken all of his money. "That's terrible," says Foley. "When I think about these people, I just don't know how I could have done it."

"You have to forgive me if I'm not 100 percent convinced you're leveling with me," says Kroft.

"I understand. But you know, there's no point for me to be here," says Foley. "I'm still facing my time. This may air while I'm in prison. I'm exposing myself. I'm only wearing sunglasses here to hide who I am."

For Giddings, the second check for $70,000 was nearly all of her life savings, money that she had set aside for her grandchildren's college education. However, LeBlanc says the RCMP were listening to her conversations with Foley.

"We knew she was sending a $70,000 check," says LeBlanc. "We weren't about to let that go by. We stopped the check."

So Giddings' losses were limited to $10,000, but she still won't forgive William Foley, someone she's never even seen. Kroft showed her his photo.

"He looks bad enough," says Giddings. "But I could make him look worse."

"We're going to see him in a couple of days," says Kroft.

"Well, kick him in the shins for me," says Giddings.

Foley's reaction? "I'm surprised that all she wants to do to me is kick me in the shins," he says. "I deserve much worse, much worse."

But the scam is still going on. In fact, some victims are now getting calls from scam artists who claim they can recover all the money for a few thousand dollars in fees.

One even claimed to be working with 60 Minutes. So if you get one of those calls, just hang up.

Thanks for reading CBS NEWS.
Create your free account or log in
for more features.