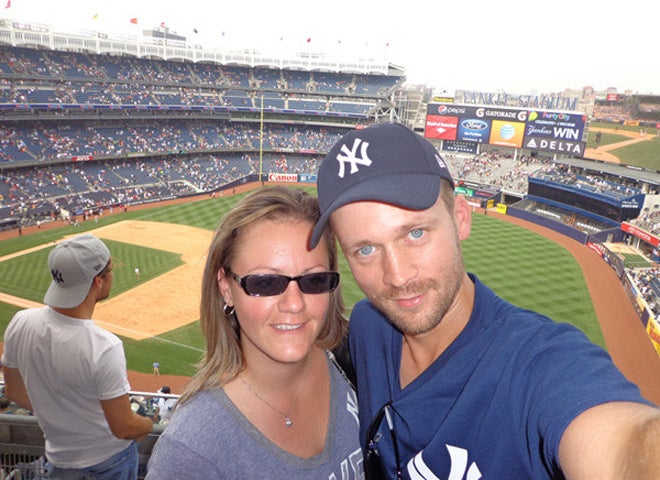 Lost camera? Tips on how to reunite property with owner
NEW YORK On a recent Saturday, as I was getting out of a cab in Manhattan, I saw an object on the seat -- a Sony digital camera. A quick check revealed pictures of its owners: a couple who'd just minutes earlier taken a picture of themselves in the cab.
The cab driver did not remember them, or if they had asked for a receipt (with which they could have tracked down the cab's license and driver), and he didn't seem to want to be bothered with returning lost property.
So I decided to play detective. I had first-hand experience of the Internet being used to reconnect lost property with their owners; in 2011 I located via Facebook a young British woman whose green card I had found on my block, where a thief had discarded her wallet.
The camera had tantalizing clues: Photos of the couple at a N.Y. Yankees game and various tourist sites (they were definitely from out of town), and from the Grand Prix du Canada in Montreal last June.
I posted a picture, with my contact information, on Twitter (with the hashtag #foundcamera), Reddit, Flickr and a couple of Facebook pages devoted to lost or found cameras. I also became more familiar with websites such as camerafound.com, where photos from recovered cameras are posted.
I also filled out an online form on New York City's 311 website for property lost or found in a yellow cab.
A more substantive clue came from one picture on the camera's memory card: an exterior shot taken of a suburban Wyndham Garden hotel. But which? It didn't quite look like the photos of area hotels posted on the Wyndham website. Checking Google Street View, I realized it was a match for the Wyndham Garden at Newark Airport. A call to the front desk and emails to the general manager returned assurances that, if their staff recognized the couple, they would pass on my contact info. But a few days later they confirmed that the owners had not been recognized.
I also contacted Sony's customer service department, and learned that the camera's serial number had not been registered with the company when it was purchased. A "really small percentage" of buyers actually register their cameras, the customer representative told me.
More than two weeks later, there has still been no happy reunion of tourists and camera, but the experience raises issues of what to do to avoid problems should you happen to lose a camera -- and what steps a Good Samaritan can take to return it.
Before you lose your camera:
Embed your contact information on the device. The easiest way is to simply take a picture of your name, email address and phone number. Anyone browsing the memory card will easily see how to get in touch with you. And remember, if you wipe your memory card, retake a photo of your contact info.
Put your name and/or email address on the camera itself.
Set your camera to embed author and contact info within your image files' metadata.
Register your camera purchase with the manufacturer.
The websites stolencamerafinder.com and cameratrace.com allow you to enter your camera's serial number. In the event someone posts a picture with your lost or stolen camera on the web, the site will match the image's Exif metadata with yours.
If you've found a camera whose owner has not followed the previous tips, check out these websites, to post photos extracted from the camera, which may be recognized by the owners or their friends:
Note that while different makes of cameras require different size USB or other connecting cables with which to download photos, the memory card itself is easily removable, and can be inserted into your own camera or card reader, to read the images contained.
And if you know the couple in the picture at the top of this page, alert them! There is a camera that wants them back.
Thanks for reading CBS NEWS.
Create your free account or log in
for more features.