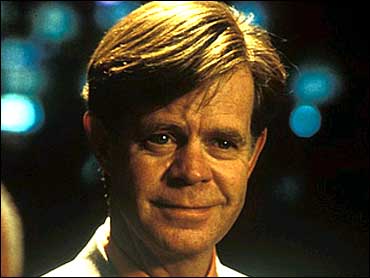 CBS News Correspondent Rita Braver helps Sunday Morning get a peek inside the life of a Hollywood winner -- William H. Macy.
---
When William H. Macy showed off the bowls he's made in his woodworking shop above his Los Angles garage, I couldn't help wondering if he had ever thought that there's a parallel between his work as a craftsman in the theater and a craftsman with wood.

"No," says Macy, after thinking for a moment.

But Macy has established a reputation as a master craftsman -- the consummate character actor on stage and screen. He's "that guy" most recognize instantly.

Whether it's playing a depressed porn director in "Boogie Nights" or a washed-up boy wonder in "Magnolia," there is definitely a recurring theme in Macy's roles.

There is no question that over the long haul of his career, Macy has been attracted to losers, or people who have some odd quirk.

"I think it's a function of, I do it well," explains Macy. "The way I look, you know, it's been quoted all over. But I once said, 'I feel like Tom Cruise, but I look like Howdy Doody.'"

Still, a while back, Macy was thinking about trying to change his image.

"I was looking toward the future, and I'm getting older, and so I said, 'Let's take it easy on the loser roles,'" says Macy. "And then, of course, I read this."

The actor read for the part of his latest film, "The Cooler," in which he plays Bernie Lutz, a hapless Las Vegas casino worker whose luck is so bad he's called upon to cool down tables when gamblers are on a hot streak.

Bernie Lutz is a loser of Biblical proportions. He's such a loser that all he has to do is touch the deck of cards and everyone starts losing.

But Macy seems to have a knack for turning losers into winners. He just won two Emmy awards for a made-for-television film that had been shopped all over Hollywood and rejected before he took on the project.

"Door to Door" is based on the true-life story of Bill Porter, a roving salesman with cerebral palsy.

"I was very skeptical for the longest time, but Bill [says], 'No, no, no, no, we can do it,'" says Steven Schacter, Macy's long-time friend and collaborator, who co-wrote and directed "Door to Door." "He's the nicest guy in the world, and so you bring that into characters and then out comes the beauty of that character, or the goodness. He'll find the goodness in that. And it's very appealing.

Macy's portrayal of Tick Tock McLaughin, the oddball radio sportscaster in the movie "Seabiscuit," becomes the surrogate for all Americans -- turning from skeptic to full-fledged fan.

There is already talk that Macy could get an Oscar nomination for his "Seabiscuit" role.

"I know, but I started that talk," Macy says with a laugh. "I'm the one who started that rumor."

But he is no overnight success. William H. Macy (the "H" stands for Hall) has paid plenty of dues.

He started acting in high school in Cumberland, Md., where he performed a slightly off-color song in a talent show.

"It was about illegitimate children," remembers Macy. "The teachers looking at each other going, 'Who OK'd this song?' Well, it brought the house down. And I went from this frightened fellow in high school to B.M.O.C."

The newly crowned "Big Man on Campus" decided to scrap his plans to become a veterinarian and study acting instead. Then Macy met David Mamet at Goddard College. Mamet, Macy says, changed the actor's life. Then a young, unknown playwright, Mamet was Macy's acting teacher.

"David just laid down the law about treating theater as a church -- being on time, being prepared," says Macy.

They went on to co-found theater companies in Chicago and New York. It was Mamet who gave Macy his professional start in the first run of a play called "American Buffalo," and many roles after that.

Macy went on to work in Mamet films. He was the professor under fire in "Oleanna." Soon Macy branched out into other movies, playing scores of minor roles, such as Tunafish Father in "Searching for Bobby Fischer."

The actor eventually earned a recurring role on the television series "ER."

And then came "Fargo," which made him a movie star.

Macy says he got the part by doing what every other actor does – he
auditioned for it.

It took two auditions before Macy could convince directors Joel and Ethan Coen that he was right for the role of Jerry Lundegaard, the beleaguered used-car salesman who arranges his wife's kidnapping.

"I walked in, they said, 'Oh, hi Bill.' I said, 'I want to audition again.' So, I auditioned again. They said, "That's real good." And I said, 'Listen, guys, this is my role. I'll shoot your dog if you give this to somebody else,'" Macy recalls with a laugh.

He got the part, an Academy Award nomination and a new level of respect in Hollywood, as he learned when he went to meet with director Paul Thomas Anderson about the role of a porn filmmaker in "Boogie Nights."

"We met at the Formosa Café, and I couldn't get a word in edgewise," says Macy. "I mean, Paul just off to the races, talking about the movie. And, as I was watching him, I thought, 'Oh my God, he's auditioning. I don't have to audition. I got the role. He's selling himself.' And I thought, 'I've arrived. This is it. Thank you, God. Thank you so much.'"

Today, Macy doesn't have to audition for roles.

"It's the best thing that ever happened to me," he says. "Other than Sophia and Georgia and Felicity."

Macy, who's 53, has two daughters (Sophia and Georgia) and he's been married to actress Felicity Huffman since 1997. But it was a 20-year courtship.

The actor, who had worked so hard on his career, admits to having been a bad boyfriend, although having love was still high on his agenda.

When Huffman met Macy, she thought "he had great legs ... my husband has great legs. And then I thought he was out of my league."

"I was actually her teacher at one point," says Macy. "And I was smitten. And I've been in love with her for a long time."

The two like nothing more than mixing business with pleasure -– working in projects together.

"We've done a couple of these, where he's my love interest and actually, my heart goes pitty-pat when it comes time for the kiss," says Huffman. "So, I think it works."

But now, it's Macy's role in "The Cooler" that's drawing attention. This time, Macy's geek actually gets the girl, who is played by Maria Bello.

And, in the movie, Macy has a sex scene.

Did he have any reservations about doing it?

"Oh my God, yes. I'm 53 years old," he says. "I've got a pair of shoes that are older than Maria Bello. And to take my clothes off in front of six Teamsters ... Hello?"

After more than 60 plays and 72 films, William H. Macy is moving to center stage.

"I am the luckiest palooka, and I know it," he says. "And I married well."

He's having the time of his life, too.
Thanks for reading CBS NEWS.
Create your free account or log in
for more features.