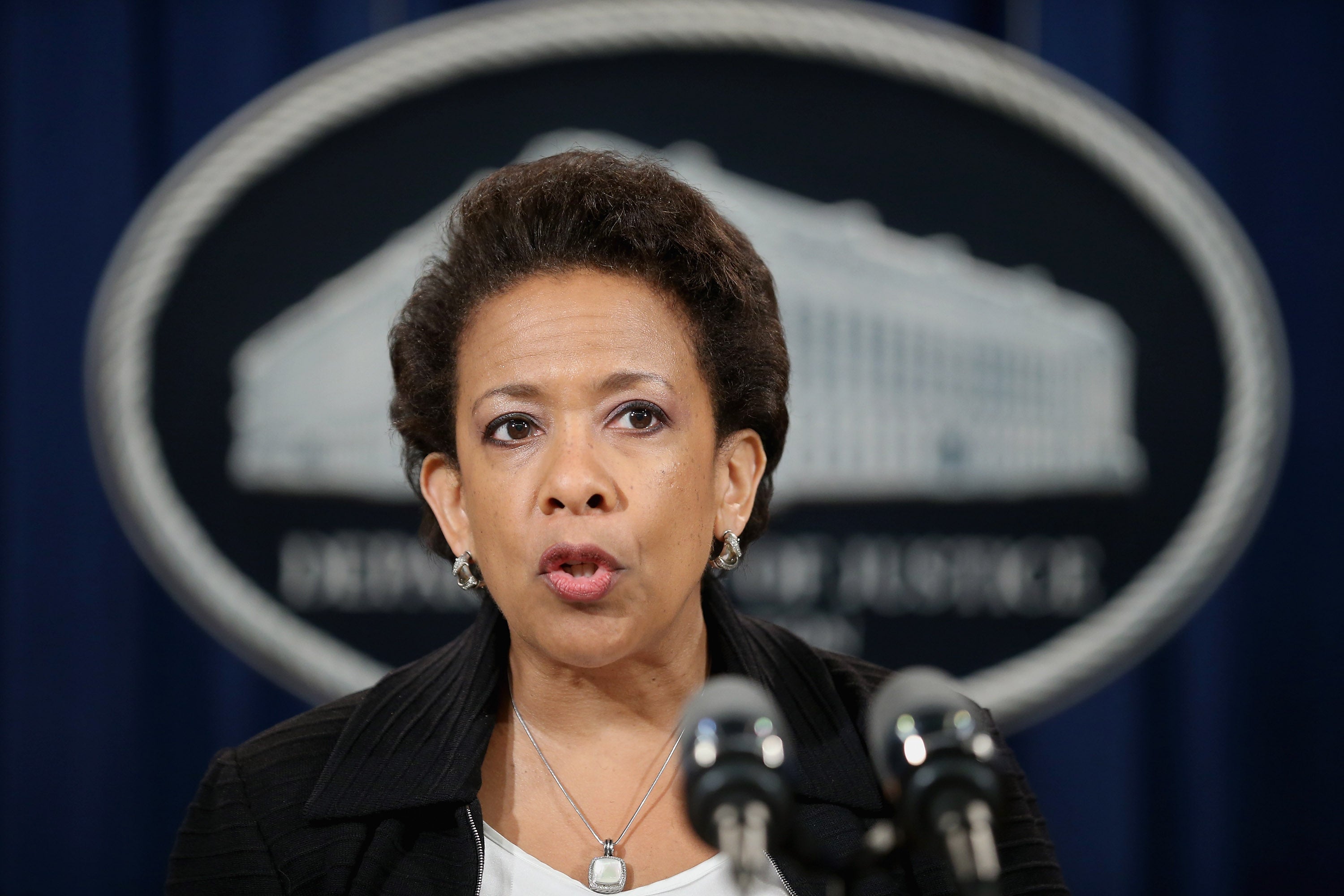 Loretta Lynch: U.S. "less safe" if surveillance programs expire
Attorney General Loretta Lynch warned in an interview Thursday with CBS News that the U.S. will be "less safe" if Congress fails to reauthorize the National Security Agency's telephone data collection program and other surveillance tools that are set to expire on June 1.
"My biggest fear ... is that we will lose important eyes on people who have made it clear ... that their mission is to harm American people here and abroad," Lynch told "CBS This Morning" co-host Norah O'Donnell in the interview, which will air in full on Friday. It was Lynch's first interview since she assumed leadership of the Justice Department at the end of last month.
"I think that we run the risk ... of essentially being less safe," Lynch added. "I think that we lose important tools. I think that we lose the ability to intercept these communications, which have proven very important in cases that we have built in the past. I am very concerned that the American people will be unprotected if this law expires. I'm hopeful, however, that Congress, who I know is working on this issue, will come to a resolution."
The government previously relied on several provisions in the Patriot Act to justify its expansive surveillance programs, but those provisions expire at the end of this month. Moreover, a federal judge ruled earlier this month that the law does not license the kinds of data-gathering practiced by the government. The court put the onus on Congress to pass a new justification, and intelligence officials have warned of dangerous consequences if the programs evaporate before lawmakers reach an agreement.
The House passed a bill last week that would end the controversial telephone data program, which allows the government to collect some limited information about millions of telephone calls in the U.S., including the source number, the destination number, and the duration of the call.
Senate Majority Leader Mitch McConnell, R-Kentucky, has expressed his desire for a clean extension of the Patriot Act, and the Senate will hold a vote on that measure on Saturday. Under pressure from surveillance foes, though, McConnell has also agreed to allow a vote on the House bill the same day.
During the interview with O'Donnell, Lynch also discussed the recent protests in Baltimore - and similar protests that have erupted across the country in recent months - after a young black man died in police custody. Six officers have been indicted in connection with the incident.
Lynch, the first black woman to hold the Attorney General's post, said the issues raised by the case are nothing new for Baltimore. And the people of the city, she added, weren't waiting for her to speak on the matter before making their own voices heard.
"People in Baltimore have been dealing with those issues for years. So I really didn't feel it was any imposition on me to be able to give them the focus and the attention that they needed," she explained. "People are very invested in this. So I felt that, for me, being able to go on my first day was great. But these are issues that the community in Baltimore's been grappling with for years.
O'Donnell asked Lynch about similar incidents in New York City, Ferguson, Missouri, and elsewhere that have sown tension between police and minority communities, leading to heated protests. The attorney general said it's difficult to know whether there are more such incidents happening recently, "or whether there...is more attention being paid to these incidents."
"I think what you have seen in some cities and the resulting publicity, has highlighted instances of tension and frustration and negative relationships that have gone on for a while," she said.
O'Donnell also asked Lynch whether the episodes speak to racism on the part of individuals, or a broader institutional racism in the criminal justice system.
"You know, I think that when you look at America and for all of its glory and all of the wonderful things that it achieved, it's clear that we still have issues involving race in this country," the attorney general replied. "And it's clear that race permeates a number of areas. And some would say all areas of public life. I think when you talk about police and community issues though, race is a part of it. But it's not the whole story."
You can see the full interview with the attorney general on Friday "CBS This Morning," which starts at 7 a.m. EST.
Thanks for reading CBS NEWS.
Create your free account or log in
for more features.