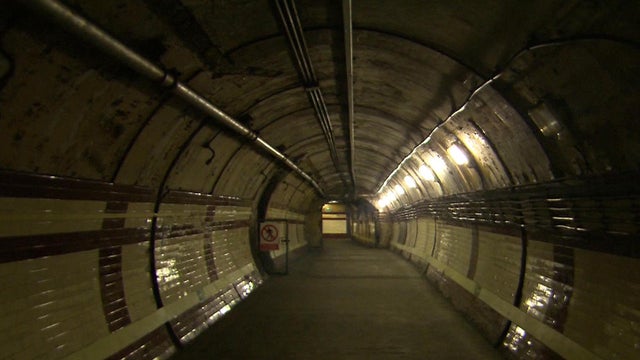 London's "ghost stations" get modern facelift
The London Underground is a British icon, but four stories below the city's bustling streets, is a subterranean world most riders have never seen. Now, a design firm plans to lure cyclists and pedestrians to the forgotten tunnels, reports CBS News' Jonathan Vigliotti.
Graeme Craig is the commercial director for London's transportation agency and the gatekeeper of the Underground's network of "ghost stations."
One of the last people in the Down Street station before it closed in 1932 was Prime Minister Winston Churchill. During World War II he used it as a shelter and even built a temporary war room.
"There's something romantic and special, I think," Craig said.
Londoners took cover across the network as bombs exploded overhead during The Blitz.
Thousands camped out on platforms and on the tracks. Even treasures from the British Museum were kept safe underground.
At Down St., Churchill had his own bedroom and bathtub and held government meetings there.
"It's a space that played a critical role in the winning of the second World War. And for most people in London, you wouldn't even know as you walked past that any of this was here," Craig said.
Forty stations have been sealed off, mainly because of low ridership, used only for maintenance or security operation drills.
But London's forgotten subway is opening up again for business in an effort to generate $5 billion by leasing out the damp, dusty and historic space.
Up until now Hollywood was the only industry granted limited access.
James Bond's most recent mission "Skyfall" took him through disused sections of track at one of London's busiest stations.
Now, Ian Mulcahey wants in. His design firm, Gensler, is proposing a multi-million dollar zig-zagging pathway for cyclists and pedestrians.
He said the project is close to reality.
"The idea is to keep the fabric of the tunnel much as they are so we're not intending to rip out the guts of these and totally modify them," Mulcahey said.
It's not the first time a city has turned to the tracks to lure in visitors.
New York City's High Line attracts millions of people every year and the Metropolitan Transportation Authority has considered transforming one of its underground stations into a park.
But the London Underground's facelift is by far the biggest of its kind and the network has already begun experimenting with some of its hidden spaces.
A recent pop-up movie theater in Charing Cross was packed. Noise-canceling headphones blocked out the rumbling of a train running on an active line nearby.
What's the goal behind the project?
"To find some way in which we can bring this space back into use the way that celebrates its location, it's history," Craig said.
Trains may never run again through these stations when they're expected to re-open to the public in two years, but visitors may be transported to another world.
Thanks for reading CBS NEWS.
Create your free account or log in
for more features.