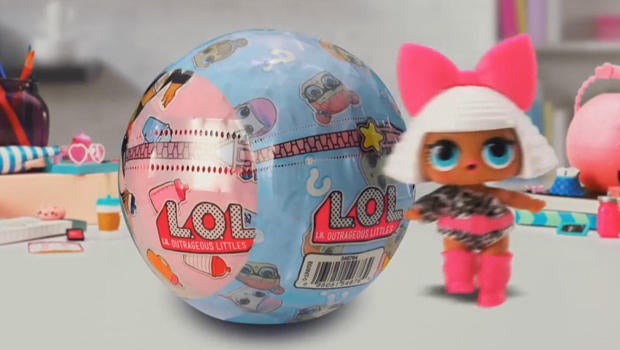 Toymaker opens up about the season's hot new toy
It's called L.O.L. Surprise, and it's THE toy story of the season. Much in demand, it's a little complicated to explain why. So we're leaving that to John Blackstone, who reports our Cover Story:
As the surprise hit of this holiday season, L.O.L. Surprise has its own surprising backstory.
It begins in Van Nuys, California, at the headquarters of toymaker MGA Entertainment, behind a secure door.
In their top-secret toy lab, designers and artists began work more than a year ago on a collection of little plastic dolls with big eyes and tiny accessories.
And it's where MGA's founder and CEO, Isaac Larian, is taking delight in the toy they created -- a toy that requires a lot of unwrapping.
Born in Iran, Larian moved to the U.S. and built a billion-dollar toy empire. His latest hit began one night when he had trouble sleeping. "I have insomnia," he laughed. "So I wake up in the middle of the night and watch YouTube now more than ever."
What he saw on YouTube were thousands of videos of children taking new toys out of their boxes. Several of these so-called "unboxing" videos had been viewed millions of times.
Larian's idea that night: a new toy specifically designed to record yourself while unboxing -- the perfect accessory for today's smartphone- and tablet-savvy children.
"I said, 'Well, we gotta do a toy that's a true unboxing, so every kid can unbox it," Larian said. "Nobody has done a toy where you don't see what's inside."
Since first going on sale last December, MGA has sold 25 million L.O.L. Surprise dolls. It is on track to be the bestselling toy of the year. It's out of stock at many retailers, so online scalpers are selling them for thousands of dollars.
Every holiday season seems to bring with it a must-have holiday toy. "It's just the rarest opportunity to have the hot toy," said Kit Yarrow, a consumer psychologist.
Blackstone asked, "What are toy company executives going through, as the holiday season approaches?"
"Fear," Yarrow laughed.
"Hope and fear?"
"Yeah, hope and fear, right. Exactly. You you can plan, you can tap into psychology, and still there's going to be that element of serendipity and luck that makes your toy the hot toy."
Blackstone asked, "Do companies play a role in this? Or in fact is it all organic? Or is there something going on behind the scenes that the companies are doing?"
"Well, most of the time, companies will deny that they're trying to manipulate consumers, but in fact, I think that companies really do try to tap into the psychology of what consumers want, and give it to them."
A few years ago, every kid had to have the Zsu Zsu Hamster. And who could forget Furby, or Tickle Me Elmo?
But the standard by which all hot toys are judged is this: Cabbage Patch Kids, the toy that created a frenzy during Christmas shopping in 1983.
"It's a doll with a plastic face, yarn hair -- like, what were we thinking?" said Jody di Franco, who was 11 back then. She was in tears, in a 1983 CBS News report, when she and her mother were caught up in Cabbage Patch chaos, after a doll was snatched from her by another shopper.
"Is that what Christmas is about?" her mother said. "A full-grown woman taking a doll out of a child's hands?"
Today, di Franco laughed: "I just knew that I wanted to have that doll! Probably just because they were on TV. My friends were gonna get 'em. You know, when you're 11, you want to have what your friends have."
But for toymakers, kick-starting a craze has come a long way since the days of Cabbage Patch Kids.
Isaac Larian said, "Thirty-seven years ago when I started, you made a TV commercial and you put a toy on TV. And in two weeks, either it became a hit or it didn't sell. No longer; kids are not watching TV."
Ratings for children's television networks Nickelodeon and the Disney Channel are both down more than 50% since 2008 -- while unboxing videos on YouTube have been viewed more than 11 billion times.
So Larian decided to launch L.O.L. Surprise without buying any TV ads: "I said, 'We're not gonna do that. We're not gonna put it on TV. Let's try something new."
To market his new toy, Larian sent it to many of the same kids whose unboxing videos he spent that sleepless night watching.
Like four-year old Everleigh Soutas. Her L.O.L. Surprise video has been viewed more than two million times.

Her parents, Savannah and Cole, their dog Carl, and Everleigh now make their living blogging their everyday lives -- and now, unboxing toys.
"If it wasn't for YouTube I would probably be finishing nursing school," said Savannah.
"Social media, and especially YouTube, is an entirely new medium for advertising," said Cole. "Kids want to watch her open the toy. She has a lot of fun. [And] she gets a toy out of it."
When asked if she likes making her videos, Everleigh replied, "Yeah!"
Blackstone asked MGA's Larian, "Was this a risk to depend basically on social media to make this toy a hit?"
"Absolutely. It was a major, major risk," Larian replied. "'Cause nobody's done it before. And everybody said, 'My God, this is gonna fail and this is not gonna work.'
"We risked it, and the risk paid off."

For more info:
Thanks for reading CBS NEWS.
Create your free account or log in
for more features.