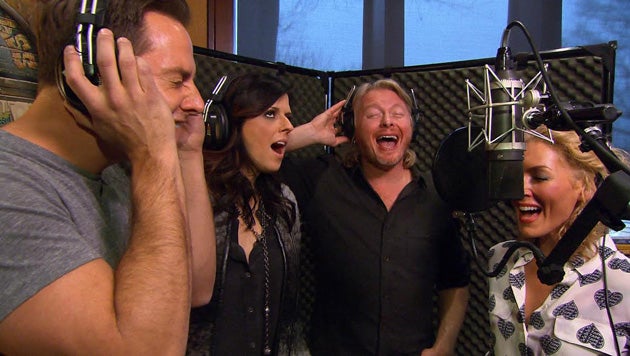 ​Little Big Town: A walking, breathing, living country song
"Girl Crush" is currently a very big hit for the country music group Little Big Town. With Anthony Mason now we TAKE NOTE:
In Nashville, the four members of Little Big Town are known for their tight harmonies and their country hits. But their latest song, "Girl Crush," took them into new territory:
"A meditation on jealousy," which The New York Times called "one of the most devastating country songs in recent memory," "Girl Crush" has climbed to #1 on the country charts -- and crossed over into the Top 10 on the #iTunes pop chart.
"It's incredible," said Jimi Westbrook.
"You guys have been doing this since 1998," said Mason. "To have your biggest hit now?"
"We're late bloomers," laughed Kimberly Schlapman.
For Schlapman, Westbrook, Philip Sweet and Karen Fairchild, it's been a long, hard road:
"We've had the other side, and so we are now so grateful for this success," said Schlapman.
It all started in Birmingham, Alabama, when Schlapman and Fairchild connected at Samford University. They met on the choir bus going to choir camp.
In Nashville, they recruited Sweet and Westbrook to join them -- and their amazing harmonies quickly got them a record deal.
But the label tried to package Little Big Town into a slick country product: "We looked like the cast of 'The Young & the Restless,'" said Schlapman.
"Not that there's anything wrong with that!" said Fairchild.
"No, we like 'The Young & the Restless!'"
And their debut album in 2002 was scorched by critics, including a particularly brutal review in the Tennessean newspaper. "Something about eating away the enamel of your brain," said Westbrook. "And I didn't even know your brain had enamel!"
But that wasn't the worst of it. In late 2004, their label dropped them. Broke, the band had to give up their tour bus and go back to their day jobs. Sweet, who'd previously been a radio DJ, went back to being a telemarketer, pitching free ballroom dance lessons.
Westbrook started parking cars at a Nashville restaurant. "I would work lunches here," he showed Mason. "And you get inundated with cars. It's like they start piling up and you gotta go, go, go, run, run, run!"
But it went even further downhill. Over the next year, Sweet and Fairchild got divorced from their spouses. Then Schlapman's husband, Steven Roads, the band's lawyer, died suddenly of a heart attack.
Fairchild remarked, "I didn't know she would sing again after Steve died."
"I didn't want to," said Schlapman.
"There was so much sorrow in her eyes," said Fairchild. "So I didn't think she would really sing. I kind of thought the band was over."
Schlapman asked her friends and bandmates to sing the song "My Armageddon" at the funeral.
Then in the midst of their performance, she suddenly rose to join them: "I remember sitting there going, 'I need to say the words of this song.' I think they were surprised and welcomed me, of course, and then I just literally had probably the most spiritual experience of my life. It was a tiny, tiny bit of healing that started. It was like this spark of the healing."
Their next song, "Boondocks," would be their breakout hit.
Back out on the road, the band arrived at a club gig and found the parking lot full.
"So we thought, 'Man, who's playing tonight?'" recalled Sweet. "'There are lots of people. We opening for somebody big, right?' And they were there to see us. And I remember we didn't have an encore song."
"Nobody's ever asked us to stay and play one more song," said Fairchild.
Sweet recalls driving away from the gig thinking, "Okay, something has changed."
They scored their first country #1 in 2012 with the summer anthem, "Pontoon."
They've now done it again with "Girl Crush," even though the lyrics about one woman's envy of another woman's allure scared some country music stations:
I got a girl crush, hate to admit it, but
I got a heart rush, ain't slowing down
I got it real bad, want everything she has
That smile and the midnight laugh she's giving you now

I wanna taste her lips, yeah, 'cause they taste like you
I wanna drown myself in a bottle of her perfume
I want her long blonde hair, I want her magic touch
Yeah, 'cause maybe then you'd want me just as much
I got a girl crush, I got a girl crush.
Mason asked, "Do you think stations were actually playing it less because of that?"
"Oh, yeah, we know they were," said Fairchild. "They were backing it down in drive times. There were some moms that were complaining about not wanting to hear the 'taste her lips' part as they were going to school, instead of just explaining to their children about jealousy and metaphors."
But when friends like Blake Shelton and Miranda Lambert started wearing "Girl Crush" hats in support, the song took off.
"The controversy was a first for us," said Schlapman. "The crossover was a first for us."
"You'll take the controversy, if it gets you the crossover?" asked Mason.
"I don't want anymore, though!"
They're all married now -- Jimi and Karen to each other. And they've been working on new music in Vince Gill's Studio.
You can knock Little Big Town down, but they just keep getting up.
"The fact that you've endured says something -- what does it say?" asked Mason.
"We take care of each other," said Fairchild. "We've had the greatest lows and the greatest highs together. We didn't know how to sing some of those lyrics. And now we do. We are a walking, breathing, living country song."

For more info:
Thanks for reading CBS NEWS.
Create your free account or log in
for more features.