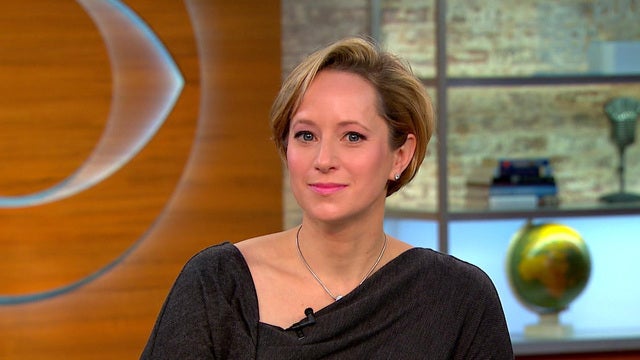 Teen girls' transitions into adulthood "Untangled"
The pressure to be a part of the "popular" crowd is not a new ordeal confronting teens, but the advanced technology may make them especially pronounced for teens today than during the "corded phone" days of their parents.
With their parents' permission, some girls of the Summit Area YMCA swim team and Westover School in Middlebury, Connecticut opened up to "CBS This Morning" about the issues they're facing.
"I feel like a lot of girls feel pressured to look a certain way and act a certain one," said 18-year-old Sara.
"People judge a friendship on how long your Snapchat streak is," said 14-year-old Allie.
"You have to keep posting pictures on Instagram, you have to like all your friends' photos," said 16-year-old Abby. "It kind of becomes like..." "Like a popularity thing," 15-year-old Nicole added.
"We just had bad technology. They have better technology to do what all teenagers want to do," psychologist Lisa Damour said on "CBS This Morning" Tuesday.
But Damous also noted an important distinction between being "popular" and having "power."
"One of the things that we see when we drill down on the research is that often, when a kid says somebody is popular, what they actually mean is that they are powerful - that they make other kids uncomfortable or nervous and so kids want to be their friend so as not to be their target," Damour said.
According to Damour, parents can help by being more understanding and clarifying the notion of popularity.
"If a girl comes home and says so and so is popular, I think it's really helpful to say, 'Is she popular or is she powerful? Do kids like her or are they nervous around her?' And to take popularity off the pedestal a bit because what we see, when we look at the research is that the most happy kids have one or two good friends," Damour explained.
But popularity is just one of so many issues confronting teen girls, as Damour lays out in her new book, "Untangled: Guiding Teenage Girls Through the Seven Transitions into Adulthood." According to Damour, teen girls are under a lot of stress because they "manage so much at once."
"They're trying to manage inside stuff, they're trying to manage outside stuff, I think they want to be respected by adults, I think they want to be respected by their girlfriends," Damour said. "I think they need to be understood."
Damour's book aims to give parents an understanding of their daughters' erratic behavior in the hopes of bringing "order to chaos" in the tensions that come with adolescence. The book is broken off into seven chapters, each for an important developmental stage as girls transition into adulthood, including Parting with Childhood, Contending with Adult Authority and Entering the Romantic World.
Damour also works with teen boys and said they encounter similar adolescent challenges, but added they "play out in different ways." Research shows when girls are upset, they have discussions, whereas boys distract themselves.
"That really pulls things into very different directions," Damour said.
Damour also addressed parents' emotional dealings with growing distance from their daughters as they become adults.
"It's normal and I think parents do often take it personally. I think they feel like their daughter broke up with them and I think that's really painful," Damour said. "One way to think about it is that girls are separating and they want to practice that before they're really out of the house."
Thanks for reading CBS NEWS.
Create your free account or log in
for more features.