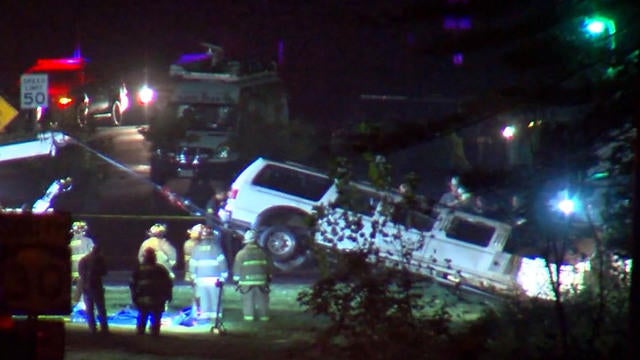 Deadly limo crash raises concerns over "Frankenstein laws for Frankenstein vehicles"
Saturday's deadly crash in Schoharie, New York in which a limo driver, 17 passengers and two pedestrians were killed is raising new safety concerns for the limousine industry. It's believed to be the deadliest transportation accident of any kind in the U.S. since 2009.
But there has been a deadly limo accident every year in this country since at least 2000. Those crashes are blamed for at least 68 deaths.
A limousine filled with people can be its own inherent danger. People are celebrating and often not wearing seatbelts, which can result in passengers being thrown around in the event of a crash.
Seat belt use – or the lack of it – may help investigators understand why so many people died in Saturday's crash. Research shows back seat passengers are less likely to buckle up. And in some states, that's not illegal.
Nearly every state requires front seat passengers to wear a seat belt, but 22 states do not have a similar law for those in the back, reports correspondent Kris Van Cleave.
Nearly half of all traffic deaths last year were unbelted. According to the Insurance Institute for Highway Safety, you are eight times more likely to be killed in a crash if you are riding in the back seat of a car without a seat belt.
Deborah Hersman, who runs the National Safety Council and is a former chair of the National Transportation Safety Board, said, "All of the occupants being belted, means it's safer for everyone.
"When you have the dynamics of people colliding against hard surfaces and against each other in a crash, the outcomes can be significant."
Hersman told Van Cleave that "all of the occupants being belted means it's safer for everyone."
In the 2014 limo crash in Cranbury, N.J., that nearly killed comedian Tracy Morgan and left another man dead, the NTSB found none of the passengers were wearing seat belts, which contributed to the severity of the injured.
Federal regulators have limited oversight authority to regulate limos, and because most don't cross state lines, laws are left up to states and cities.
Following a July 18, 2015 limo crash in Cutchogue, Long Island, that killed four, a special grand jury found limos with custom after-market modifications to accommodate more passengers can lack important safety features, and urged New York's governor to establish a task force on limo safety.
The report said: "If nothing changes … there is bound to be another tragedy."
The National Safety Council's Deborah Hersman would like to see better consistency in the law. She compared them to "Frankenstein laws for Frankenstein vehicles." She also says the record-keeping on how common these accidents are needs to get better.
CBS News reached out to the National Limo Association and has not heard back.
Thanks for reading CBS NEWS.
Create your free account or log in
for more features.