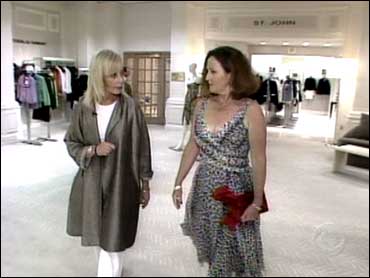 Life Coaches Are For Everyone
What looks like a shopping session is actually a coaching session. Sharon Glickman, a personal appearance coach, is helping Paula Rothenberg dress for her shape.
"For some of us who are pear shapes, we don't want to have a cuff at our trouser, we want to look long, so no cuffs," Glickman tells Rothenberg. "We want to tell a story when we dress."
Glickman's job is helping clients like Rothenberg, a wife, mom and head of a non-profit organization, develop a distinctive style.
"It can be about how they look, their makeup, verbal/non-verbal communication, body language — all to help their public identity," she told Sunday Morning correspondent Rita Braver.
Of course the idea of a coach really comes from sports. Marian Salzman, the chief trend-spotter for the J. Walter Thompson advertising agency, says the personal coaching phenomenon really started about 10 years ago and just kept building. She says part of the coaching phenomenon comes from having a little extra income, but part also comes from an increased comfort with buying services, as well as the desire to be the best we can be.
"Because time is the ultimate currency," Salzman said. "So I can buy people to give me more time for myself. But there's something else going on: It's the desire that we've got to keep unlocking our next potential."
Glickman, who charges about $250 an hour, has been working with Rothenberg over the course of four years, ever since Rothenberg started her current job.
"I think she helped design my wardrobe in order to be able to put forth that kind of image that I needed to put forth, in order to make the kind of impression I needed to do," Rothenberg said. "And gave me more versatility."
And it's not just appearance coaching. These days you can find a coach for just about anything: Susan Harris says her clients feel nurtured by having a personal gardening coach.
"They like the idea that someone's gonna hold their hand right on their property and say, 'Okay, in your garden, here's what you need,'" she said. "They like that hand holding."
Kay Meek says Harris convinced her to get rid of plants that were past their prime.
"We needed someone to give us a push," she said. "We needed the courage to go out and take that first whack."
Coaching in areas other than sports started with executives trying to unlock their full potential. Every few weeks, Bill Pringle, a top official at an environmental research and lobbying organization, has a session with his life coach, Ed Modell.
"One of the issues Bill and I worked on together was his being more proactive about being a leader," Modell said. "Rather than waiting for somebody to come to him and say 'Bill, will you take charge of this?'"
"It really causes me to look at what is it in myself that is keeping the issue stuck?" Pringle said. "And then, what are some steps that I'm willing to take to, you know, move forward on that topic?"
Modell isn't in Pringle's line of work and he says he doesn't have to be.
"Coaching is about the client, not about me," he said. "I don't tell him how to proceed. This is about helping Bill draw out his solutions to his issues."
Modell charges up to $180 an hour, depending on the client and the assignment. Though there's no requirement for any coach to be licensed, he took 125 hours of course work from the Coaches Training Institute, one of dozens of coach-training programs around the world.
Currently there are more women then men in the coaching field, but there are plenty of male recruits, too. Future coaches spend a lot of time practicing on each other. The training teaches them not only to become executive coaches, but also life coaches.
"That means I can form a partnership with my client to help them reach the goals that they want to reach," life coach Susan Braverman said. "It can be major life change. It can be changing a job. It can be changing their situation in some other way."
Braverman, a former social worker, is one of more than 30,000 life and leadership coaches now estimated to be practicing. She says people don't necessarily need life coaches, but some people want it.
"It's a wonderful gift to give yourself to have a supporter just for you," she said. "To cheer you on. To hold you accountable for the things that you really want to do."
Case in point: Marian Haider. She says she might never have had this moving day, daring to live on her own in a new apartment, without her Braverman, who coached her through a divorce. She said she still relies on friends and family, but coaching allows her to be selfish.
"I just wanted someone that could help me work through the process and just focus on me," she said. "I had actually been to a therapist or a counselor at various times in my life. The therapy and counseling was quite helpful. But quite frankly, I didn't want to rehash my childhood."
Braverman, like most life coaches, was quick to say she is not a therapist. She doesn't psychoanalyze her clients. She does get them to make promises that they will accomplish certain goals. Haider said she would frequently update Braverman on how she is doing. And, says trend spotter Salzman, there is a reason clients want to show their coaches they are making progress:
"There is something about the fact that there's a financial transaction," she said. "They feel like they've invested in it. Therefore it has value. Your friends' advice, it wasn't as valuable. You didn't pay for it. You got it for free."
Salzman says coaching is not just an American trend.
"I had dinner in London a couple of weeks ago with four women, all in their 30s, three of whom were recently married thanks to dating coaches," she said. "And the best plastic surgery coach I think anyone knows. It was a woman out of Montréal that tells you where to go to for various procedures … you just don't go to plastic surgeons blind, you call the plastic surgery coach and they tell you what you should ask for."
And the kind of coaches there are run the gamut. Salzman said the weirdest kind that she has ever heard of is a housebreaking coach people hire for their pets.
There are also housekeeping coaches like Phoebe Coles — a family manager coach to be exact. Her background was in the Army. For $200 for a full makeover, she coaches clients like Gena Salonga, a mom who's trying to start a new business, on how to run their homes.
"We like the idea of just having someone come alongside us and say, 'Hey, you can do that. You can have a smooth-running home,'" Coles said.
"I think my girlfriends and I get together, we all have the same problems, that's the problem," Salonga said. "We all just gripe about what to do during the day. But we don't have any real solutions, so Phoebe is my solution."
And maybe someday we'll all have a Phoebe for every aspect of our lives.
Thanks for reading CBS NEWS.
Create your free account or log in
for more features.