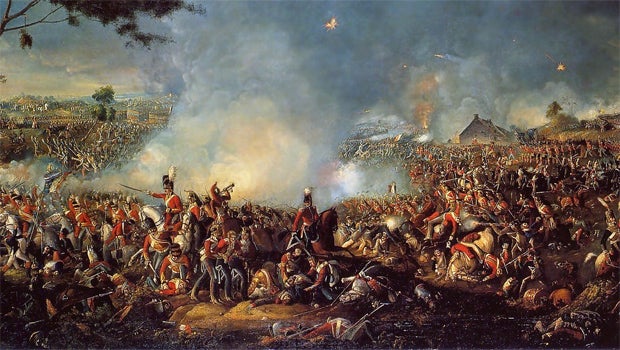 ​Lessons from the Battle of Waterloo
Thursday marks the 200th anniversary of Napoleon's defeat at the Battle of Waterloo. For the British, it was a famous, but costly victory, as we're reminded by author Bernard Cornwell:
Two hundred years ago, a 33-year-old Irishman wrote a letter to his wife. It was a letter that many soldiers have written, a letter they hope will never be delivered, the letter that would only be posted if the writer died in battle.
Major Arthur Heyland wrote:
My Mary, let the recollection console you that the happiest days of my life have been from your love and affection, and that I die loving only you. What dear children, my Mary, I leave you. My Marianna, gentlest girl, may God bless you. My Anne, my John, may heaven protect you ... Let my children console you, my love, my Mary.
Major Heyland died the next day, and I very much doubt that his death was tranquil. He was one of the thousands who fell on Sunday, June 18, 1815, at the bloodbath in Belgium we know as the Battle of Waterloo.
It is one of history's most famous battles. Astonishingly, there are dozens of towns all across the United States -- from Alabama to Kansas, from Louisiana to New Hampshire -- all named Waterloo, even though America had no part in that day's fighting.
Yet perhaps the folk who named those towns recognized that history had changed on that fatal Sunday.
For 50 years there had been a worldwide struggle between France and Britain for leadership of the world. The American Revolution was a part of that struggle. George Washington learned his military skills fighting for Britain against France, and gained eternal fame by defeating Britain when France was America's ally.
Yet the Americans' victory in the 13 colonies did not end the wider war, which saw both Moscow and Washington burned. Then, at Waterloo, it was suddenly over. Napoleon was defeated, and there was a new world order.
So yes, Waterloo is worth remembering, but perhaps, two hundred years later, what we should remember is that the young men and women we send to war leave behind them husbands, wives, sons, daughters, lovers and friends. Waterloo changed the world, but it utterly changed the world of Mary, Marianna, Anne and John Heyland.
Waterloo is history, but our veterans and their families are still with us ... and we must not forget them.

For more info:
Thanks for reading CBS NEWS.
Create your free account or log in
for more features.