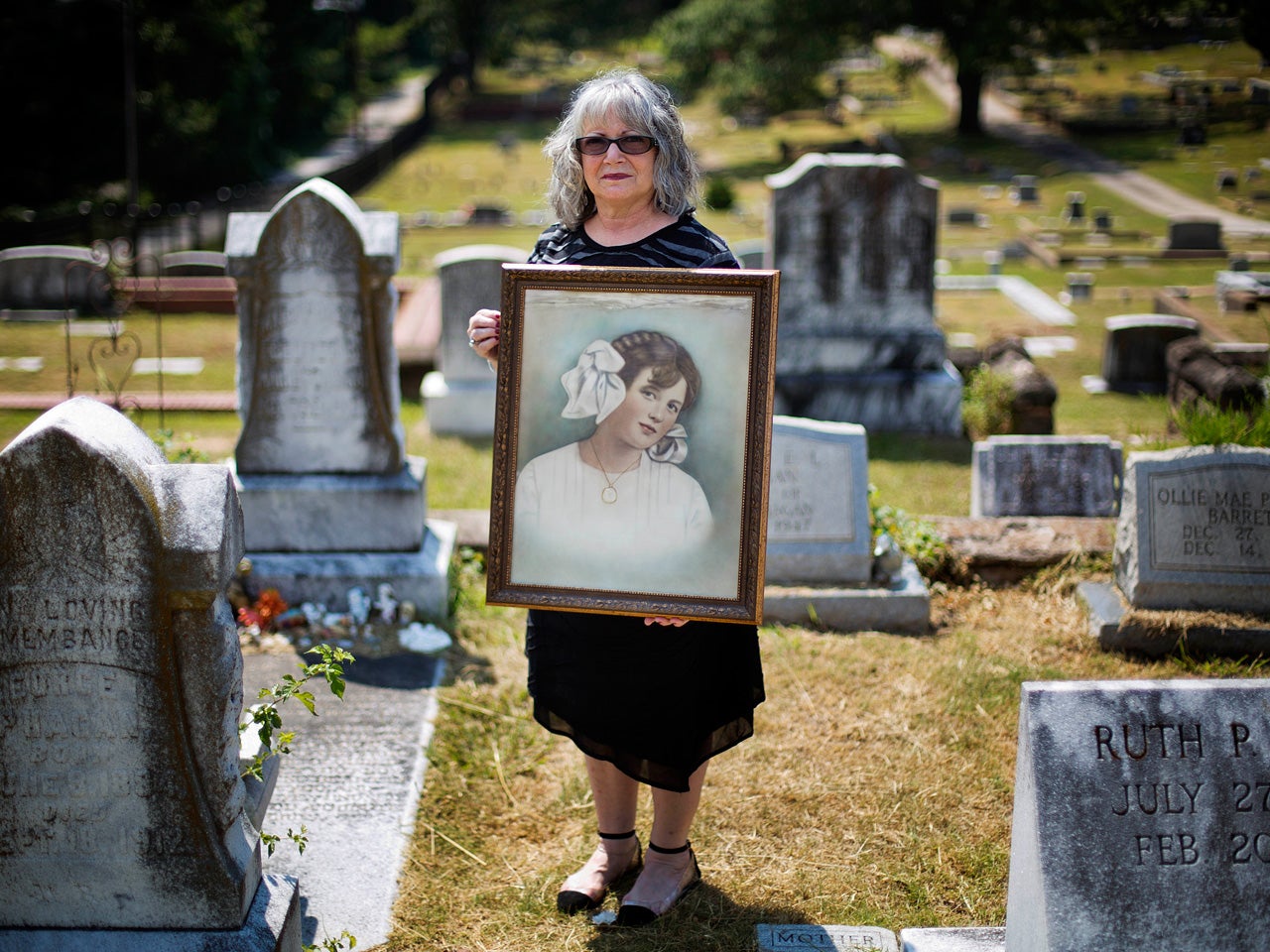 A century after Jewish man's lynching, Georgia town unsettled
MARIETTA, Ga. - Down past the Big Chicken, the 56-foot-high, steel-beaked beacon of extra crispy that may be this town's most prized landmark, the wedge of dirt hard by Interstate 75 is notable only for its lack of notability. Stopping here, Rabbi Steven Lebow leaves the engine running and car door open.
Nearly ever since the South Florida native came to this Atlanta suburb three decades ago, this spot - or, more specifically, the tale of murder and vengeance that has stained its ground and local history for 100 years - has weighed on him.
But with transportation crews readying to build over the place where Marietta's leading citizens lynched a Jewish factory superintendent named Leo Frank a century ago, Lebow talks only of what's worth preserving.
"There's nothing to see here," Lebow says. "That's why we need to be the memory."
As this community prepares to revisit that tale, though, there are reminders that it remains unsettled as well as unsettling.
In 1913, Frank was convicted of murdering 13-year-old Mary Phagan, who worked in his Atlanta factory. The case, charged with race, religion, sex and class, exploded in a national media frenzy. When Georgia's governor commuted Frank's death sentence, citizens took matters in their own hands.
The case established the Anti-Defamation League as the country's most outspoken opponent of anti-Semitism. It also fueled the rebirth of the Ku Klux Klan.
Until ADL lawyers pressed officials to posthumously pardon Frank in the 1980s, the case was hushed in Atlanta's synagogues, the homes of Old Marietta, and among Phagan's descendants.
Though granted, the pardon was less than conclusive. Now, in a summer that has seen Southerners wrangle with the best-known symbol of the region's embattled past, Lebow and others want to re-open a chapter some would prefer to let be.
But their effort to right history, as they see it, has renewed charges that, in doing so, they are unfairly trying to rewrite it.
___
Soon after Dan Cox turned a Civil War-era hotel into the Marietta Museum of History, he knocked on the door of a 96-year-old resident, who regaled him with stories until Cox asked about Leo Frank.
"You could see the iron curtain fall," Cox recalls. "I said, 'Why won't you tell me?' But she said, 'We were told not to talk about it,' and they never did."
Even so, actors and academics, reporters and playwrights have repeatedly delved into the story.
Frank, raised in New York, ran a factory in industrializing Atlanta. In 1913, Phagan, her hair in bows, stopped to collect her pay.
That night, a watchman found her bloodied body in the basement. Police arrested several men before settling on Frank, who proclaimed his innocence. His conviction rested on the testimony of a custodian, Jim Conley, a rare case of a black man's word used against a white defendant.
Frank's lawyers appealed to the U.S. Supreme Court, arguing that a climate of anti-Semitism had resulted in an unfair trial. The court upheld the verdict, 7-2. In 1915, Gov. John Slaton commuted Frank's sentence to life. A furious crowd hanged the politician in effigy.
Months later, a group of Marietta men took Frank from prison. On Aug. 17, they hanged him outside town. Nobody was ever charged.
"The Frank case was like a lightning strike," says Steve Oney, who wrote "And the Dead Shall Rise," a 2002 book on the case. "Everything in the South stood briefly in relief and then it was dark again."
Substantial evidence points to Frank's innocence, Oney says, but "there are imponderables that are always going to be imponderables."
And so the century-old case stays alive.
The ADL is marking the anniversary with a push for Georgia to pass a hate-crime law. In nearby Kennesaw, the Southern Museum of Civil War and Locomotive History is opening a Frank exhibit. A musical about the case, "Parade," is being re-staged in Atlanta. The Georgia Historical Society is bringing Oney to Marietta to talk about the case.
And on August 16, Lebow will lead a memorial service at which he and some current and former Georgia Supreme Court justices plan to call on state lawmakers to declare Frank's exoneration.
"This is a story that won't go away," says Cox, 76. He leads the way through exhibits detailing Cobb County's past - Cherokees banished on the Trail of Tears, Confederates and their Unionist neighbors. The only nod to the Frank case is a single placard and an old historical marker.
"I don't want to minimize the event," Cox says. "But it needs to be put away, like the flag, in its proper place."
___
When Roy Barnes came home after losing re-election as Georgia's governor, a fascination with the Frank case followed him.
Barnes, 67 and raised on a Cobb County farm, recalls the hush around Frank's name and how, as a legislator, he borrowed books on the case from the state library to pass time when debate dragged. Among details that surfaced: The lynching party included Cicero Dobbs - grandfather of Barnes' wife, Marie. Other lynchers included a judge, a former mayor turned state prosecutor, a leading lawyer, and the scion of one of Marietta's wealthiest families. They're all long gone, with many descendants who acknowledge what happened.
But Barnes says some people tell him that, while they agree Frank didn't get a fair trial, he was still guilty.
Barnes is certain that's wrong. But the Frank story needs to be studied to remind people of the dangers of mob rule "so that we never let that happen again."
Reminded that he lost the governorship in no small part because he pushed to eliminate the Confederate battle flag from the state banner, Barnes paraphrases the words of Martin Luther King Jr.
"You know, the arc of history does bend toward justice," Barnes says. "And for Leo Frank, justice hasn't been given yet."
___
Just off a gravel road in North Georgia's hills, Mary Phagan Kean opens a room filled with family photos and files detailing the life and death of a 13-year-old girl a century ago.
"She's my history. History is what makes you who you are," she says.
Phagan Kean was 13 herself when a teacher asked if she was related to the girl murdered at the National Pencil Co.
Her father confirmed she was the victim's great niece, sparking years of research that produced a book and confirmed Phagan Kean's certainty of Frank's guilt.
When the ADL sought Frank's exoneration, Phagan Kean's protest saw the pardon limited. When a historic marker was proposed for Phagan's grave, she asked for wording making clear the pardon was based on the state's failure to protect him, "not Frank's innocence."
That marker, now retired to the Marietta museum, was replaced by one Lebow lobbied for, noting only that Frank was pardoned. Phagan Kean bought the empty plot just below Phagan's a few years ago. If Lebow and others keep pushing, she says, she'll erect her own marker, reminding visitors of the verdict.
"They're swaying the truth their way," says Phagan Kean, a retired teacher who acknowledges anti-Semitism played a role, but only in the lynching.
She and Lebow voice frustration over each other's repeated insistence.
Phagan Kean, noting she's long dismissed inquiries from white supremacists seeking to publicize the case, says she acts as her namesake's voice because "there's nobody to protect her but me."
And Lebow, noting that time has taught Jews the danger of forgetting the past, recalls hearing about the case at a Kiwanis meeting years ago and realizing he had, by accident, become Leo Frank's rabbi.
"We've got to be the memory of this guy," he says, "because no one else wants to be."
Thanks for reading CBS NEWS.
Create your free account or log in
for more features.