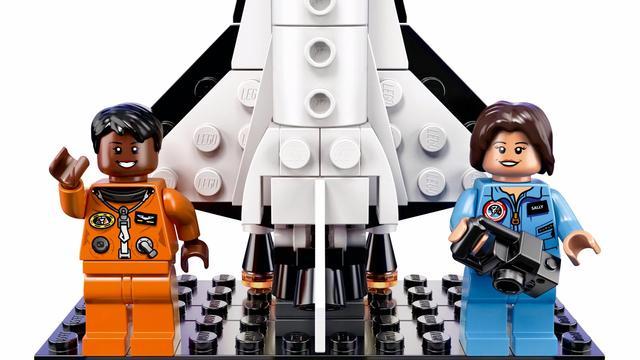 Lego's "Women of NASA" set is already a huge hit
Sally Ride made history back in 1983, when she became the first American woman to travel into outer space. Now, Ride and three other women who were NASA pioneers are being honored with their own Lego likenesses.
The "Women of NASA" Lego set went on sale this week, and quickly became the top-selling toy on Amazon.
Mae Jemison was the first African-American woman in space. Her figure stands alongside Ride's next to a Lego version of the space shuttle.

But the toys don't just honor astronauts -- astronomer Nancy G. Roman is also depicted. She was NASA's first female executive and is often credited with being the mother of the Hubble Space Telescope, which transmitted stunning pictures of deep space back to earth.
Computer scientist Margaret Hamilton makes up another figurine in the set. She wrote the software code that helped the Apollo 11 crew land safely on the moon, and last year was awarded the presidential Medal of Freedom.
The women of NASA was originally thought up by science writer Maia Weinstock.
"I wanted for this particular set to focus on women who had contributed to NASA history," Weinstock said.
She submitted the plans to Lego in 2016, and the project received the 10,000 votes it needed to proceed in a little more than two weeks.
By shrinking them down to a little more than an inch, Weinstock hopes these womens' achievements will be magnified.
"You can never have enough sets that really celebrate women who have been underappreciated in history," she said.
Thanks for reading CBS NEWS.
Create your free account or log in
for more features.