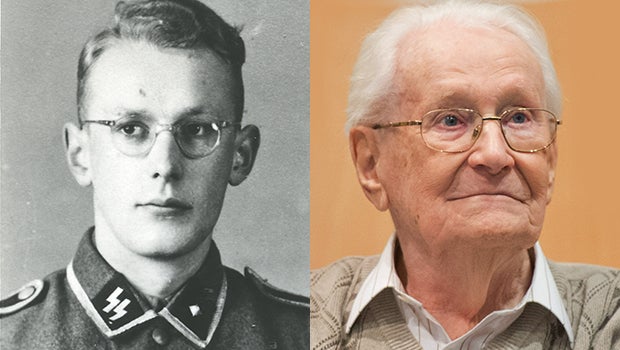 Lawyers for Nazi "accountant of Auschwitz" file appeal
BERLIN - The defense team for former SS Sgt. Oskar Groening, convicted of 300,000 counts of accessory to murder for his service in Auschwitz, has filed an appeal in his case.
Groening was convicted last week and sentenced to four years in prison, but will remain free until his appeals are heard.
His lawyers say he deserves a sentence reduction for the amount of time it took to bring him to trial.
Attorney Hans Holtermann filed the appeal Monday, arguing that judges incorrectly rejected reducing the sentence because 94-year-old Groening was only brought to trial this year even though his case has been known for decades, the dpa news agency reported.
Kathrin Soefker, a spokeswoman for Hannover prosecutors, says her office has not yet decided whether to file its own appeal.
Groening has testified that he guarded prisoners' baggage after they arrived at Auschwitz and collected money stolen from them. Prosecutors said that amounts to helping the death camp function, and CBS News correspondent Mark Phillips reports that contention made this case a test of new German legal standards for what constitutes guilt.
His duties have seen him dubbed the "bookkeeper" or "accountant of Auschwitz."
The charges against Groening related to a period between May and July 1944 when hundreds of thousands of Jews from Hungary were brought to the Auschwitz-Birkenau complex in Nazi-occupied Poland. Most were immediately gassed to death.
Groening said when his trial opened in April that he bears a share of the moral guilt for atrocities at the camp but that it was up to judges to determine whether he is guilty under criminal law.
Groening was previously investigated in the 1970s but authorities then shelved the case.
Groening has told the Lueneburg state court in a statement read by his attorney that it was hard today to understand the blind obedience he had to the Nazi systemeven when witnessing the terrible atrocities perpetrated at the death camp in German-occupied Poland.
"There was a self-denial in me that today I find impossible to explain," Groening said, the dpa news agency reported. "Perhaps it was also the convenience of obedience with which we were brought up, which allowed no contradiction. This indoctrinated obedience prevented registering the daily atrocities as such and rebelling against them."
Thanks for reading CBS NEWS.
Create your free account or log in
for more features.