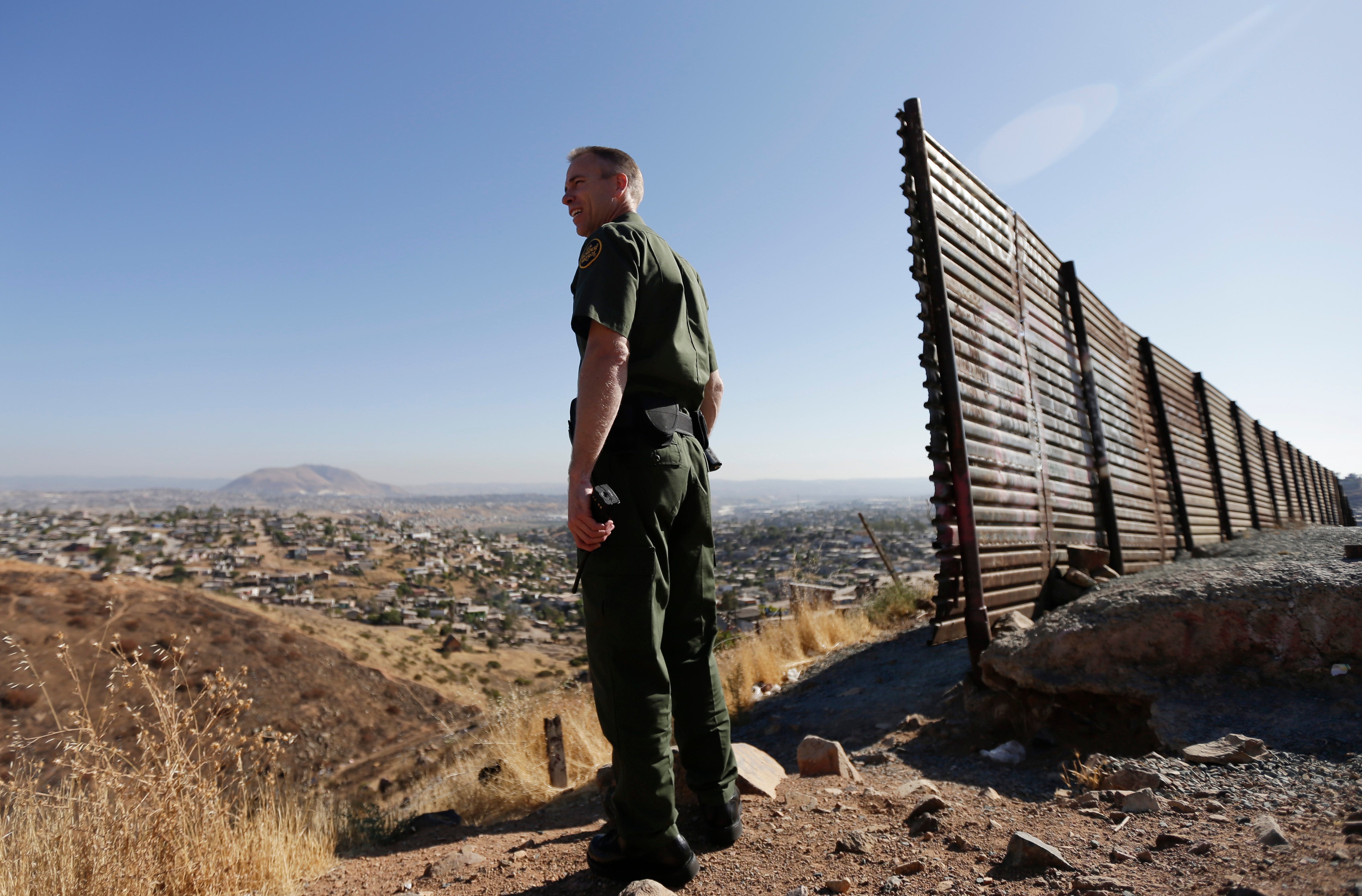 Democratic lawmaker aims to block border wall funding with taxpayer dollars
A Wisconsin Democrat will be introducing congressional legislation Thursday aimed at ensuring that taxpayers won't be paying for President Trump's southern border wall.
The "No Taxpayer Funding for the Wall Act," obtained first by CBS News, is sponsored by Rep. Gwen Moore, D-Wisconsin, and would prohibit the use of federal funds to build a fence, wall or any other physical barrier along the border with Mexico.
"I am not in favor of the wall, but if there is a wall, then I do not want the United States of America to pay for the wall," Moore said in an interview with CBS, adding that she doesn't want American taxpayers and consumers harmed by the cost.
One of President Trump's signature promises during his campaign was that Mexico would pay for his proposed wall, a claim he continued to make after he was inaugurated (it's an idea that Mexican President Enrique Pena Nieto has repeatedly and emphatically dismissed). GOP leaders say that to start, they'll front the money, but if passed, Moore's bill would force Congress to find the money elsewhere.
Senate Majority Leader Mitch McConnell, R-Kentucky, was asked at an event sponsored by Politico Thursday morning if Mexico would pay for the wall. His response: "Uh, no."
So far, the bill has more than more than three-dozen co-sponsors, all of them Democrats. Though Republicans have not signed onto her bill, she said that many don't want to build a wall without offsetting the cost. Democrats are also concerned that the expense of building the wall could lead to cuts to social and entitlement programs like the Violence Against Women Act and the Supplemental Nutrition Assistance Program (SNAP).
The congresswoman and her office are reaching out to GOP lawmakers and their offices, hoping to garner support from Republicans who have voiced skepticism about the wall, as well as from those concerned about adding to the federal deficit.
"My bill gives amazing opportunities, I think, to people like [GOP Rep.] Jim Jordan to opt out of building the wall," she said. "I'm trying to mobilize some interest in my bill from deficit hawks."
On Tuesday, Sen. Claire McCaskill, D-Missouri, the ranking member on the Senate Homeland Security Committee, sent a letter to Homeland Security Secretary John Kelly requesting a briefing on how DHS plans to pay for the border wall and the overall price tag.
Last month, DHS reportedly estimated that the border wall would cost $21.6 billion, nearly twice the amount of previous estimates. More recently, DHS reportedly identified only $20 million in existing funding -- already appropriated federal dollars -- that could be shifted to the border wall. This means Congress still needs to come up with a new avenue to fund the president's plan.
"We will soon begin the construction of a great wall along our southern border. It will be started ahead of schedule, and when finished, it will be a very effective weapon against drugs and crime," Mr. Trump said in his first address to a joint session of Congress last week.
Chatter about the wall has died down among GOP lawmakers on Capitol Hill, as the focus shifted to an Obamacare repeal-and-replace plan rolled out by House Republicans this week. Days after Mr. Trump's inauguration, Speaker Paul Ryan, R-Wisconsin, said Congress would consider legislation to pay for the wall up front.
"We're going to pay for it and front the money up," Ryan said in an interview on MSNBC. "There are a lot of different ways of getting Mexico to contribute to doing this and there are different ways of defining how exactly they pay for it."
The administration has even floated a 20 percent tax on products that are imported from south of the border as a way to finance the wall, which could be part of a broader tax reform package.
The issue, however, has fallen to the back burner in the weeks since. A senior GOP aide told CBS News this week that the House Appropriations Committee hasn't seen the request from the administration yet on border funding. Therefore, the aide said appropriators don't yet know how much the wall would cost and if it should be passed through a supplemental -- emergency spending bill -- or through a government-wide 2017 funding package needed to prevent a shutdown at the end of April.
"We do expect to include some money in a future supplemental for 2017 for the wall and the 2018 budget will also contain some longer-term dollars for that," Office of Management and Budget Director Mick Mulvaney told reporters during a briefing last week about Mr. Trump's budget blueprint that will be released in mid-March.
Meanwhile, last week, the government posted a request for vendors to submit prototypes for the wall.
"Detailed requirements will be included in the [Request for Proposal], but for planning, we anticipate procuring concrete wall structure, nominally 30 feet tall, that will meet requirements for aesthetics, anti-climbing and resistance to tampering or damage," the government notice says, which indicated there will be an evaluation process before a decision is made on a major contractor.
In an interview on CBS's "Face the Nation" at the end of January, White House chief of staff Reince Priebus said while there is "no final conclusion" on how the wall will be paid for by the Mexicans, the administration has "a buffet of options."
"It can either be through a tax on goods coming across the border, could be through tax reform in a formula on import and export taxes and credits. It could be on drug cartels. And it could be on people that are coming here illegally and paying fines. Or it could be, you know, all of the above," Priebus said. "There is a buffet of options that we have in order to pay for this wall. We need to pay for the wall. We will build the wall, and it's going to get done."
Moore's measure would bar all federal departments, including DHS, from using federal funds, including previously appropriated funds, to build a border fence, related physical barriers or infrastructure along the southern border or to carry out any activities related to construction. The bill would also bar states that have received or receive federal funds from using the money for the same purposes.
The bill would require Mr. Trump to enter into a "binding, written and enforceable treaty, approved by the Senate, with a foreign country for pay for the costs" of the wall. It would demand that audits be conducted to ensure compliance with the measure's requirements, and financial penalties would be incurred by any federal department or agency or any state that violates the measure's terms.
Rep. Joe Crowley, D-New York, chairman of the House Democratic Caucus, suggested at a press conference last week that Democrats would oppose any spending package that contained money for the wall.
"If they want to involve members of the Democratic Caucus in that process, we are more than happy to work with them. But it cannot include the wall. Democratic members would not support a wall across the southern border," Crowley said.
Matt Dennis, spokesman for Democrats on the House Appropriations panel, told CBS News that there are "ongoing bipartisan, bicameral negotiations" for the 2017 Homeland Security Appropriations bill and all other unfinished bills for the current fiscal year. Lawmakers must pass a new package by April 28 or risk a shutdown.
Based on the original estimates of $12 to $15 billion for the wall, Maya MacGuineas, president of the Committee for a Responsible Federal Budget, said in January that Congress needs to come up with a plan to offset the wall's cost.
"If the wall isn't paid for, the $12 billion to $15 billion added the debt comes out to $95 to $120 per U.S. household," she said. "Any border wall should be fully paid for in the same legislation that spends the funds, either through other spending cuts or revenue increases, and those pay-fors should be specific, credible, and not used to pay for multiple policies."
A CBS News survey last month found that nearly six in ten people in the U.S., or 58 percent, oppose building the wall, while 39 percent said they favor such an effort. The poll found Republicans are far more likely to support it, with 77 percent favoring it. Just 11 percent of Democrats support the effort to build the wall.
Thanks for reading CBS NEWS.
Create your free account or log in
for more features.