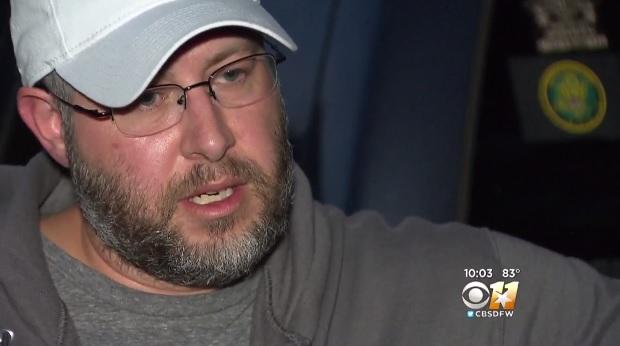 Man 2 floors above Las Vegas shooter recalls frantic scene
DALLAS -- Gunfire rang out on Sunday night, just two floors below Chris Bethel's hotel room in the Mandalay Bay Resort and Casino.
"I could just hear the gun shots, continuously. Just full automatic," Bethel told CBS Dallas-Fort Worth. "There was explosions going off. It was like a bomb just went off man. And then there were more gun shots."
The Fort Worth resident was attending an IT conference in Las Vegas when the shooting unfolded. An Iraq War veteran, Bethel told the station he immediately recognized the sound as gunfire.
Now, police are crediting the Haltom High School graduate with helping lead them to the room where 64-year-old Stephen Paddock, of Mesquite, Nevada, was shooting into a crowd of more than 22,000 people.
Bethel called police immediately and told them what he saw and heard after becoming convinced the shooter was located nearby.
"I could just see everybody running, and I kept looking at the windows to see if I could see any kind of muzzle flash to see if I could see where the shooter was," Bethel said. "I crouched by my front door in hopes that I might get the opportunity to see the shooter if he ran by and I could identify him."
Perched high on the 32nd floor of the Las Vegas Strip casino, Paddock unleashed a shower of bullets down on an outdoor country music festival below, killing at least 59 people and wounding more than 500 others as thousands of frantic concert-goers screamed and ran for their lives.
"Changing weapons, changing calibers," Bethel told the station. "You can hear the difference in the gunshots of the different rifles that he is shooting."
A SWAT team found Paddock dead with at least 10 rifles in his hotel room. The Bureau of Alcohol, Tobacco, Firearms and Explosives (ATF) says it is conducting an "urgent trace" on the weapons to determine their origins. Police say he used multiple weapons.
"About 10 minutes later the Las Vegas Police Department called me to let me know that the shooter was on the 32nd floor, room 135, and that they had gotten him," said Bethel.
At a press conference Monday morning, Sheriff Joseph Lombardo said Paddock brought the weapons into the hotel himself and used "a device similar to a hammer" to break the window.
It was the deadliest mass shooting in modern U.S. history. Bethel was right in the middle of it, albeit safe behind concrete walls.
Bethel has since returned home to Texas.
"I feel like I didn't do enough. I feel like I couldn't get a hold of somebody quick enough to let them know. And it felt like it took them too long to get over there, to take him out. To get him. And it's actually eating me up inside," said Bethel. "I just need to go home. That's my thing. I need to go home to my family and just process all of this."
Thanks for reading CBS NEWS.
Create your free account or log in
for more features.