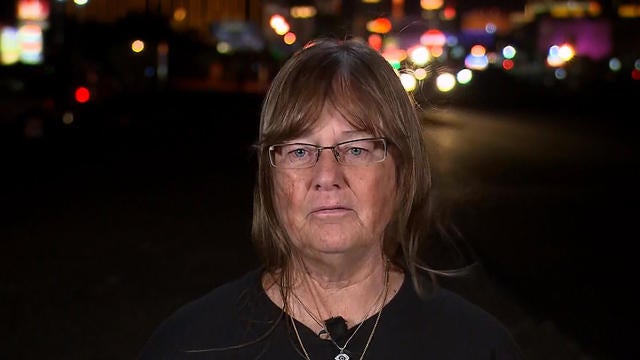 Las Vegas shooting witness: "It was just chaos"
Gail Davis, who was at the Las Vegas outdoor country music concert Sunday night when a gunman opened fire, witnessed the terrifying scene at which at least 59 people were killed and more than 500 others were injured.
She described the chaotic scene to "CBS This Morning."
"We went there to see Jason Aldean," she said. "We were standing, like, maybe halfway up. He came on and about 20 to 10, he sang about five songs and all of a sudden we heard about three or four little pop, pop, pops, and everybody looked around and said, 'Oh, it's just firecrackers.' And then we heard pop, pop, pop, and it just kept going and going, and my husband said, "That's not firecrackers. That sounds like a semi-automatic rifle.' And then everybody started screaming and started to run.
"I looked over to my right where this girl had been standing right beside me, and she had fallen -- first, she stood there and she grabbed her stomach and she looked at her hands and her hands were all bloody, and she was wearing, like, a little crop top and, you know, blue jean shorts and cowboy boots, and she looked at her hands and her hands were bloody, and she just kind of screamed and she just fell back."
Davis said her husband urged her to run, and the two advanced toward a concession area of tents at the venue. There she met a Metro police officer whom, she said, "I owe my life to.
"[He] grabbed us, he said, 'Come here.' And we went running inside and the lights were on, and everything else was dark -- they turned the stage lights off -- and we went running in there, and he said, 'Get down.' So we got down. My husband was in front of me, and there was another two ladies behind us, and the officer actually covered up to protect me from being shot because I couldn't get out all the way,
"And it was, like, you could hear the shots just, like, going back and forth and ricocheting, and then they would stop, and then we thought, 'Okay. It's over. It's over.' And then it would start again. And this happened a couple of times. And the officer stood up and I heard on his radio say, 'We have active shooters,' and I heard him say, 'Oh, God.'"
David said the officer got up with his weapon out, but when gunfire resumed, he again covered her up.
The officer lead them to another tent when the gunfire ceased again as the shooter was presumably reloading. "He was like my guardian angel, he never left me," Davis said.
She said the shots seemed to get closer – and then her husband was hit with shrapnel.
"He goes, 'Gail, I think I got some of the …' I don't know what you call it, lead or something. 'Feel how hot it is.' And he put it on my arm."
The officer told them, "We need to get you out of here. But stay low." They pushed through a door in the back and ran out. "He said, 'Stay out of the light. Just run. Just run and keep down. Keep down.'
"And as were running, there's people laying everywhere. People were bleeding. One guy was holding his girlfriend or wife or woman. He was crying and saying, 'Oh God, baby, I'm so sorry. I'm so sorry. It's my fault.' I think she had been shot in the head, 'cause she was covered with blood.
"We ran, and there was just ambulances and police cars everywhere. It was heartbreaking. It was unreal.
"I remember one lady was just screaming and going, 'I can't find my daughter, I can't find my daughter.' And I don't know if she found her or made it or anything. It was just chaos."
When asked about how quickly the police responded to the shooting, Davis said, "Almost immediately. The Metro was there. They are always right there, you know? The Metro is such an amazing police force, and they were right there. Ambulances were coming. We had ambulances everywhere. There were police cars everywhere, and the police officers were helping, the other concert-goers were helping everybody. It was just amazing. We all came together, and everybody was helping everybody. It was wonderful to see, and I just love Metro. I'm just so proud of them."
When asked about the officer who'd saved them, she said she did not know where he is. "I saw his face, and I'm going to try to go down to Metro and see if I can find him and look at his pictures, because he saved me. I know. The girl that got shot was right next to me. I wish I can find him. I'm going to try to find him and tell him thank you."
Thanks for reading CBS NEWS.
Create your free account or log in
for more features.