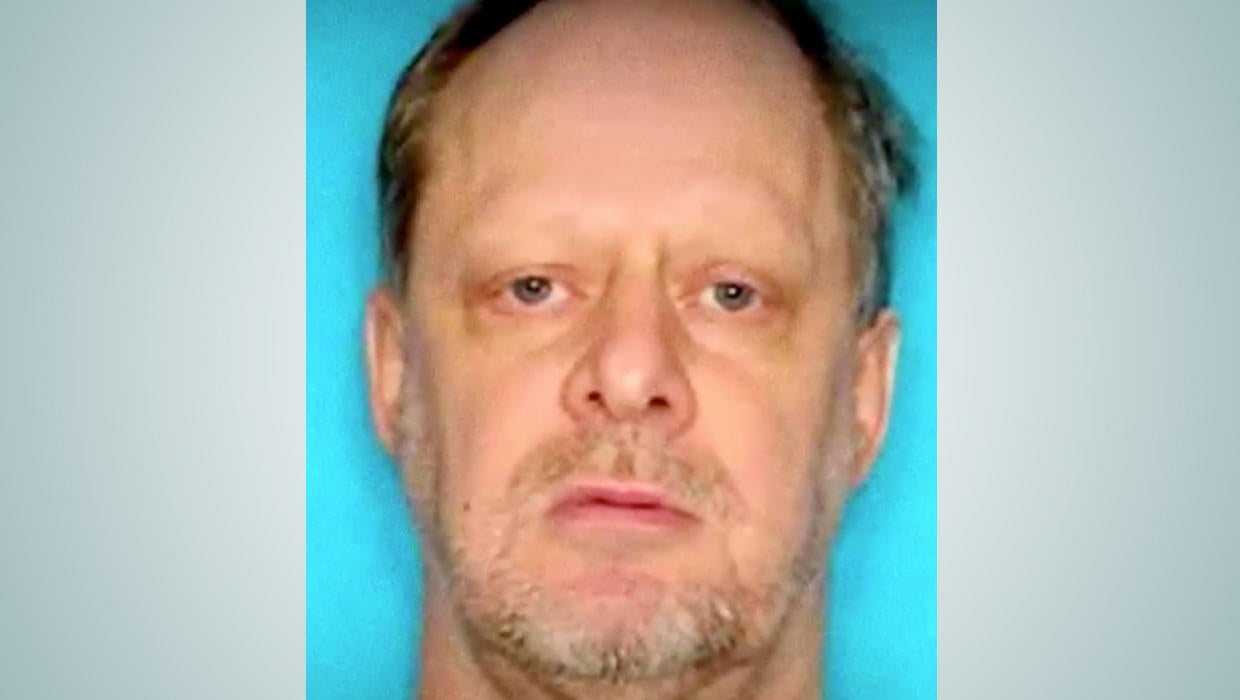 Report shows Vegas gunman's "disturbing" online searches for other crowded venues
LAS VEGAS -- Authorities say Las Vegas gunman Stephen Paddock conducted extensive online searches for police and SWAT tactics and searched for other potential targets, including the famed California beach in Santa Monica, before he carried out the deadliest mass shooting in modern U.S. history.
Clark County Sheriff Joe Lombardo on Friday released a preliminary report providing an overview of the Las Vegas Metropolitan Police Department's investigation into the Oct. 1 shooting at the Mandalay Bay casino-hotel.
Lombardo said the report does not detail Paddock's motive, but would detail Paddock's planning of the massacre and his "disturbing" search history, including about ballistics and SWAT tactics. The report says Paddock searched for outdoor concert venues, and the number of people who go to the beach in Santa Monica, California.
Paddock's online searches before the shooting pointed to consideration of other potential public targets, including in Chicago, Boston and Santa Monica, the sheriff said.
"This report is not going to answer every question, or even answer the biggest question as to why he did what he did," Lombardo said. "What this report will shed light on is the planning of the attack, the research that was done by Paddock in looking for public venues where crowds gathered, Paddock's movements in the days leading up to the attack, and based on witness interviews and evidence, how Paddock carried out the attack."

The month before the massacre, the report says Paddock checked into The Ogden, a downtown Las Vegas condominium complex, on Sept. 17 and that his stay coincided with the "Life if Beautiful" festival, another heavily attended open-air music festival. In early September, the report says Paddock searched on Google for "life is beautiful expected attendance," "life is beautiful single day tickets," and "life is beautiful Vegas lineup," along with "las Vegas high rise condo rentals" and "Las Vegas Ogden for rent." He also searched on Bing: "Mandalay Bay Las Vegas," "Route 91 harvest festival 2017 attendance," and "Route 91 harvest festival 2017."
The report includes the gunman's Google Map history which showed searches for Venice Beach in Los Angeles and Fenway Park in Boston. His Google Map history also included locations nearby Fenway, including the Red Sox Team Store on Yawkey Way and Royal Rooters' club, and also Blandford Street Station, Boston University Questrom School of Business, Boston Hotel Buckminster and Boston Arts Academy.
In California, he also searched for the locations of the Venice Ale House, the Fairmont Miramar Hotel and the Bungalow. Google Search queries from May included "summer concerts 2017," "grant park functions," "La Jolla beach," "open air concert venues," "biggest open air concert venues in USA," and "How crowded does Santa Monica beach get."
On September 15, the report says Paddock performed Google searches for "swat weapons," "ballistics chart 308," "SWAT Las Vegas," "ballistic," and "do police use explosives."
Lombardo said that investigators believe Paddock acted alone. He said he does not expect charges to be filed against Paddock's girlfriend, Marilou Danley, who had been previously called a person of interest in the case.
Lombardo said the FBI has an "ongoing case against an individual of federal interest," but didn't release more details and referred questions to the FBI.
Lombardo said the investigation found that Paddock had possessed child pornography.
The sheriff and the FBI have said they found no link to international terrorism. They said they believe Paddock meticulously prepared and concealed his plan to fire assault-style weapons from the 32nd floor of the Mandalay Bay hotel into a crowd of 22,000 people attending the Route 91 Harvest Festival music below.
The report included previously unseen photos of the stockpile of weapons found in Paddock's suite.
Paddock fired more than 1,100 bullets, mostly from two windows in the high-rise hotel, Lombardo has said. That includes about 200 shots fired through Paddock's hotel room door into a hallway where an unarmed hotel security guard was wounded in the leg and a maintenance engineer took cover to avoid being hit.
Several bullets hit aviation fuel storage tanks at nearby McCarran International Airport, but the tanks did not explode. Authorities reported finding about 4,000 unused bullets in Paddock's two-room suite, including incendiary rounds that Lombardo said were not used.
Investigators found 23 guns in the rooms, including 12 rifles that a federal Bureau of Alcohol, Tobacco and Firearms official said were fitted with "bump stock" devices that allowed rapid-fire shooting similar to fully automatic operation.
Paddock killed himself with a gunshot to the mouth before police reached him. The 64-year-old retired accountant and multimillionaire real estate investor had earned hotel upgrades as a high-stakes video poker gambler at several Las Vegas casino resorts.
Danley was in the Philippines at the time of the shooting.
Lombardo and Aaron Rouse, FBI agent in charge in Las Vegas, had described Danley as a person of interest in the investigation but not a suspect. She was questioned by the FBI when she arrived in Los Angeles from overseas, and was described as cooperating with investigators.
However, a document filed Oct. 6 and unsealed last Friday by a federal judge in Las Vegas said the FBI considered Danley "the most likely person who aided or abetted Stephen Paddock."
Questions have been raised about Danley's receipt in the Philippines of a $10,000 wire transfer from Paddock just days before the shooting.
Danley told investigators that over the course of the past year, Paddock had become "distant" and their relationship was no longer intimate, the report says. She described him as "germophobic" and said he had strong reaction to smells. She said he had begun to buy firearms over the course of the last year and that Danley believed it was a "hobby" of his.
Danley, according to the report, said the couple had stayed at the Mandalay Bay in the beginning of September 2017 in a room overlooking Las Vegas Village venue. She said Paddock was behaving strangely, constantly looking out windows and moving from window to window to look at the site from different angles.
FBI warrant documents also showed that Danley told investigators that they would find her fingerprints on bullets used during the attack because she would sometimes help Paddock load high-volume ammunition magazines, and that Danley deleted her Facebook account in the hours immediately following the shooting.
The Clark County coroner ruled that all 58 people killed in the attack died of gunshot wounds. Paddock's death was ruled a suicide. Media organizations including The Associated Press are seeking autopsy records that have not been made public.
Thanks for reading CBS NEWS.
Create your free account or log in
for more features.