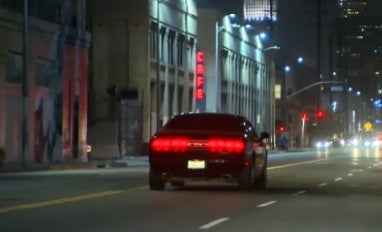 LAPD task force aims to put the brakes on street racing
LOS ANGELES-- Police in Los Angeles are rolling out a new task force aimed at stopping a decades-old problem -- street racing. Officers say in recent months, they've seen a rise in crashes, some of them deadly.
It's an every weekend sight in Southern California: streets and highways transformed into tracks for dangerous, high-speed, illegal street racing.
It's a crime that a new Los Angeles police task force is now working to wipe out.
"The goal is to essentially discourage the behavior and ensure that there is an understanding that this behavior is not welcome in this city," said Sergeant Jessie Garcia.
Garcia and his team are working with other state and local agencies. They are targeting areas where racers typically gather. The LAPD is dedicating at least a dozen officers with the sole task of stopping races before they start.
The task force did a test run last September, and Garcia said it worked.
But while the LAPD saw a drop in the number of races during that time, they also noticed racers taking more risks, sometimes with deadly consequences.
In February, street racing led to a fiery crash on Interstate 5 that killed three people -- including 19-year-old Michelle Littlefield.
"I never dreamed in a thousand years this would happen... not this way,"said William Littlefield, the teen's father.
Nationally, stats on street racing deaths are not easy to tally because different agencies don't always report racing crashes the same way.
But Sergeant Garcia said he's seen a sharp increase over the past several years.
"Social media is definitely fueling this because it provides them an outlet to brag about what they are doing," he said.
Garcia also points in part to movies like the "Fast and the Furious" series, and says racers in real life are becoming more violent.
One video shows a street racing group attacking a police SUV in Los Angeles earlier this month, as officers attempted to break up a race.
"We have been finding weapons inside their vehicles, loaded pistols... these events, they are not just for show either, they involve money," said Garcia.
The police sergeant said there was a reason the task force finally started to get to work now.
"We have been able to come up with a strategy that works," said Garcia. "We have an obligation to protect their quality of life and their safety and that's what we're here for."
He hopes this new initiative will do exactly that.
Thanks for reading CBS NEWS.
Create your free account or log in
for more features.