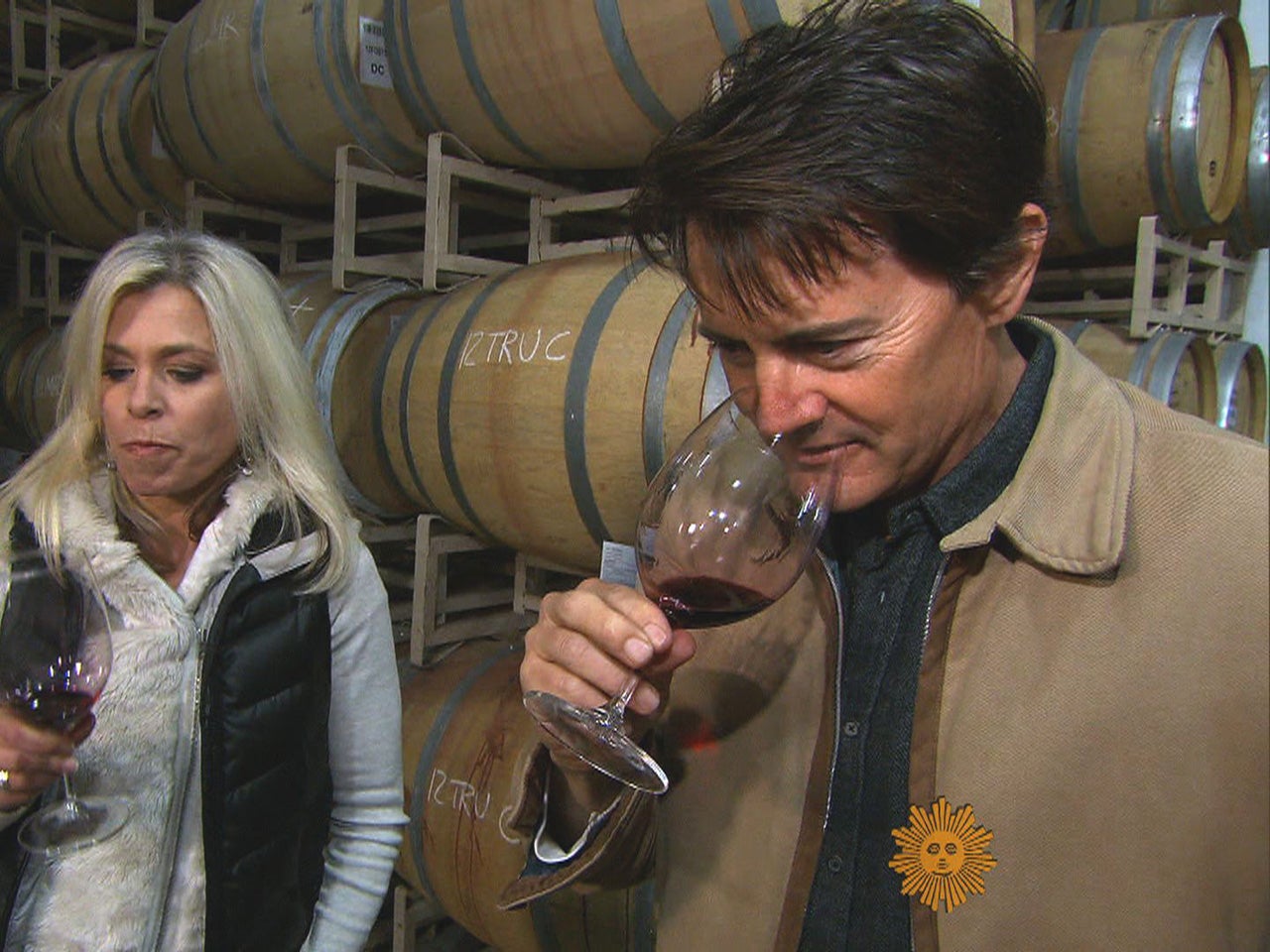 Kyle MacLachlan: At the intersection of Hollywood and vine
(CBS News) From his role in the TV series "Sex and the City" to his sideline as a winemaker, Kyle MacLachlan pursues his career on two very different tracks. How he balances the two is what Tracy Smith went to find out:

Say the name Kyle MacLachlan, and many people recall the quirky FBI agent in the 1990s TV phenomenon, "Twin Peaks." ("Damn good coffee! And hot!") Or maybe the cold-fish husband on the monster cable series, "Sex and the City," or the twisted next-door neighbor on "Desperate Housewives."
In movies and TV, MacLachlan is seldom the square-jawed Boy Scout he appears, so it figures that what he does off-screen is just as unexpected: the actor is also a winemaker, on his home turf in Washington's Columbia Valley.
Since 2005, MacLachlan, along with winemaker Eric Dunham, has produced about 400 cases of wine a year.
It's a hands-on deal. MacLachlan is involved in every step, from sorting the grapes on occasion, to tracking the progress of the aging wine as it ripens in the cask for a few years.
It takes a lot of tasting and mixing of different wines to make a perfect cabernet blend. For MacLachlan the process took some getting used to:

"The first time I did this I swallowed," he said. "Oh no! Anyway, so, first pass through when I went to write my notes, I was like, 'I can't really see the paper.' So I learned very quickly, it's better to spit."

The result is this: a wine he calls Pursued by Bear. He took the name from a stage direction in Shakespeare's "The Winter's Tale": Exit, pursued by a bear. The 2013 vintage, basically still just grape juice, is already showing promise.


Like his wine, MacLachlan's career took a bit of time to mature. Born in central Washington State in 1959, he was the oldest of three boys. He considered a career in business before he was drawn to acting school at the University of Washington.


He didn't exactly knock 'em dead. "I mean, I was the worst one in the class," he told Smith. "I was horrible. Oh, man. Talk to my classmates!"




They'd say he was good enough to land the lead in David Lynch's 1984 sci-fi action movie, "Dune." It was a big-screen, big-budget, big-time flop.

"Were you crushed?" Smith asked.

"I didn't know enough to be crushed," MacLachlan replied. "I just assumed, because everyone was telling me that it was going to be this major hit and whatever, that what was gonna be was gonna be, you know? And when it came out and it wasn't, it was like, 'Oh. Readjust, readjust.'"

Another Lynch film, 1986's "Blue Velvet," rebooted his career, and "Twin Peaks" made Kyle MacLachlan a household name.

His latest project is a bit less glamorous.


When you see the words "actor" and "winemaker" in the same sentence, you might think "vanity project." You would be wrong. His wine project began as a way to stay closer to his aging father, Kent. "This sort of galvanized me to get back here and see him, spend time with him. And it worked." That extra time was a gift; in 2011, Kent MacLachlan died suddenly at the age of 77.

"I look back now and I say, I'm so, so grateful for that, being able to share that time with him," he told Smith."It was very important."


There were other blessings as well: as an actor, Kyle MacLachlan has endured his share of criticism, but nothing could have prepared him for his first review in the industry Bible, Wine Spectator.
"I was sort of looking through it, looking through it, looking through it and I came onto this thing and I read 'Pursued by Bear.' Pursued by Bear? I said, 'Oh, somebody has a wine named like mine!' That was my first reaction. I was, like, 'Oh, they got a 91. Wow. Oh, no, wait a minute! That's my wine!' It was like I read the greatest review of a film that I'd been in or something. It was just really cool, really cool."

He still has a day job, and a home in New York City. "I feel very centered here, very comfortable," he said Washington State.. "I know the area. It's in my body, I guess."

"Could you ever see living here full-time?" Smith asked.

"No. I wouldn't go that far, Tracy!"

But now there are other reasons to keep his wine flowing: when MacLachlan and wife Desiree had a son, Callum, in 2008, the proud new papa started a special vintage, a syrah called Baby Bear.

He's hopeful the winemaking that brought him closer to his dad will do the same for his son. "Maybe he'll have an interest," MacLachlan said. "Maybe he'll want to learn about it, when he's a little older." The man who built a career on complex characters now makes wine for the simplest reason of all: love.





For more info:



Thanks for reading CBS NEWS.
Create your free account or log in
for more features.