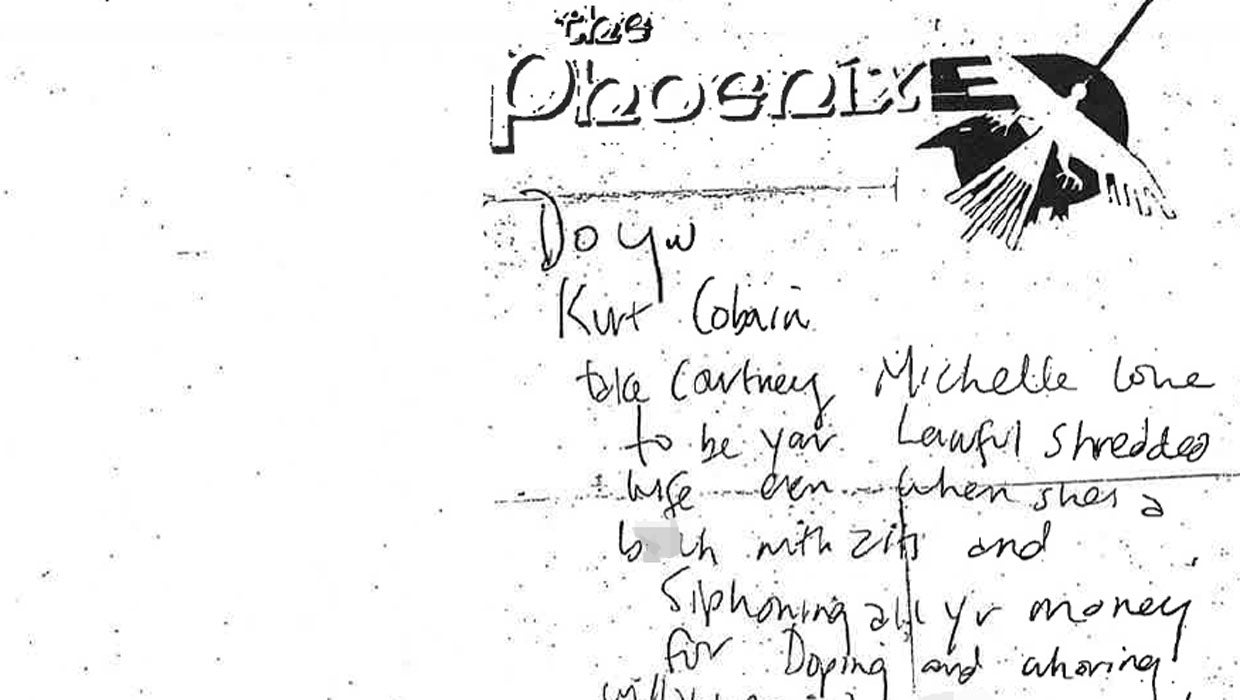 Kurt Cobain death-scene note mocks vows to Courtney Love
LOS ANGELES - A note discovered in the wallet of music legend Kurt Cobain at the time of his death, but kept secret until now, promises to add fuel to the pop culture fascination with Cobain and stoke further questions about what role his famously troubled personal life and marriage played in his demise.
When police arrived to find Cobain dead at his Seattle area home on April 8, 1994, from what the King County Medical Examiner would determine was a suicide, the note was taken from his wallet, logged into evidence days later in the Seattle Police Department (SPD) case file, and never made public.
The release of the note by Seattle police follows a recent revelation that the police decided to review internal files regarding the rock star's death in anticipation of media and fan attention to the 20-year-anniversary which occurred at the beginning of the month. As part of that process, the SPD released dozens of never-before-seen police photos from the scene where Cobain's body was found, and then on Monday, a detective's full report on the re-examination of the suicide file.
In response to public information requests filed by CBS News, the SPD provided hundreds of pages of copies of police reports and evidence recovered at the home of Kurt Cobain when his body was found, including the never-before-released hand-written note.
At the time of his death there was much speculation within the music industry and among fans about the stormy, drug-addled relationship between Cobain and his rock-star wife Courtney Love. The note may show the author, presumably Cobain, poking sarcastic fun at the marriage; or perhaps it reveals a deep-seated resentment toward Love about drugs, sex, rock and roll... and money. One might even imagine two lovers penning the note together, fully aware of the scrutiny their relationship engendered.
The note, which is not dated, begins as a seemingly direct parody of standard Christian marriage vows, starting with the words, "Do you Kurt Cobain take Courtney Michelle Love to be your lawful shredded wife..." It goes on to say, "even when she's a b**ch with zits and siphoning all (your) money for doping and whoring..."
Speculation and questions surrounding the circumstances of Cobain's death have endured for 20 years. Conspiracy theorists and some fans still suspect he was murdered and challenge police characterization of another note from the death scene as Cobain's handwritten suicide note.
The handwriting on both appears to a lay person remarkably similar, if the sentiments are not. The wallet note referring to Love as a "b**ch"..."siphoning money for doping and whoring" is in stark contrast to the presumed suicide note, which calls Love a "goddess... who sweats ambition and empathy."
The note is written on stationery from the Phoenix Hotel, billing itself "an urban resort" on the outskirts of San Francisco's gritty, crime-ridden Tenderloin district. The Phoenix had a reputation then, as now, as being popular with a rock 'n roll hipster clientele, offering "more than a little edge."
Courtney Love's attorneys did not recall phone calls inquiring about the note.

The SPD review confirmed the King County Medical Examiner's original determination that Cobain's death was a suicide, concluding that he used a shotgun to shoot himself after taking what would have otherwise been a lethal dose of heroin.
Thanks for reading CBS NEWS.
Create your free account or log in
for more features.