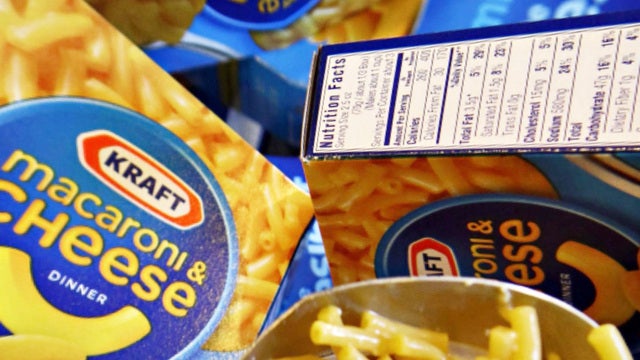 Kraft removing artificial dyes, preservatives from Mac & Cheese
Consumer demand for healthy, simple ingredients has become a powerful force shaping the marketplace. Today, food giant Kraft responded with a pledge to stop using artificial preservatives and dyes in its Kraft Macaroni & Cheese by January 2016.
Kraft says it will remove artificial preservatives and replace dyes with naturally sourced coloring ingredients like turmeric, paprika and annatto.This reformulation isn't entirely new for Kraft; the company has already changed its popular Mac & Cheese recipe for parts of the European Union where certain yellow artificial dyes are banned due to health concerns.
CBS News financial contributor Mellody Hobson spoke with Kraft leaders in Chicago as they considered the policy change.
"If they want to maintain their dominant market share-- and it is huge, they sell a million boxes of macaroni and cheese every single day -- and if they want to maintain their share, they've got to change with the consumer tastes. [Consumers] are looking for simpler, more natural ingredients," Hobson said on "CBS This Morning."
Kraft has been facing increasing pressure from outspoken food activists like Vani Hari, a.k.a "The Food Babe," and more informed, health-conscious consumers. Hari's change.org petition demanding Kraft remove yellow 5 and yellow 6 dyes from its Macaroni & Cheese garnered over 365,000 signatures.
This year, Kraft relaunched its Macaroni & Cheese Boxed Shapes -- popular with children -- without synthetic dyes, artificial preservatives or flavors.
Healthy is hot right now, and many parents are willing to pay more for organic ingredients. In 2014, sales of additive-free products increased 11 percent to a record high of $39 billion, according to the Organic Trade Association.
"We've met with families in their homes and watched them prepare Kraft Mac & Cheese in their kitchens. They told us they want to feel good about the foods they eat and serve their families, including everything from improved nutrition to simpler ingredients," Triona Schmelter, Kraft's Vice President of Marketing, Meals, said in a press release.
But taste is also important, and it could be risky for a company to tamper with such a familiar flavor. "We've been working tirelessly to find the right recipe that our fans will love," Schmelter said.
"They're seeing the signs and they're changing accordingly," observed Hobson. "This health and wellness trend is not a fad, it's here to stay."
Thanks for reading CBS NEWS.
Create your free account or log in
for more features.