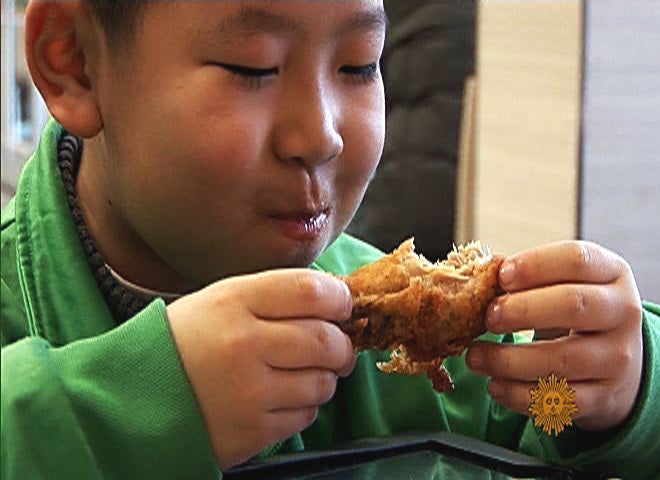 KFC's finger-lickin' success in China
Updated 11:23 a.m. ET
It's lunchtime in Shanghai, and for many, it's time to visit the Colonel ... Colonel Sanders, that is.
There are few things in American culture Chinese people love more than that finger-lickin' good mixture of herbs, spices, and chicken.
"In China, young people have really caught on to KFC," explains one customer.
From McDonald's to Burger King and Cold Stone, America's food chains are doing all they can to tempt Chinese taste buds.
But so far, it's KFC's estimated $3.4 billion Chinese empire that's capturing the holy grail of the new global economy: Chinese customer loyalty.
Sam Su has headed the China wing of KFC's parent company, Yum Brands, since KFC first came to Beijing in 1987.
"The timing was perfect, and we were just opening up so we were not just chicken, we were a piece of Americana," said Su.
This version of Americana's clearly a hit. Yum Brands' 3,900 restaurants in China earned more revenue last year than all 19,000 Yum! Brands restaurants in the U.S. including KFC, Pizza Hut and Taco Bell.
That's because in China, the company doesn't need to split its profits with franchise owners like it does in the States.
Former company executive Warren Liu literally wrote the book on KFC in China.
"Ninety percent of KFC restaurants in China are owned, invested and directly managed by Yum Brands," said Liu.
So, what's KFC's secret recipe for making all that money in the first place? A successful mixture of Kentucky's finest with Chinese classics.
A typical Kentucky Fried Chicken meal in the U.S. features original, extra crispy and a Pepsi.
And what do you get at a KFC in China? Chicken with Sichuan spicy sauce and rice, egg soup, a "dragon twister" (KFC's take on a traditional Beijing duck wrap), all washed down with some soybean milk.
Some worry these mountains of food are quickly translating into super-sized obesity rates. And KFC has its own concerns that continual inflation and recent salary hikes will force the restaurant's rising prices even higher.
But no doubt about it: For now, this restaurant chain has struck gold - battered, crispy gold.
"China is pretty much the best for every industry in the world, and every major company cannot think of a strategy without China," said Su.
With a new location opening its doors in China every 18 hours, few here can conceive of a world without KFC.
Thanks for reading CBS NEWS.
Create your free account or log in
for more features.