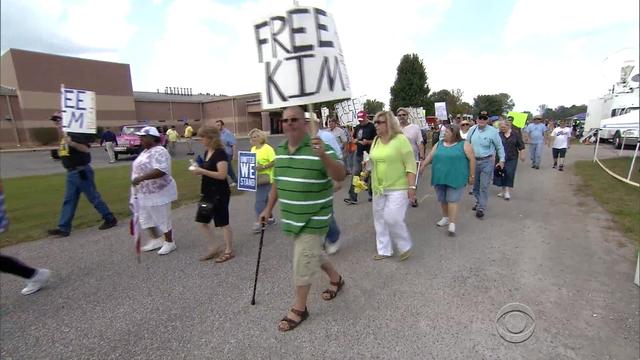 Steadfast supporters boost efforts to free Kim Davis
Lawyers for a defiant Kentucky court clerk are stepping up efforts to free her from jail, while outside the Carter County Detention Center, Kim Davis' supporters have set the stage for what could be the biggest gathering yet, reports CBS News correspondent Jericka Duncan.
"We're gonna pray until the doors open! We're gonna pray until she's released," a backer said. They're hoping their prayers are answered soon.
"We feel that she is standing for the truth because if they come against her as for her religious belief, then the next thing, they will be hitting the churches," Morehead, Kentucky, resident Jeri McClurg said.
Among her supporters is Republican presidential candidate Mike Huckabee, who plans attend the Tuesday's rally.
Attorneys for Kim Davis filed an emergency motion in federal court Monday as she continues to refuse to obey the Supreme Court's decision on same-sex marriage.
In that injunction, attorneys called Davis' incarceration "an assault upon her individual liberty and dignity" and asked the court to exempt her "from authorizing marriage licenses pending final resolution of the appeal."
"That solution is for the court or the state of Kentucky to remove Kim Davis' name off the marriage licenses," her lawyer Harry Mihet said.
He said she doesn't want to participate in something that violates "the deepest cores of her conscience."
Some wonder why she doesn't step down.
"She has to take a stand for not only her rights ,but for the rights of many others who may feel the same way but who may not have the same courage that she does," Mihet said.
Monday, some Davis backers went to the home of the federal judge who ordered her to jail.
Davis' lawyers say she's prepared to sit behind bars for as long as it takes. Meanwhile, five of her deputies will continue issuing marriages licenses in her absence.
Davis' critics didn't show up Monday, but they argue she should do the job she was elected to do or resign.
Thanks for reading CBS NEWS.
Create your free account or log in
for more features.