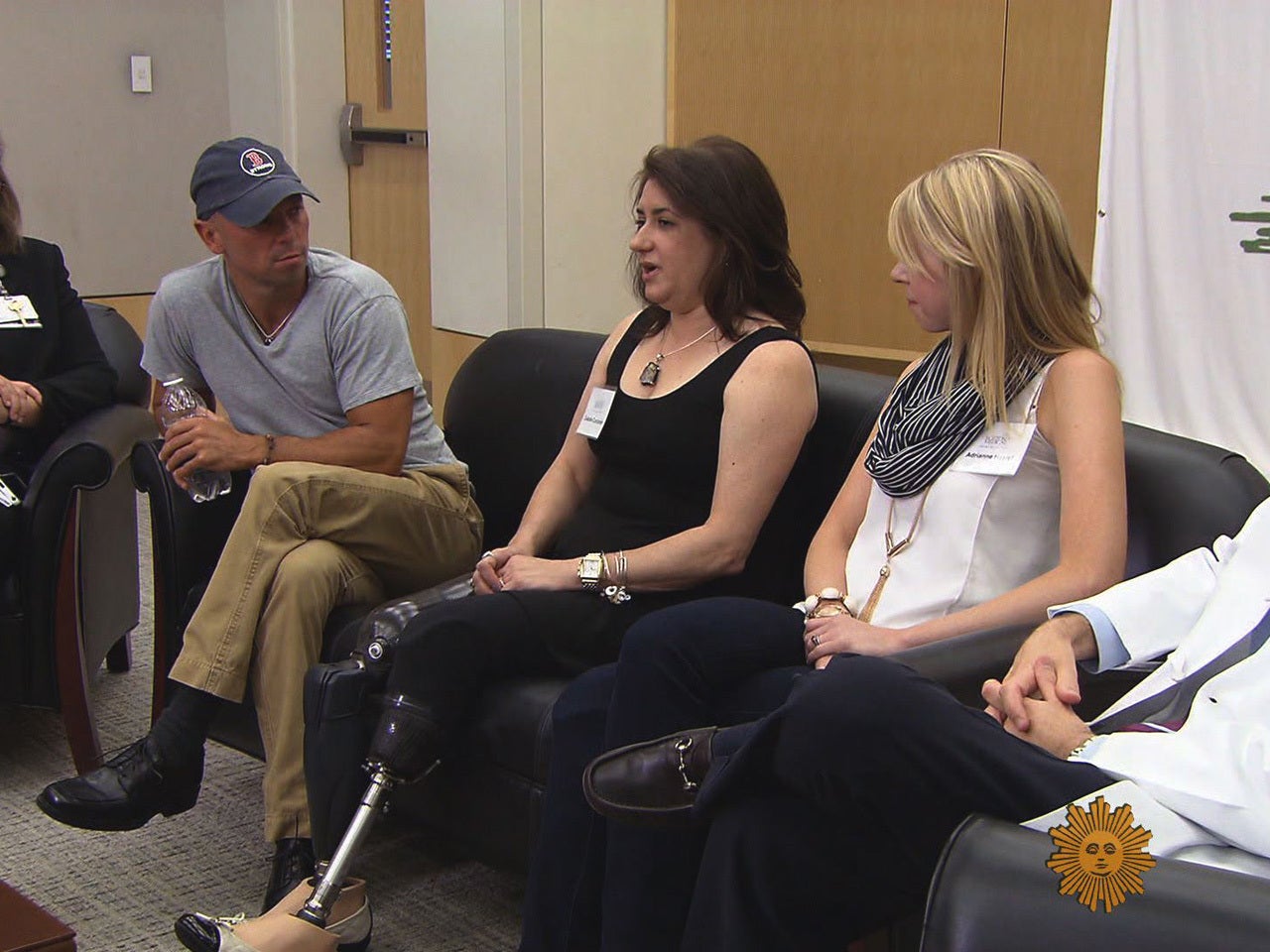 Kenny Chesney spreads the love to Boston bombing victims
(CBS News) Country music star Kenny Chesney has sold more than 30 million records. Nowadays, however, he measures success by the help he is offering to victims of last April's marathon bombing in Boston. Here's Don Dahler:
He's one of the kings of country music. Kenny Chesney is like a 100-watt bulb in a 50-watt socket -- his energy is overwhelming.
Dahler asked, "Does this ever feel like a job?"
"Is it hard work? It's more work than people imagine," Chesney replied. "But is it rewarding? The moment that I get to go up there on stage and look at all those people in the eye, and they look back at me -- it's an unbelievable feeling. And sometimes it's like a revival out there."
That passion has made Chesney one of the biggest names in country music, with 14 albums and more than 20 Number One singles.
He has created music that energizes millions of fans -- fans who may be surprised at what he's up to next.
He decided not to tour next year. "I want to concentrate on making the best record I can make, you know? And so I'm going to do a lot of writing. I'm going to do a lot of reconnecting, hopefully, with family and people I haven't seen, 'cause I've been out here on this treadmill for a while."
Dahler caught up with Chesney at the last stop on his five-month long tour: Gillette Stadium in the Boston suburb of Foxboro, Mass., not a place that typically comes to mind when you think of country music.
"This is a very passionate town," Chesney said. "They're passionate about sports. They're passionate about life. They're passionate about music and food. And they work really hard. And those are all the things that I grew up on."
But Chesney's connection with his Boston area fans stretches far beyond the parking lot of his sold-out shows. He was in Florida, on a day off from touring, when news of the Boston Marathon bombing broke.
"When I saw this happen, and I saw this arrogant look on these kids' faces . . . it pissed me off," he said, "and I thought about the relationship through music that I've had with all the people that have come to play over the years, that's what led me to do something."
Complete CBSNews.com coverage: Boston Marathon bombing
What he did was start the Spread the Love fund, named after a song on his latest record. Proceeds from the song will go into the fund to help finance the current and future care for amputee victims of the bombing.
While in Massachusetts, Chesney took a tour of the Boston Medical Center (where the fund will be allocated). The hospital was just blocks from the bombing.
Dr. Andy Ulrich described the day of the blast: "We're the closest. We got the earliest, the quickest. And they just come in. So we got a quick phone call that said something happened. And within minutes, ambulances were backing up with two in the back, three in the back. . . . We had far more than we could handle here."
Chesney also met with some blast victims who will benefit from the fund, such as dance instructor Adrianne Haslet.
She told Chesney, "The music means a lot to all of us. I know, being a dancer, it can change your entire day. And hearing music that makes you want to move can certainly help you become more mobile. So I appreciate it."
Dahler first met Haslet less than two weeks after the Boston attack, when she recalled the bombing: "I said there's something wrong with my foot. And he looked down and grabbed onto my leg and lifted it up and just started screaming. It was terrifying because I was just losing so much blood I thought that, that was it."
Her very expensive prosthetic (a "dancing leg," which can cost between $75,000 and $100,000) will be subsidized by Spread the Love.
Celeste Corchoran lost both her legs. "It is a huge adjustment," she said. "It's really hard to get used to what your body now looks like. And as a double amputee, you know, it's encouraging to hear about keeping everything going because the reality is, this is for the rest of our lives. We want to keep as active and as normal -- our new normal, you know -- as we possibly can."
"I left there today so thankful that I wrote that song," Chesney told Dahler. "And now here we were in Boston, helping people that I've never met through music to get them back to some sort of normalcy in their life - [it's] pretty special."
As Kenny Chesney steps off the stage for some well-earned R&R, he's hoping his music will continue to reach the people who need it most.
"I think music is the most powerful thing that we have," he said. "I do believe that music has the ability to give people hope, to heal people, like nothing else does."
For more info:
Thanks for reading CBS NEWS.
Create your free account or log in
for more features.