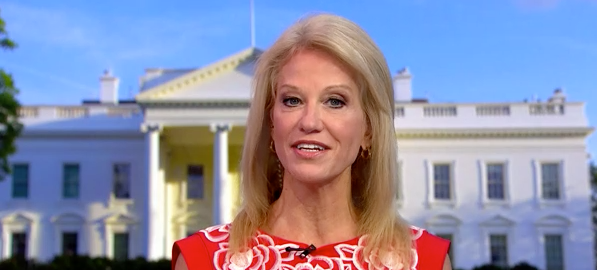 Kellyanne Conway says Brett Kavanaugh allegations feel like "a vast left-wing conspiracy"
White House counselor Kellyanne Conway is defending President Trump's nominee for the U.S. Supreme Court as Judge Brett Kavanaugh faces allegations of sexual misconduct from over 30 years ago. Conway, speaking on "CBS This Morning" Monday, said the allegations against Kavanaugh are "starting to feel like a vast left-wing conspiracy."
"I know there's pent-up demand for women to get their day, women who have been sexually harassed and sexually assaulted, and I personally am very aggrieved for all of them, but we cannot put decades of pent-up demand for women to feel whole on one man's shoulders. What exactly is the standard for ruining one man's life based on decades of allegations that have nothing to do with him?" said Conway.
She added, "I just don't think one man's shoulders should bear decades of the MeToo movement."
Conway's comments come after another woman has come forward with accusations against the president's pick to fill the vacancy on the high court. According to The New Yorker, 53-year-old Deborah Ramirez alleges that Kavanaugh exposed himself to her at a party when they were both students at Yale University in the 1980s.
It's the latest allegation against Kavanaugh as another accuser, Christine Blasey Ford, is expected to testify before the Senate Judiciary Committee on Thursday.
Kavanaugh has vehemently denied both women's allegations. On Sunday, through an official White House statement, Kavanaugh categorically denied the latest alleged incident ever took place, calling it a "smear."
"I look forward to testifying on Thursday about the truth, and defending my good name — and the reputation for character and integrity I have spent a lifetime building — against these last-minute allegations," Kavanaugh said Sunday. Conway said the allegations against Kavanaugh, many of which stem from his years as a high school and college student, "does not comport with" the man many of his former female colleagues have known him to be.
"This may be the first time we've heard allegations against someone as a teenager who did not prey upon women thusly as he became powerful," she said.
Conway said that Ramirez can also testify before the committee if she so chooses, suggesting she contact Judiciary Committee Chairman Chuck Grassley, who Conway said has made "unprecedented accommodations" for Ford. But the president's adviser would not say if follow-up investigations should take place, saying the entire confirmation process has already been put on hold "for weeks."
Conway also said that Mr. Trump has "said from the beginning that Dr. Ford should be heard," calling him "very respectful" throughout the entire confirmation process.
"I take these allegations very seriously, as does the president," said Conway. "This president is defending his nominee to the United States Supreme Court. That nominee needs to defend himself against these allegations."
Thanks for reading CBS NEWS.
Create your free account or log in
for more features.