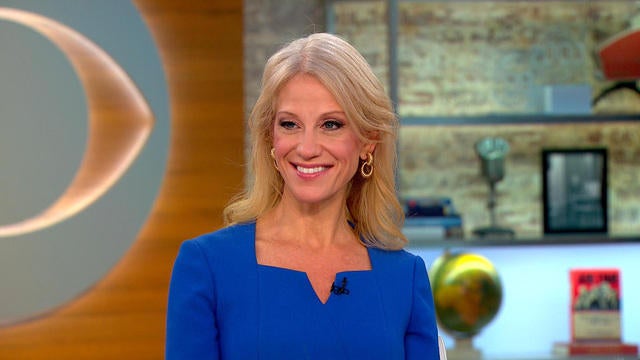 Kellyanne Conway pushes back on "fake" Trump intel claims
Kellyanne Conway, counsel to Donald Trump, pushed back Wednesday on unverified claims of an alleged Russian effort to compromise the president-elect, calling them "fake" and "unsubstantiated."
Asked on "CBS This Morning" whether Mr. Trump had read a two-page addendum to an intelligence report which contained unconfirmed details that Russia had gathered on Trump, Conway replied: "If you're referring to a two-page appendix that people are talking about in the media that was somehow meant to tip him off in a 35-page unsubstantiated report from the internet -- which is not a report from the intelligence community -- I would say that's not even fake news, it's just fake."
"So you are saying that everything that's in that appendix is wrong and fake?" co-host Charlie Rose asked.
"No," Conway said. "What I'm saying is that 35-page report has clearly come from the internet. It's rife with misspellings, it's uncorroborated and unsubstantiated." She went on to call the lengthy report, originally published on Buzzfeed News, "something that reads like a grade B spy novel." Kremlin spokesman Dmitry Peskov also denied the claims Wednesday, saying that allegations that Russia has "compromising intel" on Hillary Clinton or Mr. Trump are "absolutely fake."
A two-page addendum to the U.S. intel report, however, contained such confidential information that it was not presented with the classified brief presented to several government officials last week. A source told CBS News that the appendix was only part of the most confidential report, and it only would have been presented to President Obama, the president-elect, top Democrat and Republicans in the House and the Senate, and the chair and ranking members of the House and Senate Intelligence committees.
In her interview Wednesday, Conway was questioned further about whether the president-elect had never read the intelligence report that had been given to him on the Russian efforts.
"He has not said that," she responded. Later, Conway added: "He reads anything that's given to him. I can tell you that."
Of the 35-page report published by Buzzfeed, Conway said, "We know people were chasing these rumors for months and couldn't come up with any verification."
She promised, however, that Mr. Trump would soon make public pronouncements about the reports. Discussing the president-elect's scheduled press conference Wednesday, the top adviser to Mr. Trump said "we expect to address this today."
Conway also addressed charges in the report that members of the Trump campaign had colluded with Moscow during the 2016 race to the White House.
When asked whether she could say that "nobody" in the campaign had been involved with Russians before or after the election, Conway replied: "Yes, I can. I was talking to people in Michigan, not people in Moscow. That's how we won this election."
She further criticized legislators, including former Senate Minority Leader Harry Reid, that had commented on the intelligence report, saying, "I don't like a United States senator saying something like that. It would be a bombshell and it would be investigated. It's dangerous rhetoric particularly in a time when responsible outlets were chasing it and came up empty handed and decided not to pursue it."
When Rose pointed out suggestions that the "dossier" of information collected by the Russians "could be used to blackmail Mr. Trump," Conway shot back: "Not if anything in there is not true."
"That's why last night those of us who were with the president-elect discussing this, he made the decision to tweet out 'fake news political witch-hunt,'" she added.
Thanks for reading CBS NEWS.
Create your free account or log in
for more features.