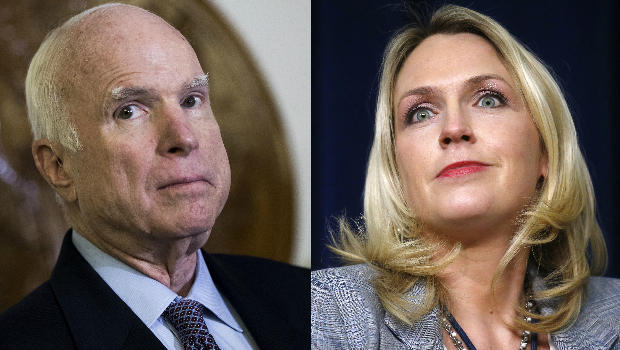 Kelly Sadler, White House aide who insulted John McCain, is out
Kelly Sadler, the White House aide who made an insulting comment about Sen. John McCain, no longer works at the White House, the White House confirmed Tuesday.
"Kelly Sadler is no longer employed within the Executive Office of the President," White House principal deputy press secretary Raj Shah said.
Sadler's said in a White House staff meeting last month that McCain's opposition to now-CIA Director Gina Haspel didn't matter because he was dying, which elicited public shock and indignation. But the White House has refused to apologize for her comments, prolonging the controversy. McCain is battling a brain tumor from home in Arizona.
"This is an internal matter," Shah said in a White House press briefing last month. "It's being addressed internally and I don't have anything further to add."
CNN first reported Sadler's departure, the circumstances of which are unclear.
Some of McCain's colleagues in the Senate seemed to suggest Sadler should be punished for her behavior. Senate Majority Leader Mitch McConnell said Sadler should "apologize publicly." But the White House seemed more upset by the fact that Sadler's remark was leaked to the press.
Meghan McCain, John McCain's daughter, said on ABC's "The View" last month that she wondered "what kind of environment you're working in when that would be acceptable and then you can come to work the next day and still have a job."
"First I just want to say is, don't feel bad for me or my family," the McCain daughter also said. "There's so much more love and prayer and amazing energy being generated towards us than anything negative at all. And I feel so blessed. My dad's actually doing really well right now, and I believe in the power of prayer. And I think it's helping. So I want to thank all the positivity of people with that."
Thanks for reading CBS NEWS.
Create your free account or log in
for more features.