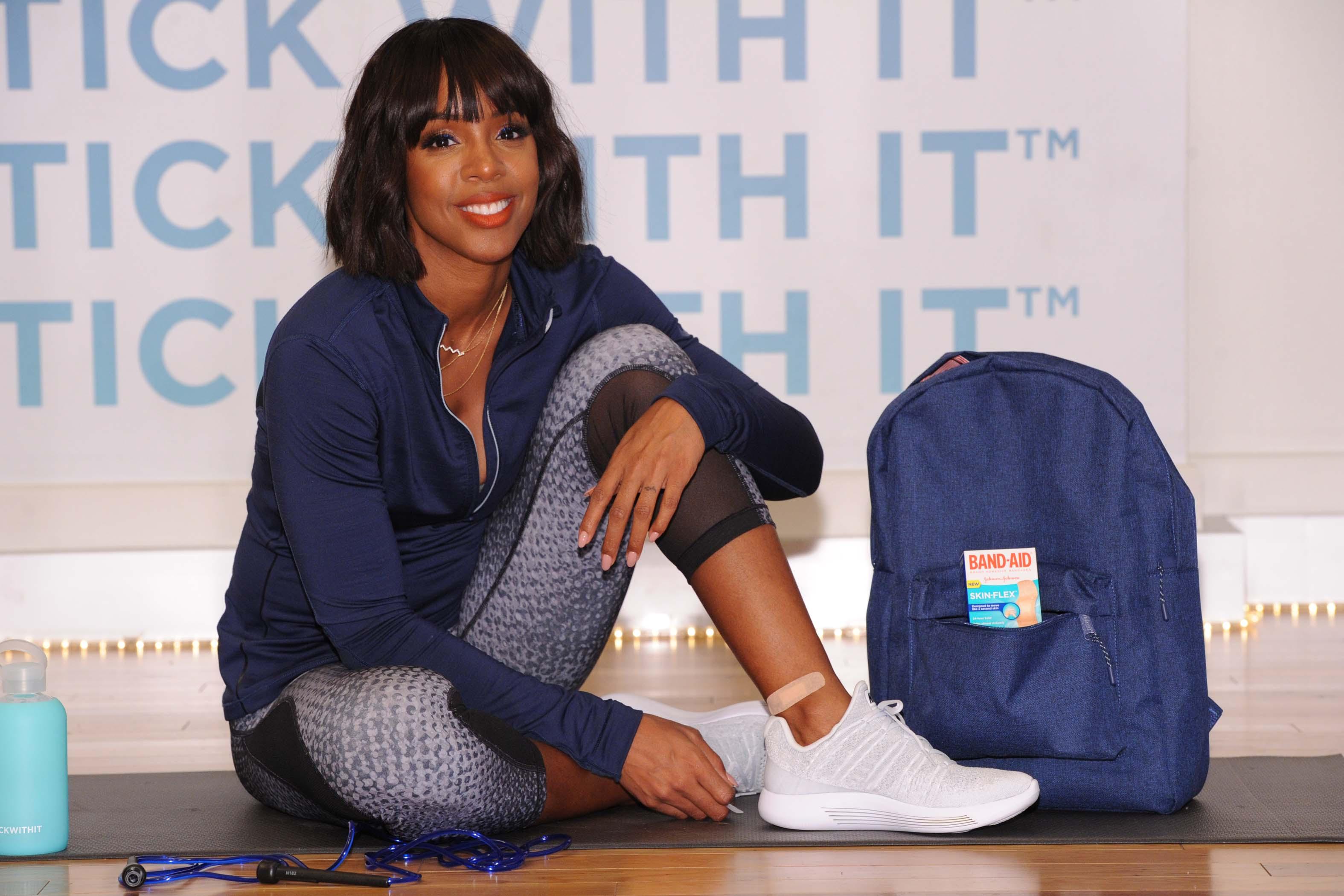 Kelly Rowland explains why she wishes she'd had her baby earlier
Kelly Rowland is best known for her career as a singer, and even she said she never envisioned herself as an author. But everything changed after she had her son, Titan Jewell Witherspoon, and the former Destiny's Child member decided to take it upon herself to talk to experts and write a guidebook on what to expect after you've had a baby.
She talked to CBS News about her partnership with Band-Aid Brand, her new book "Whoa Baby!" and why she wishes she'd had her son earlier.
You're working with Band-Aid as a spokesperson; what do you use the new Skin-Flex bandages for?
I mean the cool thing about the Skin-Flex bandages is, a long time ago I remember having the Band-Aid bandages and they would sometimes kind of fall off but this one is skin-tight. It stays on and it moves with my skin.
I'm also part of the Stick With It campaign and that's what I love most. They're encouraging people -- when you have those moments that might knock you down, it's really about the way you get back up and persevere and move forward with bravery and that's what got me really excited, because I've had my moments where I've had to remind myself to stick with it.
Do you have an example?
There was a moment when I had a really great record in my possession and I was with a team at the time that didn't quite believe in it and I was so disappointed. But at the same time, I had a feeling in my gut: I know this is great and they don't get it. That's okay. You just switch teams. And that's what I did and I'm happy because the song went on to be a no. 1 record in 20-something countries -- "When Love Takes Over" -- and if I didn't do that, I wouldn't have known what was on the other side.
You just wrote a book called "Whoa Baby!" about life after having a kid, but it's different from most celebrity books in that you talked to a lot of experts. What gave you the idea to write this book?
For me, I had never had the idea to write a book. I didn't see any book that would help me in this post-pregnancy portion of my motherhood and I remember thinking that I felt so prepared reading books like "What to Expect When You're Expecting," but afterward, I couldn't find anything. I talked to my doctor and she said most patients have more questions about what happens afterward and I said, "That's so crazy to me that no one's written it," and she said, "Someone should," and I said, "Oh, we're going to write it."
What were your biggest takeaways from writing the book?
It was the physical changes for me because I saw so many different magazines where I saw all these women who bounced back and I was thinking, "I'll do the same." Everybody's body is different, but I thought mine would magically bounce back. That didn't happen for me. I had to do the work. I remember around the time, I gained almost 50 pounds and I was really hard on myself and I had to take a step back and calm down and reassess everything and be like, "Okay, you carried a child in your body for almost a year, so give yourself a break and do the work to feel good about yourself."
How did you rebuild your self-confidence?
My husband gave me the confidence and I actually knew I had to work for the body I wanted back.
How has being a mom changed your priorities?
I think what's changed about me is I think about my son for everything. "How would I feel if this happened to me and my son?" I think about this first and making him proud.
What's the best parenting advice Beyonce gave you?
Well between her and La La [Anthony] and so many other girlfriends, they just gave me so much great advice from taking it one day at a time to being there to support me after I had my son.
Do you feel especially connected to your mom friends now that you have a child?
I always felt connected to them because I always loved kids. Now I understand the experience of having your own.
You've said that you wish you had had your kid earlier. Why is that?
Well, because I've been enjoying it so much and I can't imagine life without him. I can't even remember life before him.
How is being on "The Voice: Australia?"
I love being in Australia. The very first flight, I took without my son and then next trip he came with me. He loved it. I loved it. I love Australia and I always have.
How does it feel to meet new talent and foster them?
It's so exciting.
Do you have any other projects in the pipeline?
I have new music out soon -- sooner than later, which i'm very excited about.
Thanks for reading CBS NEWS.
Create your free account or log in
for more features.