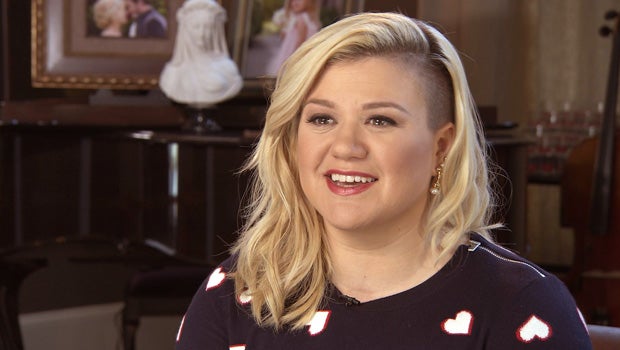 ​Kelly Clarkson: Invincible
"Stronger" is just one of the songs Kelly Clarkson turned into a very big hit. And these days she's at it with the benefit of a very big personal change at home. Tracy Smith has our Sunday Profile:
She's the voice behind some of the biggest breakup anthems ever, and she's sold more than 20 million albums. But 33-year-old Kelly Clarkson's latest release is different. It's the first new music she's made as a mom.

So it's only fitting that her baby girl, River Rose, helped Clarkson debut the first single, "Heartbeat Song."
"I mean, when we recorded it she was in my tummy," Clarkson said. "I thought she was gonna come out, like, telling me to shut up. ... 'Cause it had to have been loud!"
"That's kinda cool, though -- your own private Kelly Clarkson sound booth," said Smith.
"Yeah, she probably didn't think it was cool! She was probably like, 'Okay, I think we've got it. You don't need to do another take.'"
To hear Kelly Clarkson perform "Heartbeat Song," from her new album, "Piece By Piece," click on the video player below.
Truth is, for Clarkson, pregnancy was nothing to sing about.
"I was really sick," she said. "I went in the hospital at one point. I got really sick to where I was losing weight at first. And then I got scared, you know, because I couldn't stop getting sick, non-stop. I tossed the cookies every day at least 20 times. It was rough. But I'd go through it all again. I had the perfect baby."
They live on a lakefront estate with picture-perfect views outside Nashville, Tennessee.
"I chose Nashville because it's a very musical community. You know, with New York and L.A., they're very musical and everyone really lives there in general. But I just really wanted to live somewhere that reminded me of home."
But if this reminds her of home, it's far grander than anything Clarkson saw as a child in the small town of Burleson, Texas.
Smith asked, "When you were growing up, did you worry about money?"
"Yes," she replied. "We lived, like, pre-paycheck to pre-paycheck. I definitely had this whole mentality. I was like, 'Whatever I'm going to do, I just don't want to have to worry about that.'
"I always used to hate, though, when people would be like, 'Money doesn't buy everything.' Rich people say that, not poor people! I don't know one poor person that's going, 'Money doesn't buy you happiness.' It pays you to get out of eviction notices, so it's pretty good!"
Money problems were the least of it. Her family was broken up several times, and the video for her song, "Because of You," is inspired by the turmoil Kelly witnessed as a little girl.
"It's heartbreaking to watch," said Smith.
"Yeah, well, imagine living it," Clarkson laughed.
"How did those divorces color how you looked at love?" asked Smith.
"I never thought honestly I would get married or 'fall in love,' like what they say in the movies," Clarkson said. "And not so because I didn't think it was true. I just wasn't presented with that growing up. I just didn't know if was possible."
What she did know was that she could sing -- a talent she discovered when she started wowing the crowds in high school productions.
"That was kind of my moment, that I thought I could make money with this, maybe."
"Did you think that?"
"Yes. When you're poor, that's all you think about!"
In 2002, with her mom in the audience, she won the very first season of "American Idol," and she won America's heart. We saw a real woman who wasn't afraid to share her foibles, or her tears.
"It was a great moment, it was," Clarkson said. "I will not take away from that. It was a great moment. And it was a perfect song for that moment. You know, there was a little bit in me going, 'Okay, I won this TV show, but I don't know what that means. I don't know what that entails.' There was no previous winner to, like, map anything out. There was no career mapped out yet.
"I guess I'm a realist. So I knew there was going to be a big old giant hurdle coming up. And there was."
"What was the big old giant hurdle?"
"Coming from a talent show!" she laughed.
Still, the talent show act has actual talent -- not to mention grit. Just ask her mentor, Reba McEntire.
"Anybody who came through television into straight success is a huge challenge," McEntire told Smith. "Kelly was thrown into the deep end of the swimming pool quick, and she adapted. And it made her stronger, and I think you can throw anything at Kelly and she'll be able to handle it."
From the moment she won "Idol," Clarkson became a frequent target of the tabloids.
Smith asked, "Do you feel picked apart at times?"
"In my twenties, yes, I felt that pressure all the time," Clarkson said. "Everybody always had something to say -- musically, physically, what I was saying disappointed, whatever.
"Once I hit 30, I don't know what happened, but like, I'm cool with, if you think I should do that, that's awesome, that's great for you and your world, but this is what's happening in my world, and this is what I'm rocking musically, this is what I'm rocking physically, this is what I'm rocking emotionally. You can either love it, or you don't have to. There's plenty of other artists out there to love."
Clearly, plenty of people adore her and her music, and she has the awards to prove it. But visit her home, and you'll have a tough time spotting the statues. They're hidden up on the fourth floor, essentially the attic.
"Well, I want to be proud of them, but I don't want anybody to see!" she laughed. "'Cause I just feel like it's very, like, egocentric to be like, 'And here are my awards.'"
Smith pointed out a Grammy on a shelf in the corner. "I just feel like having a trophy room is just not me," said Clarkson. "Like, 'And here are my accolades. Give it up!' It just seems weird."
What matters more to Clarkson are people. Turns out, the gal who sang about keeping her heart safe wound up giving it away. In 2013 she married her friend Reba McEntire's stepson, music manager Brandon Blackstock.
Smith asked, "You had said at one point that you don't throw those three little words, 'I love you,' around much. Was Brandon the first guy that you said 'I love you" to?"
"He was the first guy I said it and wanted to say it. Like, I didn't feel like I had to -- like, 'Oh, that's what you have to do when they say it.' Yeah. That's the first time that happened. That's horrible! But it is true."

Looking at her life, maybe it's no surprise that one of Clarkson's biggest hits is called "Stronger," and that the title of one of her latest singles is "Invincible."
"Do you feel invincible now?" Smith asked.
"I guess I do. I feel like I've accomplished a lot and I've overcome a lot. That's what I hope this song is for people. So they listen to it and they're projecting what they want and what they can accomplish."
"And it can come true?"
"Yeah, it can. I'm living proof. I mean, I don't know how the hell I got here!"
To hear Kelly Clarkson perform "Invincible," from her new album, "Piece By Piece," click on the video player below.
For more info:
Thanks for reading CBS NEWS.
Create your free account or log in
for more features.