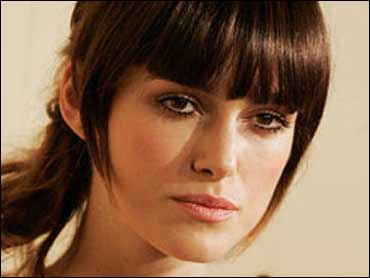 Keira Knightley: "Wonky Teeth" And All
If there really were such a thing as a charmed life, Keira Knightley, it would seem, is living it.
The success of the first "Pirates of the Caribbean" movie spawned two sequels and soon, Knightley, 22, had more offers than she had time to accept. She found time for the 2006 production of Jane Austen's "Pride and Prejudice" and her most recent work, an adaptation of the Ian McEwan novel, "Atonement."
In "Atonement," which is out this week, Knightley plays Cecilia Tallis, a haughty socialite ultimately transformed by love and duty as a nurse during World War II.
"I completely fell in love with her the first time I read the script," she said. "I wanted to do something that was more challenging as well. I mean, I think every role is challenging, but I definitely wanted to do something that was very definitely a woman as opposed to a girl. And the fact that she was difficult and on edge I thought was very appealing."
Her role in "Pride and Prejudice" picked up an Oscar nomination. And her role in "Atonement" has Oscar watchers buzzing all over again.
"I've never felt that I was, in any way, exploited in any of the kind of film experiences that I've had," she told CBS News correspondent Tracy Smith.
She never felt like she needed to change who she was or the way she looked, which is common in Hollywood.
"Which is quite amazing, because I've got wonky teeth," she said. "And I keep hearing about everybody going to Hollywood and, you know, their agents going, 'Straighten your teeth,' or, 'Whiten your teeth,' but nobody's ever said anything about my teeth. They're not straight, apparently. But nobody's ever said anything, which is quite nice I suppose."
---

Photos: On Location: Keira Knightley

---
However "wonky" her teeth may be, they haven't slowed her down.

Knightley was born in 1985 to Sharman MacDonald - a Scottish actress and playwright - and actor Will Knightley. She grew up watching mom and dad work and it didn't take long for the acting bug to bite. At an age when most children ask for toys, Knightley wanted an agent.

But she had trouble in school and was diagnosed with dyslexia when she was six. A teacher told her parents that they needed to dangle a carrot to encourage her to work harder at her studies.

"My mom said, 'Well, she wants an agent. She wants to act. But I'm not gonna let her do it.' And he said, 'Well, I think that's the only way that she's ever going to learn to read is if you give that as a gift at the end,'" Knightley said. "So I had to come to her with a book in my hand and a smile on my face every day through the summer holidays when I was 6. And, at the end, I was allowed an agent."

She made her screen debut at 7, but Knightley's first real brush with international stardom came at 16, in a low-budget film about the lives of girls on a teenage soccer team: "Bend It Like Beckham."

"I remember telling friends I was doing this girls' soccer movie that was called 'Bend It Like Beckham,' and everybody laughed," she said. "It was sort of quite embarrassing, really. And nobody thought that it was gonna be any good."

As it turns out, the little movie was a big hit, and Knightley was becoming a star on the Hollywood field. After that, came "Pirates of the Caribbean."

"Another one where people laughed when I told them about it," she said. "I said it was based on a Disney theme park ride. And everyone just went, 'Oh, that sounds good. Yeah. Good luck with that one!'

"Nobody knew whether it was going to work or not; or whether people were going to like it or not. And I remember being on set just sort of going, 'OK, what is this? Is this any good?'"

What's more, Knightley had severe doubts about her own ability as well. Early on, she thought she was going to be fired.

"I'm actually convinced [of that] on every single film I do," she said. "But on 'Pirates' I was absolutely convinced. And I remember going up for the audition and phoning my agent and saying, 'Don't send me up for this. I'm not gonna get it. This is completely stupid. There's no point.'"

Even after being offered the role, she was so convinced that she wasn't going to last that she flew out to the film's location with only a week's worth of clothes.

But being a real-life movie star is not without its challenges: the more successful Knightley becomes, it would seem, the more intense the scrutiny.

"I'm not comfortable with it," she said. "I think it's safe to say I hate it. It's the idea of being watched. It's 24/7 surveillance. I think it's a very strange voyeurism. It makes me feel dirty. I don't want to be a part of that."

Perhaps the biggest criticism she has received is that she is too thin. Knightley sued the London Daily Mail - and won - for an article suggesting that photos of her skinny frame inspired anorexia. But then she posed naked for Vanity Fair with another hot young star, Scarlett Johansson.

"Why not?" she said. "I was 20, you've got one of the best photographers in the world. I kind of do want to look back at myself when I'm 75 and go, 'Look, ha, I did that!' I don't know, I thought it was a giggle. And, no, I'm not completely comfortable with my body. But I think, at some point, you go, 'OK, either I'm going to be frightened of this, or I'm going to do it.'"

As immodest as that may seem, Knightley seems to make a point of being modest when it comes to her success.

"I think luck is the answer," she said. "I have been very lucky. I'd love to say that I deserve it, but I probably don't. You never know what films are gonna work and what's gonna capture people's imaginations. And I've been lucky enough to be involved with quite a few films that have."
Thanks for reading CBS NEWS.
Create your free account or log in
for more features.