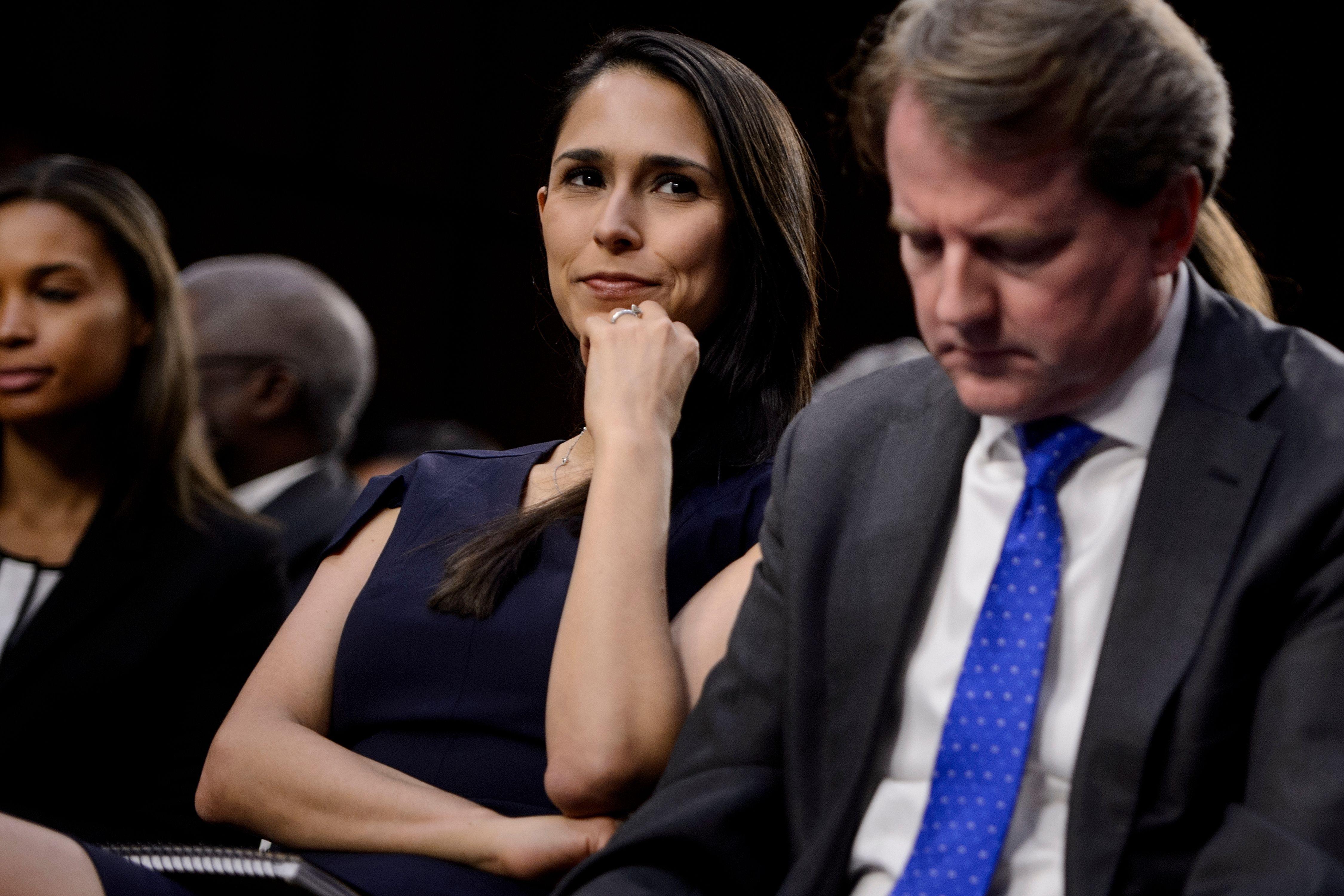 U.S. attorney defends wife after accusations she made "white power" sign at Kavanaugh hearing
The husband of Zina Bash, one of Brett Kavanaugh's former law clerks, came to her defense after video circulated of Bash making a hand gesture that people online considered to be a "white power" sign during the Supreme Court nominee's Senate confirmation hearing Tuesday. John Bash, U.S. Attorney for the Western District of Texas, called the accusations "repulsive" on Twitter.
A clip shows Bash, who was in direct view of TV cameras, appearing to hold her thumb and index finger into an O shape, with her other fingers extended. The gesture is commonly known as the "OK" sign, but has been associated with white supremacists recently. Twitter users accused Bash, who served in the Trump administration as an adviser on immigration policy, of making a "white power" symbol.
John Bash defended his wife, who was born in Mexico and is Jewish on her father's side. Her grandparents are Holocaust survivors.
"The attacks today on my wife are repulsive," Bash tweeted. "Everyone tweeting this vicious conspiracy theory should be ashamed of themselves."
He said his family wasn't familiar with the hateful symbol associated with the "random way" she rested her hand.
"We of course have nothing to do with hate groups, which aim to terrorize and demean other people — never have and never would," he added. "I hope that people will clearly condemn this idiotic and sickening accusation."
Who is Zina Bash?
The Republican from Texas currently serves as Attorney General Ken Paxton's senior counsel on his executive leadership team. She previously worked in the White House as part of the Domestic Policy Council. Bash also worked on the presidential campaign of Sen. Ted Cruz and as a counsel to Sen. John Cornyn. In addition to Kavanaugh, she was a law clerk for U.S. Supreme Court Justice Samuel Alito.
She attained her law degree from Harvard University and a master's degree in business administration from the Wharton School at the University of Pennsylvania.
What is the "white power" symbol?
According to the Anti-Defamation League (ADL), its origins come from an anonymous online hoax.
The prominent anti-hate group says the "OK" hand gesture hoax originated in February 2017 when an anonymous 4channer announced Operation O-KKK, "claiming that the OK hand sign is a symbol of white supremacy." The user even provided a helpful graphic showing how the letters WP for "white power" could be traced within an "OK" gesture, according to ADL.
Mark Pivcavage, a senior research fellow with the ADL, chimed in Tuesday on Bash's hand gesture, saying the hoax evolved and is now embraced by factions of Trump supporters and alt-right members. Pitcavage said not to assume Bash did it deliberately as a white power symbol.
Thanks for reading CBS NEWS.
Create your free account or log in
for more features.