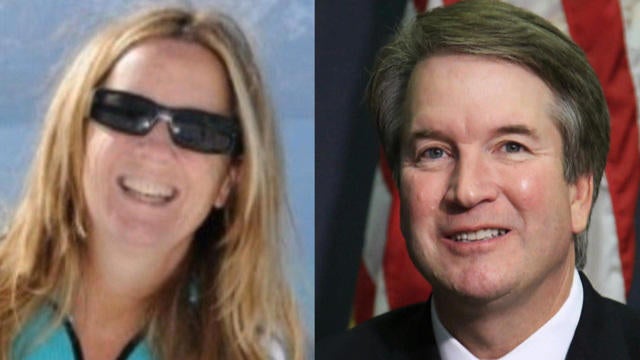 Kavanaugh accuser has Friday deadline to decide whether to testify — live updates
Christine Blasey Ford, the woman accusing Supreme Court nominee Brett Kavanaugh of assaulting her when they were both in high school, has until Friday to decide whether she will testify at a Monday hearing before the Senate Judiciary Committee.
Senate Judiciary Committee Chairman Chuck Grassley, R-Iowa, has set a Friday deadline for Ford to submit testimony, after her attorney has said she doesn't wish to testify until the FBI has completed an investigation into her claims. Republicans on the committee argue they have given Ford sufficient time to respond, and given her the opportunity to testify behind closed doors, or to speak with committee staff in California.
Kavanaugh arrived at the Eisenhower Executive Office Building just before 10 a.m. Thursday.
The status of a public hearing set for Monday into the allegations against Judge Brett Kavanaugh remained in doubt after lawyers for the woman accusing the judge of sexual misconduct say they want a thorough FBI investigation into the matter before testifying in front of the Senate Judiciary Committee. In a letter sent to Committee Chairman Chuck Grassley, Christine Blasey Ford's lawyers say the FBI investigation would serve as a first step in the process to their client testifying in public.
President Trump told reporters on the White House South Lawn Wednesday morning that it would be "wonderful" if she testifies, and "unfortunate" if she does not, and, though he said he'll have to hear what she has to say, said it was "very hard for me to imagine anything happened" between her and Kavanaugh.
"I think he's an extraordinary man -- I think he's a man of great intellect, as I've been telling you, and he has an unblemished record," the president said Wednesday. "This is a very tough thing for him and his family and we want to get over it but at the same time we want to give tremendous amounts of time. If she shows up that would be wonderful if she doesn't show up that would be unfortunate."
"If she shows up and makes a credible showing, that'll be very interesting," the president also said, adding that he "really would want to see what she has to say" in order to express more opinions of her.
Mr. Trump didn't indicate he would direct the FBI to conduct any further review of the situation, saying, "Well, it would seem the FBI really doesn't do that." The FBI has told CBS News that it has included the allegation in Kavanaugh's background file, and is not opening any additional probe at this time, although the president could theoretically direct the FBI to undertake a further review. Ford has told the committee she doesn't wish to testify next week without a concluded FBI investigation. The president said he trusts the Senate to do its job.
"They've given it a lot of time, they will continue to give it a lot of time, and really, it's up to the Senate," he said.
Highlights from coverage this week:
While Kavanaugh intends to return back before the Senate on Monday with or without Ford present, a GOP aide tells CBS News' Nancy Cordes that the committee intends to "leave the opportunity open" for Ford to testify "for as long as possible." It's unclear how the latest developments will impact an eventual vote on Kavanaugh's confirmation out of committee, originally set for this Thursday.
Follow along for live updates below:
---
Kavanaugh's wife has received threats
Kavanaugh's wife, Ashley Kavanaugh, has received multiple threats, a person close to the confirmation process has confirmed to CBS News. The text of three emailed threats, obtained by CBS News, were obscene and violent in nature. CBS News has confirmed that the U.S. Marshal's Service has assigned a protective detail to Kavanaugh's family.
Kavanaugh sends letter to the Senate Judiciary Committee
Kavanaugh sent a letter to Senate Judiciary Committee Chairman Chuck Grassley saying that he had accepted the committee's invitation to him to testify on Monday. Kavanaugh also said that he had initially asked for a hearing to be held on Sept. 18, the day after he met with committee staff privately.
"I also appreciate the time that Committee staff took to interview me on Monday, September 17. During that interview, I twice requested a Committee hearing for the following day, Tuesday, September 18. I continue to want a hearing as soon as possible, so that I can clear my name," Kavanaugh wrote.
The judge also reiterated his denial of Ford's allegations.
"Since the moment I first heard this allegation, I have categorically and unequivocally denied it. I remain committed to defending my integrity," Kavanaugh wrote.
Lawyer: Ford open to testifying under "fair" terms
Ford's attorney Debra Katz said in a new letter to the Judiciary Committee seeking to set up a call to discuss the conditions of Ford's testimony that her client "wishes to testify, provided that we can agree on terms that are fair and which ensure her safety."
"A hearing on Monday is not possible and the Committee's insistence that it occur then is arbitrary in any event. Dr. Ford has asked me to let you know that she appreciates the various options you have suggested. Her strong preference continues to be for the Senate Judiciary Committee to allow for a full investigation prior to her testimony," Katz added.
Liberal "Demand Justice" group releases new ad with Ford's own words
Demand Justice released its latest TV ad featuring excerpts of Ford's letter received by Sen. Dianne Feinstein in which she alleges Kavanaugh sexually assaulted her at a party in high school. The 30-second spot will run in Nevada, Colorado, Maine and Alaska -- states home to crucial Republican votes on the Judiciary Committee like Sens. Lisa Murkowski and Susan Collins.
Coons says he "respects" Ford's hesitation in testifying
Sen. Chris Coons, D-Delaware told reporters on Capitol Hill Thursday that he hopes Ford testifies on Monday but added that he respected her "hesitation" in doing so.
"I do hope she testifies, but I deeply respect her hesitation given the ways in which her life and her family's life has already been disrupted by attacks, disrespect and death threats," said Coons.
He also spoke about his preparations for the potential hearing saying, "I'm here today meeting with my legal team to go over a whole range of potential questions. I've reached out to professional colleagues, to classmates, to friends who have represented or advocated for victims of sexual assault who have been involved in trauma informed advocacy for those how are victims of assault to make sure my line of questioning if we have a hearing where she appears is as respectful and appropriate as possible."
Coons had earlier suggested that he might turn over his time for questions at Monday's hearing to his colleagues on the committee Sens. Kamala Harris and Amy Klobuchar because of their past experience as prosecutors.
"We've got members of the committee who are far more experienced than I am in these matters," he told CNN on Tuesday.
-- Reporting by Alan He
Holton-Arms alumni sign letter of support for Ford
Democratic Sens. Mazie Hirono and Kirsten Gillibrand stood with members of the Holton-Arms community, the school that Ford attended when she alleges she was assaulted by Kavanaugh, in delivering a letter of support by 1,000 other alumni to Senators on Capitol Hill. Alumni said that they were sharing the letter to be officially added to the record for the Judiciary Committee to consider before they vote on Kavanaugh's confirmation.
Hirono applauded the work of the alumni, calling the confirmation "not fair."
"This is a fast track, they are totally intent on getting Judge Kavanaugh onto the Supreme Court come hell or high water. You have to ask yourself why. why isn't Judge Kavanaugh asking for an FBI investigation if he has nothing to hide?" said Hirono.
Kavanaugh leaves White House grounds
Kavanaugh was spotted leaving the White House ground at roughly 1 p.m. Thursday, after spending several hours at the White House. The details of what he discussed are unclear, but he has spent time at the White House throughout the week as he prepares to state is case next week.
Meanwhile, the clock is ticking for Ford to respond to the committee's invitation for her to testify Monday.
Kavanaugh watch: Back at the White House
Thursday morning, Kavanaugh was spotted back on the White House grounds entering the Eisenhower Executive Office Building. He is believed to be meeting with White House staffers as he prepares to testify once again Monday.
Former Ford classmate says she doesn't doubt accuser's experience
"One thing that I think is important to, to my classmates and I is we don't see this as her story; we see this as her experience," Samantha Guerry told "CBS This Morning" in an interview on Wednesday.
"We have no doubt that this was, in fact, her experience, and I think she's detailed it admirably in the letter than she originally sent and asked for confidentiality on." Guerry said her classmates know Ford to be an "honest, fair and intelligent person of substance" who "deserves to be heard." Guerry has known Ford since the two were in seventh grade at Holton-Arms, a girls' private school in Bethesda, Maryland. She last saw her a few years ago at a class reunion.
"I don't see her as the kind of person who would invite this kind of public firestorm into her life without having the facts behind her," "Anybody who knows Christine knows that she's somebody who's very dedicated to the truth."
Guerry described Kavanaugh as being in her "circle of friends" back in grade school. She said in conversations about the allegations with her former classmates, they've found it "quite disturbing how common of an experience this is," Guerry said, adding, " I don't see her as the kind of person who would invite this kind of public firestorm into her life without having the facts behind her."
"If you look at that period of time in the early 1980s, you know Animal House was a big movie, that whole fraternity, this is really funny, we're gonna get wasted and treat women badly and do gross things, that was all very entertaining at that point. It's not entertaining for the people who have to suffer the consequences of that," said Guerry. -- reporting by Grace Lamb Atkinson
Thanks for reading CBS NEWS.
Create your free account or log in
for more features.