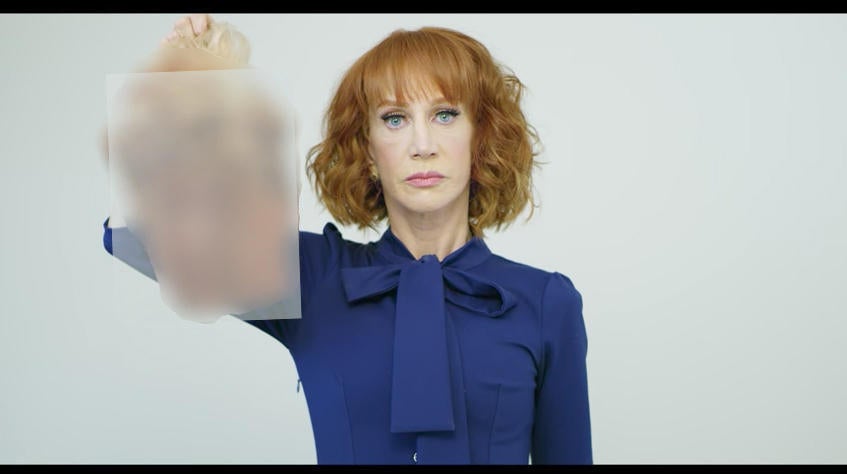 Kathy Griffin says she won't apologize anymore for Trump beheading photo
Kathy Griffin says she is done apologizing over the photos she took holding a facsimile of President Donald Trump's detached, bloodied head by the hair. Instead, the comedian believes the president should apologize for comments he has made.
In an interview with The Cut, Griffin said, "Why are people still expecting me to apologize and grovel to a man that tweets like this? I'm a comedian; he's our f**king president."
She added, "President Trump just pardoned Joe Arpaio, who was essentially running a concentration camp in the Arizona desert. He said there are some good Nazis, and he's kicking out young adults who were brought here as kids by their parents, and I'm the one who has to continue to apologize?"
Criticism poured in after Griffin participated in the photo shoot by Tyler Shields, in which she said she was "merely mocking" the president. Chelsea Clinton, Mitt Romney and Mr. Trump himself were among those who slammed Griffin. The president said at the time, "Kathy Griffin should be ashamed of herself. My children, especially my 11 year old son, Barron, are having a hard time with this. Sick!" The Secret Service also launched an investigation in the days that followed, and Griffin told The Cut that she got "thousands of death threats."
She apologized soon after the photos appeared. Griffin told The Cut that she decided to do so after Rosie O'Donnell, a longtime adversary of Mr. Trump, called her and said, "What is James Foley's mom going to think when she sees this?" Foley, an American journalist, was beheaded by ISIS in 2014 while working in Syria.
But now, Griffin is now speaking out again about the incident and saying she is worried about what the backlash means for anyone else who wants to speak out against Mr. Trump.
"I am in a position of privilege, I will be fine," she said. "But what about any American citizen, whether they're artists or not, who innocently post a shocking photo on social media -- will they face a federal investigation?" The comedian added that she believes Mr. Trump should "take responsibility for the power he holds with his Twitter account."
In the interview, Griffin also revealed that she is no longer friends with her longtime CNN New Year's Eve Live co-host Anderson Cooper, who publicly criticized the photo shoot.
Thanks for reading CBS NEWS.
Create your free account or log in
for more features.