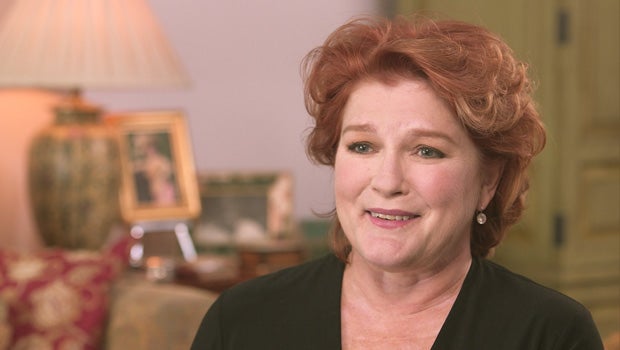 Actress Kate Mulgrew has played a number of roles in her time, but none of them can match the real-life drama she writes about in her new book. She sat down with Anthony Mason for some Questions and Answers:
So what made Kate Mulgrew decide to write a book now?
"I wanted to be known," she told Mason. "For 40 years I've been an actress playing other people."
She's known for playing "Red" Reznikov, the head of the prison kitchen in "Orange Is the New Black" ... Captain Kathryn Janeway on "Star Trek: Voyager" ... and one of Sam Malone's girlfriends on "Cheers."
But to become known for herself meant Kate Mulgrew had to write about some painful subjects: the early deaths of her two younger sisters; a rape; and perhaps most painful of all, her choice to give her first born child up for adoption.
She said confronting her own past was at time shocking and scary. "The scariest part was that I would be dishonest in anyway," she said.
Katherine Kiernan Mulgrew grew up in Dubuque, Iowa, in a large Irish Catholic family. Her dramatic talents were apparent early. By age 20 she moved to New York, and quickly landed a starring role in a new soap opera about an Irish family bar in the city, called "Ryan's Hope."
She was catapulted overnight to stardom: "Whole gaggles of girls would stop me on the streets of New York, 'Mary Ryan! Mary Ryan!' I remember that. It was big."
That first season she was on top of the world. And then, she got pregnant. The father was an assistant director. Marriage was out of the question.
"He's a good, good guy. We were just too young," she said.
They broke up on a bench outside Central Park: "And he looked at me and, not unkindly, said, 'I wish I'd never met you.'"
At her mother's urging she went to Catholic Charities and agreed to put the unborn baby up for adoption, while the producers of "Ryan's Hope," wrote her pregnancy into the plot line.
"Six million people watched me have this baby," said Mulgrew. "And I had the baby. And I gave the baby up and went back to work two days later."
"And you had to have the baby on the show," said Mason. "How did you get yourself ready for that?"
"That was the hardest moment of my life -- walking onto that set with that stunt baby and delivering a monologue about love, fidelity, endurance, and 'I will never leave you,' without falling apart."
She instantly regretted giving her up. "It was instant. I went immediately, the first week. I begged."
"You went to the church?"
"Yeah, I begged."
"And said, 'I made a mistake.'"
"Yeah."
"And they said?"
"No, no, no, no, no."
The decision, the church said, was unalterable.
Mulgrew went on with her life. She married, moved to Seattle and had two sons. But part of her never gave up looking for her daughter.
"She will always be in front of me and I'll find her," she said.
It would take more than 20 years. By then she'd become the first female captain of a "Star Trek" series.
Mulgrew, who can be as fierce in person as she is on screen, hired three private investigators and continued to pressure the church.
Finally, in 1999 she was contacted by an agency that connects adopted children with their birth parents. Mulgrew was in her trailer on the set of "Star Trek" at 5 a.m.: "The phone rang. 'Hello? 'Hello?' 'Hi. This is Danielle Gaudette. And I think I am your birth daughter.'"
They agreed to meet that weekend at noon at a hotel in Cambridge.
Mulgrew got to the lobby at 9 a.m., and waited three hours, just in case she'd miss her. "Everybody who came through that door was my daughter," she recalled.
Finally, Danielle appeared. She'd been just as stunned the agency had found her birth mother. "I was like a deer in the headlights," she said. "And they were overjoyed. And they're like, 'Do you watch "Star Trek"?' I'm like, 'No.'"
Danielle told Mason that meeting her birth mother was "a very refreshing kind of feeling, because there's a likeness. So that was a really neat thing. But then I also felt overwhelmed, of course."
Now a 37-year-old yoga instructor, Danielle Gaudette had grown up with her adoptive family in Massachusetts.
Meeting Kate began a long healing process that both admit has been hard at times.
"I have one memory of Kate visiting me again back in Boston," Danielle said. "And she was just talking. She was just telling me a story, just sitting across the table. But when I tuned into myself, there's a screaming girl in my head, shouting, 'You have to love me. You better love me.' Like, not listening at all to anything she's saying. Which I then saw, 'Oh, this has affected my life, many aspects of my life, many relationships in my life.'"
The healing has continued for 17 years now, right up through when Danielle read "Born With Teeth," and her birth mother's description of their first phone call.
"I mean, I cried, really wept when I read that part," Danielle said. "This is where her story and my story cross. Her agony about it, and mine.
"It came together at that moment. It just clicked inside my head, so I had a huge release of emotion when I read it."
"That's pretty cool," said Mason.
"She's a pretty terrific kid!" said Mulgrew.
The actress wanted to be known for more than her characters.
In writing her story, Kate Mulgrew knows more about herself now, too.
"All of it's been quite unexpected and terrific, marvelous," Mulgrew said. "I mean, I love you, very much so!"
"I love you, too," said Danielle.
"Who would have though this, you know?"

For more info:
Thanks for reading CBS NEWS.
Create your free account or log in
for more features.