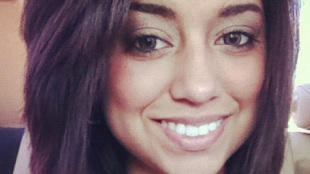 Army sergeant, girlfriend charged in death of wife, also a soldier
BALTIMORE — The husband of a Fort Meade, Maryland, soldier who was found fatally shot last year in her home with her 5-month-old daughter unharmed next to her has been charged in the slaying, federal prosecutors said Friday.
Sgt. 1st Class Maliek Kearney's girlfriend, Dolores Delgado, has also been charged in the death of Pfc. Karlyn Ramirez.
Kearney, 35, and Delgado, 31, were arrested Thursday in San Antonio, where Kearney is stationed, Baltimore U.S. attorney's office spokeswoman Marcia Murphy said.
A grand jury in Maryland returned indictments against the two Tuesday. They are charged with interstate travel to commit domestic violence resulting in death and are being held without bond.
Ramirez, 24, was found dead Aug. 25, 2015, in her home in Severn near Fort Meade. She was an information technology specialist with Fort Meade's 742nd Military Intelligence Battalion.
The indictment alleges that Kearney and Delgado traveled from Fort Jackson, South Carolina, to Maryland intending to kill Ramirez.
The one-paragraph indictment offered few other details.
According to the Army Times, Kearney is a chemical, biological, radiological and nuclear specialist. He is stationed at Joint Base San Antonio-Fort Sam Houston.
Kearney's lawyer, Albert Flores, said to the San Antonio Express-News, "As of right now, he's still proclaiming his innocence. I don't know what evidence they've gotten since . but he talked to (police) after it happened." Delgado was appointed a public defender, the Express-News reported.
Kearney and Delgado face maximum sentences of life in prison if they are convicted of the crime.
Murphy said prosecutors are seeking to have them returned to Maryland.
Thanks for reading CBS NEWS.
Create your free account or log in
for more features.