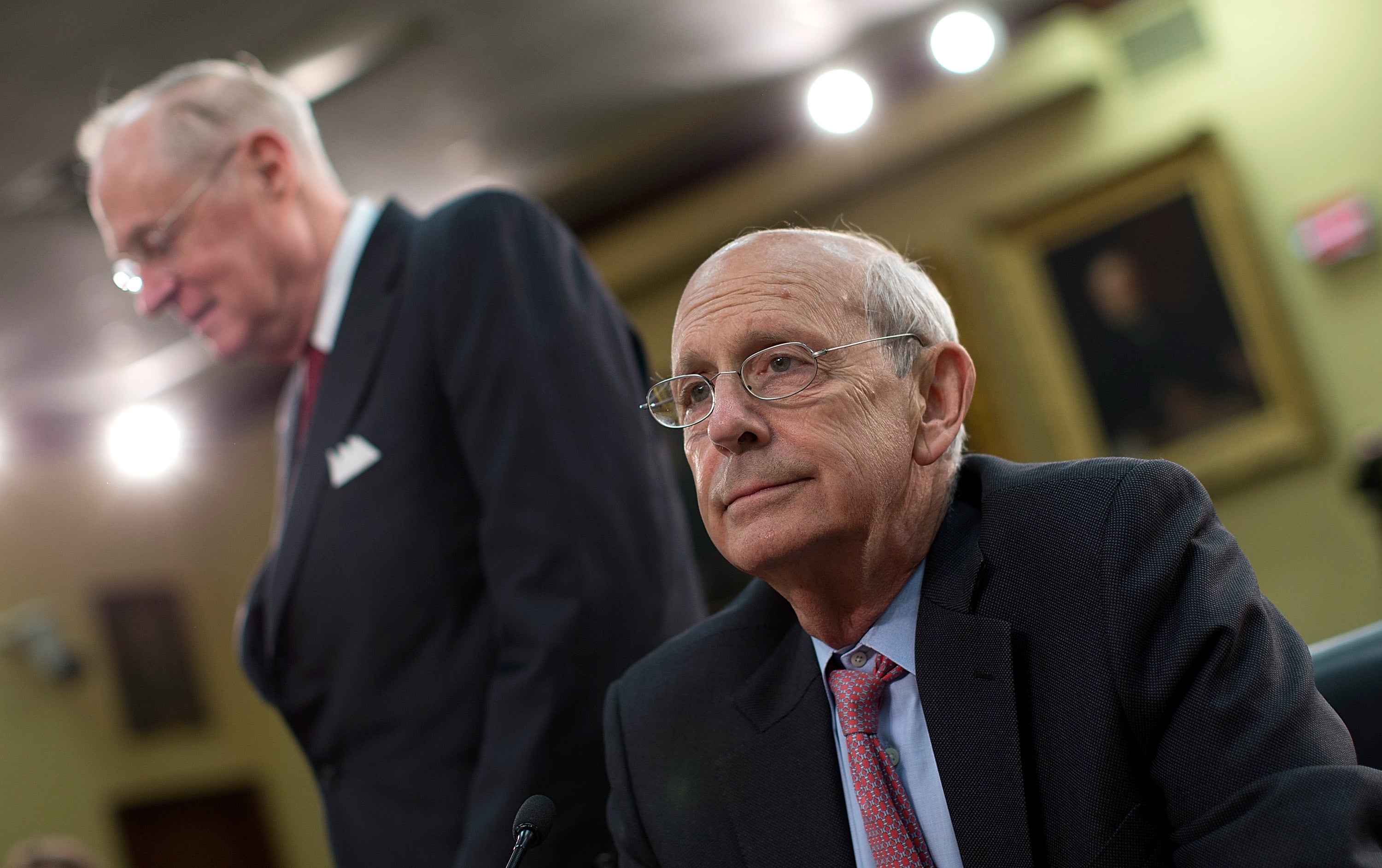 Justices: Cameras would censor Supreme Court
Two Supreme Court justices today expressed concern that if cameras were present during oral arguments in Supreme Court cases, the justices may feel pressured to edit what they say.
"You think it won't affect you, your questioning," Justice Stephen Breyer said today during a hearing of a House Appropriations Committee subpanel. However, he continued, "the first time you see on prime time television somebody taking a picture of you and really using it in a way that you think is completely unfair... in order to caricature [your position]... the first time you see that, you will watch a lot more carefully what you say."
Justice Anthony Kennedy agreed, adding that he wouldn't want that "insidious dynamic" in the courtroom.
The justices were on Capitol Hill today to testify before the Financial Services and General Government Appropriations Subcommittee about their annual budget. Rep. Mike Quigley, D-Ill., asked the justices about cameras in the courtroom, which has been a matter of debate for years.
"I've seen a lot of theatrics in courtrooms," Quigley said in response to the justices' concerns. However, he added, "In all my life I can't imagine the Supreme Court acting in a way other than which they normally would," whether or not there were cameras present.
Organizations like C-SPAN and Reporters Committee for Freedom of the Press have long said cameras in the courtroom would add more transparency to the democratic process. Congress has pressed the court on the issue as well -- Sen. Charles Grassley, R-Iowa, first introduced legislation that would allow cameras in the Supreme Court in 1999. After that, the Supreme Court began releasing audio, after the fact, of oral arguments.
Breyer said today he would have to consider more fact-based evidence on the issue, such as studies on the impact of cameras in the courtroom in California, or its role in shaping public opinion. "I know that's a bore, but that's where I am at the moment," he said.
However, that fact-based evidence has long existed, Bruce Collins, corporate vice president and general counsel for C-SPAN, pointed out to CBSNews.com
In 1994, with approval from then-Supreme Court Chief Justice William Rehnquist, the Federal Judicial Center published a report called Electronic Media Coverage of Federal Civil Proceedings. The report was based on a years-long study on the use of televised and still camera coverage in six trial courts and two appellate courts. The use of cameras, the study found, "didn't have any harmful effect on the administration of justice," Collins said.
"That means they didn't see any lawyers grandstanding, they didn't see witness intimidation, they didn't see jury intimidation," he continued. The report's first listed recommendation was to authorize the use of cameras in federal courts of appeals and district courts nationwide.
On top of that, Collins noted, nearly every state in the country allows court proceedings, including criminal, civil and appellate proceedings, to be televised.
"If Justice Breyer says he wants to have studies -- OK, let's do it again," Collins said. "But why don't we first read this report from 1994 and then talk to the state judges?... We've got a couple decades of experience with how the administration of justice is affected by televising courts, and basically it's a non-story."
Both Kennedy and Breyer today acknowledged there were plenty of good arguments for cameras in the courtroom.
"We're in the business of teaching," Kennedy acknowledged. "Not everyone can see an oral argument; it's a great civics lesson." For a lawyer preparing his case before the court, watching tapings of past arguments would be "invaluable," he acknowledged.
Kennedy said that cameras can sometimes be a good addition to trial courts, "so the public can see when the system is broken, when it isn't functioning." However, it "would be inconsistent with the tradition of the oral argument" in the Supreme Court.
Breyer likewise noted that oral arguments only represent about two percent of a Supreme Court case. "It matters in a few cases, yes," he said, "but that's not what [a case] is turning on."
Breyer noted that the Supreme Court is a "very conservative institution, with a small 'c.'"
"The last thing any one of us wants to do is something that'll make it worse as an institution," he said.
Thanks for reading CBS NEWS.
Create your free account or log in
for more features.