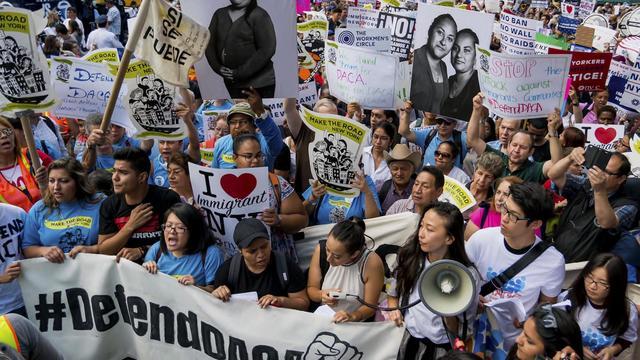 Justice Department urges Supreme Court to hear DACA case
On the eve of the midterm elections, the Justice Department asked the U.S. Supreme Court to bypass three federal appellate courts and allow President Trump to terminate the Obama-era DACA program, which shields hundreds of thousands of young undocumented immigrants from deportation.
In court documents filed late Monday, Solicitor General Noel Francisco said the government was petitioning the nation's highest court to hear the case on whether it is lawful for the Trump administration to end DACA. He called the injunctions by three federal circuit courts that prevented the government from killing the initiative "wrong" and said they warrant the high court's "immediate review."
"It's an extraordinary measure. It's a late, election eve decision," Greisa Martínez, a DACA recipient and deputy executive director of the immigrant advocacy group United We Dream, told CBS News. "(Mr. Trump) is trying to use the Supreme Court to move forward his political goals of wiping this country of young people of color."
DACA, short for Deferred Action for Childhood Arrivals, was instituted by President Obama through an executive order in 2012. The program allows young undocumented immigrants, dubbed DREAMers, to obtain work authorizations and driver's licenses if they meet certain requirements, including having arrived in the U.S before they were 16 and obtaining an American high school diploma, GED or serving honorably in the military.
After several conservatives states threatened to sue the Trump administration if it kept DACA alive, Attorney General Jeff Sessions announced a gradual winding down of the program in the fall of 2017. But the Second, Ninth and D.C. Circuits blocked the government from completely dismantling DACA.
USCIS currently allows more than 700,000 DACA recipients to renew their protections — valid for two years — but it is not accepting new applications.
Echoing remarks by the president and his attorney general, Francisco argued the government had correctly decided to end the program "based on serious doubts about its legality and the practical implications of maintaining it."
The third highest ranking official at the Justice Department mentioned that the Ninth U.S. Circuit Court of Appeals, which heard arguments on one of the DACA cases in May, has not yet issued a ruling. Francisco added that the Court should consolidate all the cases surrounding the program and take up the issue this term.
In the summer of 2016, DAPA — a similar Obama-era program which would have shielded around 5 million undocumented immigrants from deportation — was blocked by a 4-4 deadlock in the Supreme Court. The seat left vacant by Justice Antonin Scalia's death had not been filled at the time.
If the court decides to accept the administration's request and review the DACA case this term, two justices appointed by President Trump will be sitting on the bench, Neil Gorsuch and Brett Kavanaugh.
Thanks for reading CBS NEWS.
Create your free account or log in
for more features.