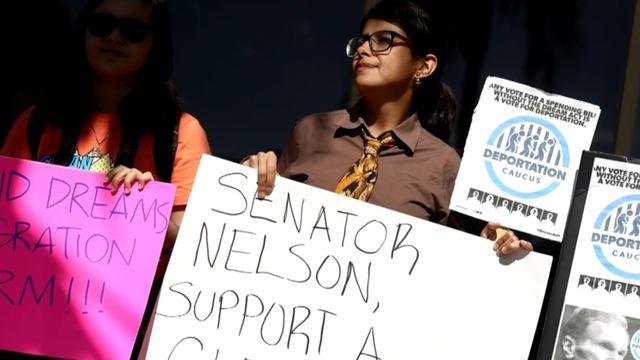 DACA: What you need to know
The government is open again, and now the fight begins over securing the fate of several hundred thousand immigrants known as Dreamers. To end the shutdown, Democrats exacted a promise from Senate Majority Leader Mitch McConnell to bring a legislative fix for Deferred Action for Childhood Arrival recipients (DACA) to the floor on Feb. 8, if government remains open (that's when the new short-term spending bill expires).
Congress will now try and come up with a solution for the undocumented immigrants brought to the U.S. as children, in balance with upgrades in border security. Here are some of the questions about DACA and about the challenges ahead:
What's next?
The current spending deal ends on Feb. 8, and Democrats are hoping to have a DACA vote before then, in keeping with McConnell's promise on the Senate floor.
The key for immigration moderates and Democrats is to figure out a bill that not only crosses the Senate's 60-vote threshold but proves so popular that it brings the White House on board, too. If President Trump backs a Senate deal, the thinking goes, it will be a lot easier to move something through the House, although the administration has shied away from backing any of the possible compromises floated so far.
But immigration restrictionists are hoping an immigration deal can emerge from the House and be passed in conference. House Freedom Caucus chairman Mark Meadows told CNN that he wants a bill "as conservative as it could possibly be" to emerge from the House and then head to the Senate.
Keeping DACA in exchange for more border security is the basic outline of what a compromise would look like. But what matters is the specifics, such as the money allocated to securing the border and whether funds for a wall would be part of that package. Minority Leader Chuck Schumer said he offered the White House money for wall funding on Friday as part of a deal, but retracted the offer on Sunday because of Mr. Trump's reluctance to accept the offer.
Conservatives are expected to push hard for wall funding, a major priority of the White House, although any funding is likely to run into stiff opposition from liberals.
Who are the DACA recipients? How many are there?
Some immigrants became qualified for DACA in July 2012, when then-President Barack Obama announced he was signing an executive order directing the DOJ to defer legal action against some immigrants who were brought to the U.S. illegally as minors and allow them to work or go to school in the U.S. on two-year renewable permits.
"They are Americans in their heart, in their minds, in every single way but one: on paper," Obama said when he made the announcement from the White House Rose garden.
The classification did not grant those individuals permanent legal status, but it did keep them from being forced to leave the country they were raised in, and for many, the only country they had really known. As of September, there were 689,000 DACA recipients, according to U.S. Citizenship and Immigration Services.
The profile of DACA recipients in the U.S. complied by the Migration Policy Institute (MPI) reveals a little more about who DACA recipients are and what they do. They are, according to MPI, largely middle-skilled and enrolled in school or employed across a wide range of occupations.
20 percent are still in secondary school; 44 percent have finished secondary school but haven't enrolled in college, compared to 19 percent in the general population; 18 percent are in college but haven't graduated.

64 percent are in the labor force and 55 percent are working; 8 percent are unemployed

89,000 are in arts, entertainment, food services

54,000 work in retail

Almost 14,000 work in real estate or financial services

About 9,000 are teachers or education professionals

Some 14,000 are in health care practitioner or support jobs

The vast majority of DACA recipients hail from Mexico — more than 79 percent, or 548,000. More DACA recipients live in California than any other state.
How old are DACA recipients? What qualifies them for DACA status?
They were under the age of 31 as of June 15, 2012, so the oldest are in their late thirties today. They had to have come to the U.S. before reaching their 16th birthdays and also must have continuously lived in the U.S. since June 2007 until the present.
DACA recipients also needed to have been physically in the U.S. on June 15, 2012, just before Obama announced the program. Participants have to be in school or have to have graduated or obtained a certificate of completion from high school, have obtained a general education development (GED) certificate, or are an honorably discharged veteran of the Coast Guard or Armed Forces of the United States.
And they must also not have been convicted of a felony, significant misdemeanor,or three or more other misdemeanors, and they may not otherwise pose a threat to national security or public safety.
What's the difference between a DACA recipient and a DREAMer?
DACA and the the DREAM Act, which stands for "Development, Relief, and Education for Alien Minors," are similar in their aim to offer protection from deportation to people brought to the United States illegally by their parents as children, but DACA was an executive action by the president and the DREAM Act is a congressional measure.
Obama signed the executive order creating DACA in 2012, while Congress has seen different drafts of the DREAM Act for 16 years. The most recent version was introduced in July 2017 as a bill in the Senate with an identical bill coming shortly after in the House.
What's the March 5 deadline?
Under the Homeland Security (DHS) guidelines rolled out in Sept. 2017, immigrants holding DACA permits expiring between Sept. 5, 2017 and March 5, 2018 could apply for a two-year year renewal until Oct. 5 2017. However, a federal court injunction in January meant that the Trump administration must keep DACA in place for now, so Immigration Services is allowing applications again. The Trump administration has appealed the injunction to the Supreme Court, but at this point, the DACA program is operating as it was before Mr. Trump acted to end the program in September.
Will DACA recipients be deported after March 5?
DHS says that the U.S. isn't going to change the way it prioritizes its deportations. So, criminal aliens would still be the top priority, and officials at DHS say they don't plan to target people outside those parameters. However, when White House press secretary Sarah Sanders was asked whether DACA recipients would be deported if no deal can be reached, she wouldn't directly answer the question, saying only that the White House wants a "permanent solution to DACA," and it's up to Congress to get the legislation done.
Administration officials also said when the program was ending that those who were in the U.S. illegally should be prepared not to be in the U.S. any longer.
What's on the table?
It's hard to say right now. After the shutdown, some ideas that were floated appear to have been removed, for now, anyway. One example -- Senate Minority Leader Chuck Schumer said he placed border wall funding on the table, hoping for a solution to DACA. But Mr. Trump, according to Schumer, ultimately did not consider that offer, and that was before the government shutdown over the weekend. Schumer never said how much in funding he offered.
This week Schumer said border wall funding is no longer on the table. The president disagrees, stating in a tweet Tuesday that "if there is no wall, there is no DACA."
https://twitter.com/realDonaldTrump/status/956015565776277510
Thanks for reading CBS NEWS.
Create your free account or log in
for more features.