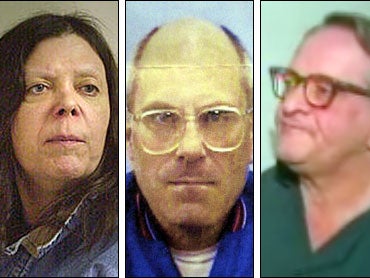 Jury Convicts Woman in Collar Bomb Robbery
A 61-year-old woman was convicted of participating in a bizarre plot in which a pizza delivery driver was forced to rob a bank wearing a metal bomb collar that exploded shortly after the heist.
The jury deliberated over two days before convicting Marjorie Diehl-Armstrong, of Erie, on charges of armed bank robbery, conspiracy and using a destructive device in a crime of violence for bank robbery that killed 46-year-old Brian Wells. She faces a mandatory life sentence when she is sentenced in February.
The verdict was the final piece of the puzzle in a robbery plot so complicated it seemed to spring from the pages of a Hollywood script.
The pizza man, Brian Wells, walked into a PNC bank on Aug. 28, 2003, with a metal collar bomb locked onto his neck. He walked out with $8,702 but was stopped by police nearby. They put him in handcuffs and waited for a bomb squad to arrive. Before it did, the bomb exploded, killing Wells.
Prosecutors later revealed that they believed the crime had been plotted by five people. Wells was in on it, at least at first, and probably only realized at the last moment that his life was in danger, they said. Diehl-Armstrong and three other men were also involved, prosecutors said. One had died of cancer. Another was killed by Diehl-Armstrong. The third pleaded guilty and testified against her.
Defense attorney Douglas Sughrue argued that Diehl-Armstrong's mental disorders and a hostile relationship with at least one of the plotters made it unlikely she participated. In bombastic, expletive-filled testimony over two days, Diehl-Armstrong acknowledged knowing two other plotters - but not Wells - and argued they were framing her.
One of the men, William Rothstein, was a handyman and substitute science teacher who prosecutors say constructed the bomb collar using two egg timers supplied by Diehl-Armstrong. He has since died of cancer.
Kenneth Barnes, 57, pleaded guilty and is serving 45 years in prison. He testified Diehl-Armstrong planned the heist because she wanted to use the money to pay Barnes to kill her father.
Despite her denials, Assistant U.S. Attorney Marshall Piccinini told the jury Diehl-Armstrong was involved "up to her eyeballs."
Among other things, he said Barnes put her at a meeting the day before the heist in which she allegedly tried the bomb collar on Wells to make sure it fit. Barnes said the original plan was to outfit the collar with a fake bomb to scare the bank teller, but that Rothstein had a live device attached to the collar that Wells wore to the real robbery.
Piccinini also contended that Diehl-Armstrong killed her live-in boyfriend, James Roden, 45, more than two weeks before the robbery because he was in on the plot and threatened to reveal it.
Diehl-Armstrong is serving seven to 20 years after pleading guilty but mentally ill to his murder, but said she killed him because he was abusive and didn't do enough to help her investigate a robbery at her home that May, which she claimed was orchestrated by Barnes.
Diehl-Armstrong feuded with Sughrue, her attorney, throughout the trial, claiming he wasn't asking questions to properly let her spell out her story. Sughrue defended her behavior in light of the grisly allegations, telling the jury in his argument before the verdict: "Your job's not to like her or invite her over for dinner or have a birthday party for her," Sughrue said.

Thanks for reading CBS NEWS.
Create your free account or log in
for more features.