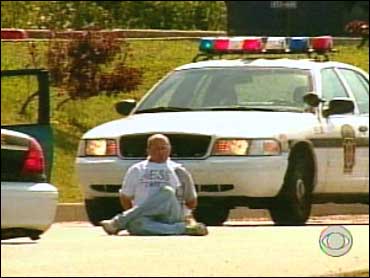 Collar Bomb Bank Robber Gets 45 Years
A man who took part in a bizarre bank robbery plot that turned deadly when a bomb affixed to the neck of a pizza deliveryman exploded was sentenced to 45 years in federal prison Wednesday.
Kenneth Barnes was "intimately involved" in the plot and not just a minor player, U.S. District Judge Sean McLaughlin said. Barnes suggested bomb parts, provided magazine articles about bomb making and was present when the bomb was put on Brian Wells before he robbed a bank in 2003, McLaughlin said.
Barnes, 55, of Erie, apologized to Wells' family before the sentence was imposed.
"What happened to him was something that wasn't supposed to happen," Barnes said.
Barnes had pleaded guilty in September to using a destructive device during a crime of violence and conspiracy to commit bank robbery. The prison term was beyond the 30-year mandatory minimum. Barnes had maintained his innocence until prosecutors offered to drop a charge of armed bank robbery, which carried with it a potential life sentence, reports CBS station WSEE in Erie.
Prosecutors have concluded that Wells initially was an active member in the scheme, but was coerced as the plot unfolded. When he realized the bomb was real, he refused to put it on and did so only after being threatened with a gun, prosecutors have said.
Wells' family, however, continues to assert that he was an innocent victim who had no role in planning the robbery.
His sister Jean Heid said in court Wednesday that he was "forced to play the role of the bomb hostage in an evil, sadistic, barbaric plot Ken Barnes and others premeditated, planned and executed that sunny day." Barnes, wearing an orange prison uniform, rocked back and forth in his seat gently as she spoke.
Heid said her family is angry not only that authorities implicated Wells in the plot, but that prosecutors have filed no murder charges for his death.
The investigation into the convoluted scheme began when Wells, 46, walked into a PNC Bank branch on the outskirts of Erie on Aug. 28, 2003, with a pipe bomb locked onto his neck. He presented a teller with a note demanding money and walked away with about $8,700.
Wells was cornered by police a short time later and told officers the bomb had been put on his neck at gunpoint. It exploded, killing him, as officers waited for a bomb squad to arrive.
U.S. Attorney Mary Beth Buchanan called Barnes' sentence "appropriate and just." She also reiterated prosecutors' conclusion that Wells was involved in the plot, saying his family's contentions "are overwhelmingly contradicted by the evidence."
"While he may have been unwilling in the final act, when the collar was forcibly attached to his neck, he continued forth with the robbery," threatening the safety of bank tellers, customers and others, Buchanan said.
The plot's alleged mastermind, Marjorie Diehl-Armstrong, 59, is awaiting an exam to determine if she is mentally competent to stand trial.
Barnes has agreed to testify against her. Barnes' attorney, Alison Scarpitti, said the long sentence was expected, though she hopes it may eventually be reduced because of his cooperation.
Prosecutors said Diehl-Armstrong was angry with her father about an inheritance dispute and wanted to rob a bank to raise money to pay Barnes to kill him. Barnes told investigators he was to get a $100,000 down payment and be paid $200,000 to kill her father.
Diehl-Armstrong is serving a seven- to 20-year prison sentence for killing her boyfriend, 45-year-old James Roden, to keep him silent about the bank robbery scheme. She pleaded guilty but mentally ill in that case.
An ex-boyfriend, William Rothstein, got timers from Diehl-Armstrong for the time bomb and called in a phony pizza order used to bring Wells to a secluded dead-end road, according the indictment. Rothstein has since died of cancer.
Thanks for reading CBS NEWS.
Create your free account or log in
for more features.