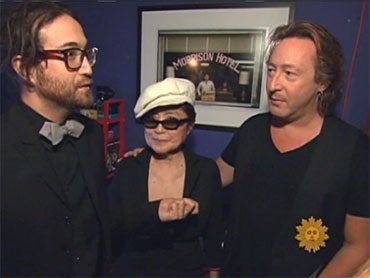 Julian and Sean Lennon Come Together
Fans of John Lennon plan to COME TOGETHER at events around the world next Saturday to mark the anniversary of his birth. Hard to believe, but that's the day Lennon would have turned 70. And who would have thought Lennon's two long estranged families would ever come together in peace and harmony. But as Anthony Mason now shows us . . . they have:
In the often-bitter history of the Beatles family . . . it was a surprising moment of unity.
John Lennon's first wife Cynthia and the woman he left her for, Yoko Ono, embracing.
On the eve of what would have been Lennon's 70th birthday, his two wives and their two sons . . . all together now.
"That was most curious how that came together," said Julian Lennon. "I did tell everybody that everybody was going to be there - and wasn't quite sure if everybody was going to turn up!" he laughed.
The occasion was the opening of Julian Lennon's first exhibition of photographs.
At 47, John Lennon's first-born son is already 7 years older than his father was when he was killed in 1980.
"If millions of people weren't coming up and asking you about your father's 70th birthday, is it something you would be marking in any way?" Mason asked.
"I'm actually looking at my age and his age, going, Jesus, what happened?" Julian laughed. "You know, time has flown. And now more than ever look back with a great deal of respect for him as a man, and his work, but not necessarily as a father. There's a lot of forgiveness now."
It's been the paradox of Julian Lennon's life that he spent his childhood chasing after his father's love, and the years since running from his father's shadow.
He scored a series of his own hits in the Eighties, but was always being measured against his father's almost mythological image:
But earlier this year Julian suddenly set out in a new direction . . . considering a career as a photographer.
"It's kind of unexpected, isn't it?"
"Listen," Lennon replied, "six months ago, I had no idea."
Urged on by celebrity photographer Timothy White, who admired his work, Julian began to put together a show based around a series of landsacpes and skyscapes:
Web Exclusive: Watch Extended Interview With Julian Lennon
"It sort of became a bizarre hobby. But I can't help myself for taking pictures of clouds," Lennon said.
"I guess also, the other side of the coin is, Dad wasn't necessarily known for his photography. Not that that's the reason I'm doing this by any means."
"But you don't have to suffer the comparison," Mason said.
"Yes, in that respect. So there's a joy in this and a freedom to this."
But Julian has also tried to hold onto him. For years he has been buying up Beatles memorabilia at auctions around the world.
He's collected the Afghan coat John wore on the set of "Magical Mystery Tour."
"How did you feel about having to do that?" Mason asked.
"Well, I mean, it does suck, doesn't it? But if that's the only way I can get them back, then that's what I'm going to have to do."
"What means the most to you?"
"I guess the postcards," Julian said. "It means that he was thinking about me at a time he wasn't around."
After the divorce, Julian often went years without seeing his father, who later doted on his half-brother Sean:
"When I saw the fact that, you know, he'd basically given up music for a couple of years to look after Sean, you know, that was - it was hurtful. I thought, 'Well, why didn't he do that for me?'
"But then in retrospect, and [seeing] what duress he was under at the time when the Beatles hit, I mean, they hit as big as it got. I started to grasp, Well, he couldn't have stopped. You have to let go and sort of say, Well, I get it. I understand. I really do."
The day before the opening of his photography show, his mother Cynthia arrived from Spain where she now lives:
"We've never seen my son so happy as he is now," she said.
When asked if he was nervous, Julian Lennon said, "Yeah. I do get incredibly anxious. Almost borderline panic attacks."
On opening night at New York's Morrison Hotel Gallery, Julian's show packed the house:
"I think it was more insane than backstage after a gig," he said.
The crowd included George Harrison's first wife, Pattie Boyd.
(CBS)

And then Yoko arrived with Sean.

Julian and his younger brother, who is now 34, grew up in different homes, in different countries, but they're very close:

"Julian is the reason I started playing music, actually," said Sean. "Because when I was a kid I remember when his record came out. And he was, you know, the biggest thing that existed in the world."

"Biggest thing in our family," said Yoko.

For the first time together, they talked about their relationship:

"Actually he taught me how to play guitar," Sean said. "I remember him teaching me the song, 'Faith' by George Michael."

"Oh, jeez," Julian exclaimed.

"But the truth is Julian was like my hero. He still is," said Sean.

The show included photographs Julian had taken of Sean, when he surprised him on tour in Eastern Europe a few years ago.

For two weeks, Julian rode the tour bus with his brother:

"So he was your roadie?" Mason asked.

"I actually became the sort of assistant tour manager for restaurants."

Sean said, "He's much better at organizing than I am."

"Just experience, my dear boy," Julian said. "Just experience."

"You're the organized one! Anyway, it was the most touching thing."

Julian's relationship with Sean's mother has been far more difficult.

For years he fought bitterly with Yoko for a share of his father's estate, before they finally reached a settlement.

"You've had your differences in the past," Mason said. "Forgive me, but you've decided to 'give peace a chance.'"

"Jeez!" Julian said. "It's just not worth the stress. It really isn't. The stresses and the strains. I think the key point to all this, for me at least, has been Sean. If I hurt Sean's mother, then I hurt Sean. It's a roundabout way of thinking about things. But because I love Sean so much, I just don't want to hurt him. I can get over it. Have gotten over it."

"And thank you for doing that," Sean said.

"Thank you for being here tonight," Julian said.

In the end, Julian Lennon's show of photographs produced its own remarkable picture, that of John Lennon's family together.

Imagine that.


For more info:
julianlennon.com
seanonolennon.com
Thanks for reading CBS NEWS.
Create your free account or log in
for more features.