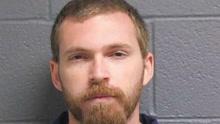 Judge rescinds order granting rapist joint legal custody of victim's child
SANDUSKY, Mich. -- A Michigan judge has rescinded a controversial order he gave last month granting a convicted rapist joint legal custody of the child conceived when he attacked a 12-year-old girl in 2008.
Sanilac County Judge Gregory Ross ruled Tuesday that 27-year-old Christopher Mirasolo won't have any parental rights in connection to the 8-year-old boy. But he's still on the hook for child support.
Michigan Supreme Court spokesman John Nevin told The Associated Press last week that Ross didn't know 27-year-old Christopher Mirasolo had two criminal sexual conduct convictions, including one concerning the woman.
The case started when the 21-year-old mother sought state assistance for her 8-year-old son.
Ross issued an order last month granting the woman sole physical custody and Mirasolo joint legal custody after DNA tests showed he was the child's biological father.
Nevin says the judge put the order on hold after learning of Mirasolo's criminal past. Ross rescheduled a hearing for Tuesday after controversy erupted over his ruling.
In a statement released to the Port Huron Times Herald, Sanilac County Prosecutor James Young said he wanted to "express our apologies for the manner in which this case was handled."
The victim in the case spoke to CBS News' Tony Dokoupil and agreed to go on camera, but asked that only her first name, Tiffany, be used. Tiffany said she was 12 when Mirasolo forced himself on her in an abandoned house near Detroit and held her captive for two days.
"I don't understand why they thought they needed to give him joint legal custody. He was my rapist," Tiffany told Dokoupil.
The Sanilac County prosecutor's office told CBS This Morning last week it prepared a standard order that is used in all paternity cases and that the mother was required to cooperate as a condition of receiving financial assistance. Young and Ross signed off on the order, Dokoupil reports, which gave Mirasolo the right to pursue parenting time.
"I was receiving government assistance and they told me if I did not tell them who the father was of my child, that they would take that away from me," Tiffany told Dokoupil.
Tiffany said "horrible things" and "flashbacks" come to mind when she hears Mirasolo's name.
The office says it plans to conduct an internal review of how cases like Tiffany's are handled and make any appropriate changes.
Mirasolo's lawyer says Mirasolo never sought the order. Barbara Yockey told CBS Detroit both sides have reached an agreement in which Mirasolo will give up custody, pay child support and won't have contact with the child or his mother.
"He is complying with the order, because he's paying child support," Yockey told the station. "I will tell you that the matter is in the process is being resolved privately, which is exactly how it should've been resolved from the very beginning because there is a child involved here. It should've never been in the press."
The victim's attorney Rebecca Kiessling told CBS Detroit her client was a child herself when she was raped by Mirasolo, who was 18 at the time.
Kiessling called the judge's ruling granting joint legal custody "insane," noting that the judge disclosed the rape victim's home address to her rapist, and ordered his name on the child's birth certificate — all without the mother's consent.
Mirasolo was given a plea deal for attempted third-degree criminal sexual conduct and served six and a half months in county jail. He served jail time again after being convicted of raping another victim between the ages of 13 and 15 years old in 2010.
Tiffany informed the court she was pregnant and her mother asked that her attacker's parental rights be terminated in 2008 letters, obtained by the Detroit News and CBS Detroit, penned before Mirasolo was sentenced.
"As part of his sentence I wish that he be made to sign off his rights to this baby and his rights be terminated," the victim's mother wrote Judge Donald A. Teeple on Dec. 29, 2008, reports the Detroit News.
The mother also asked Teeple that Mirasolo be prosecuted to the "fullest extent of the law" so no one else would be victimized, the paper reports. He initially faced an assault of a minor charge that carried a minimum term of 25 years in prison, but was allowed to plead guilty to a lesser charge of attempted third-degree criminal sexual conduct and given a one-year jail sentence, reports the Detroit News, of which he served less than seven months.
He was reportedly still on probation in 2010 when he allegedly assaulted a 14-year-old girl. He pleaded no contest in that case to fourth-degree criminal sexual conduct and served four years of a five-year minimum sentence, reports the Detroit News.
In her 2008 letter to Teeple, the victim said she was pregnant and Mirasolo knew she was 12 at the time of the attack.
"Whatever he gets for this will not be enough to make up for what I will be going through because of his actions," she wrote.
Thanks for reading CBS NEWS.
Create your free account or log in
for more features.