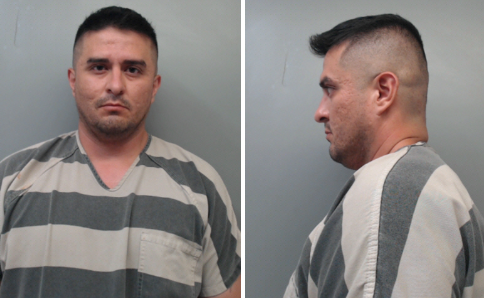 Police: U.S. Border Patrol agent in Texas confessed to killing 4 women
LAREDO, Texas -- A U.S. Border Patrol supervisor who confessed to killing four women, and assaulting a fifth who managed to escape, remained in jail Monday, police said in court records. Juan David Ortiz is being held in Laredo on $2.5 million bond on four counts of murder, aggravated assault with a deadly weapon and unlawful restraint.

According to affidavits, the 35-year-old Ortiz "provided a voluntary verbal confession" early Saturday in the deaths of the women. Ortiz was arrested a day after being found hiding in a truck in a hotel parking lot in Laredo, at about 2 a.m. Saturday, capping what investigators portrayed as a 10-day string of violence. Officials had been on the lookout for Ortiz when he was spotted about an hour earlier at a gas station and fled on foot, Webb County Chief Deputy Federico Garza said at a press conference Monday. Garza said when deputies closed in on Ortiz, he tried to trick them into shooting and killing him — an act known as "suicide by cop" — by pretending his phone was a weapon. Instead, Ortiz was arrested without incident, Garza said.
Webb County District Attorney Isidro Alaniz said Saturday that investigators "consider this to be a serial killer." Garza said the victims were all involved in either sex work or drugs, and that Ortiz expressed his "dislike" for that community to investigators. Garza said Ortiz apparently knew his victims and gained their trust during previous encounters, but a motive remains unclear.
"He took advantage of the vulnerability of this community," Garza said. "They didn't have a defense against him. He found a crime of opportunity to take advantage of these victims."

Alaniz described how the Customs and Border Patrol supervisor continued going to work as usual throughout that time.

"As law enforcement was looking for the killer ... he would be reporting to work every day like normal," he said.
Garza said none of the killings happened while Ortiz was on duty. Authorities are still analyzing his service weapon, he said.
It all began with the discovery Sept. 4 of the body of 29-year-old Melissa Ramirez. According to court records, Ortiz said he killed Ramirez a day earlier. Like the other victims, Ramirez was shot in the head and left in a road in rural northwest Webb County.

She was a mother of two. Her mother, Maria Cristina Benavides, told the San Antonio Express-News on Sunday that she had been collecting donations on a street corner Saturday to pay for her daughter's funeral.

"I hurt a lot. All I want is justice. I want that guy to die in jail for taking the life of my daughter," Benavides said.

A second victim, 42-year-old Claudine Anne Luera, was found shot and left in the road Thursday morning, badly injured but still alive, according to the affidavit. The mother of five died at a hospital later that day.

On Friday, according to the affidavit, Ortiz picked up a woman named Erika Pena. She told police she struggled with Ortiz inside his truck, where he pointed a pistol at her, but that she was able to flee. She made it to a gas station where she found a state trooper whom she asked for help.

According to the affidavit, Ortiz told investigators that after Pena ran off, he picked up his last two victims, whose identities have not yet been released by authorities.
Garza said Ortiz apparently knew that officials were closing in on him after the woman's escape. They found a cache of weapons in his home and believe he had been preparing for a confrontation.
"Thank God that did not happen," Garza said.

Alaniz said one of the unnamed victims was a transgender woman. At least two were U.S. citizens; the nationalities of the others were not known, he said. Investigators are still working to determine a motive.

Ortiz was believed to have acted alone.

U.S. Customs and Border Protection issued a statement offering its "sincerest condolences" to the victims' families and saying criminal activity by its employees is not tolerated. U.S. Border Patrol Chief Carla Provost described Ortiz as a "rogue" individual and said she is "sickened and saddened" over the killings. She said the agency is cooperating with local officials.
Jail records don't list an attorney to speak for Ortiz, who had worked for Border Patrol for 10 years. Ortiz served in the U.S. Navy from July 2001 to May 2009, a Navy spokeswoman confirmed to CBS News. He finished as a Hospital Corpsman 2nd Class and had been stationed in Texas and California. He was awarded the Joint Meritorious Award, National Service Award, and Rifle Marksmanship Medal, according to the Navy.
Ortiz is the second Border Patrol agent in Laredo to be arrested on a murder charge this year after Ronald Anthony Burgos-Aviles was accused of killing a woman with whom he was romantically involved and her 1-year-old child. Prosecutors are seeking the death penalty in that case.
Thanks for reading CBS NEWS.
Create your free account or log in
for more features.