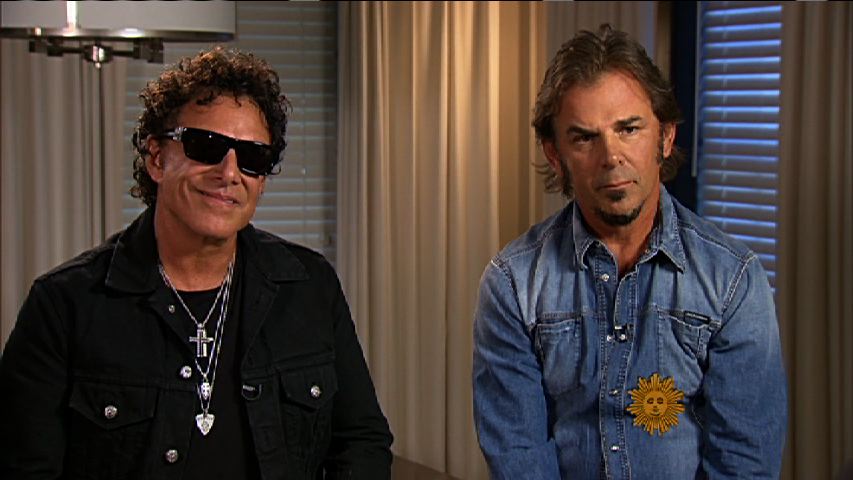 Journey's "Don't Stop Believin'" turns 30
Thirty years after releasing their hit song, "Don't Stop Believin'" to the world, the rock band Journey is still believing in the uplifting power of what it says - and that includes band's newest member. Sunday Morning's Jim Axelrod presents A Summer Song:
It's been on Journey's set list every night for three decades running.
"Do you guys ever do a show without 'Don't Stop Believin'?" asks Jim Axelrod.

"We haven't," laughs Journey's Jonathan Cain. "Not since it's been written, no."
"You'd have a revolt from the audience, wouldn't you?" asks Axelrod.
"Yeah, I think they would be throwing stuff at us," says Neal Schon, the band's guitarist.
It may have started as solely Journey's song - but it belongs to all of us now. The most covered, karaoked, and parodied song in modern music history.
From baseball to Broadway, Journey's "Don't Stop Believin'" has become a national anthem of sorts - and with digital sales at almost four and a half million, it is officially the most downloaded song ever recorded in the 20th century.
"You know, we did something right in the studio," says Cain. "We did something right when we wrote the song. You know, we hit a chord."
It began as the brainchild of keyboard player Jonathan Cain, who had been laboring in obscurity in 1980 with a band called the Babys, when he got the chance to join Journey. It was a dream shot nobody could have predicted. Well, almost nobody.
"I was starving before I hit Journey," Cain remembers. "Very, very rough times...I didn't know where the next pay check was gonna come. I sold stereos. I quit the business. I was so lost, you know? And I was borrowing money from my father, who wouldn't let me come back to Chicago. He said, 'You stay there. Something good is gonna happen. Don't stop believing.' And he would always say that to me. 'Don't stop believing, Jon.'"
Armed with his father's advice and the seeds of a song, Cain sat down with guitarist Neal Schon and then-lead-singer Steve Perry. Within an afternoon, Cain's catchy chorus was transformed into a rock'n'roll classic.
"When you came in with the chorus--that's all you had, right?" asks Axelrod.
"Yeah," says Cain. "We worked backwards. So the way we put it together was...you do the rolling piano thing you do."
"And I picked up the bass, and I [start singing]," continues Schon. "And with the little breakdown guitar-- it's not a guitar solo but a train."
"I heard his guitar, and I said 'that sounds like a train to me,'" Cain laughs. "And I go 'don't you love that song, Midnight train to Georgia?' And Steve goes, 'yeah.' I go, 'it's the midnight train going anywhere.'"
While it barely broke the billboard top ten in 1981 as a single, "Don't Stop Believin'" anchored Journey's monster album "Escape" - which went straight to No. 1 that year. Still, when the band broke up six years later, it looked like "DSB" would slide off into the realm of rock'n'roll nostalgia, rarely to be heard from again.
Until 1998, when a string quartet provided the soundtrack for Adam Sandler being left at the altar in "The Wedding Singer," dusting off the song for the first time in more than a decade. While seven other movies and more than a dozen television shows would borrow it, including the cliffhanging series finale of the Sopranos, no one sent the song into the stratosphere quite like the harmonic and hormonal misfits of "Glee."
Adam Anders is Glee's executive music producer, who says the show's creators originally wanted Coldplay's "Viva la Vida" to be the pilot episode's killer closer, but were denied permission to use it. The rest, Anders says, is Gleek history.
"Why would Journey take such a chance on something that nobody had any idea if it would succeed?" asks Axelrod.
"Maybe it was the premise," says Anders. "You know, the underdog... But obviously something struck a chord with them, and they let us have the song. And I'm so glad they did because I don't think any other song could have done for Glee was 'Don't Stop Believin' did."
That boulevard is a two-way street. After Glee's premiere, Journey saw an 87 percent spike in sales. And the Glee cast version of "Don't Stop" has sold over one million downloads - making it their best-selling song.
But perhaps no one can relate more than the man who's singing it for Journey now. Just four years ago, Arnel Pineda was a singer in a smoky room - fronting a Filipino cover band - when Neal Schon, searching for a replacement for the retired lead singer Steve Perry, found Arnel on YouTube.
"I heard his voice and I went, whoa. I go, 'who is that?'" remembers Schon. "And I was just completely taken back by his voice. I just went, this guy's incredible. We gotta find him."
But what the band didn't know was that Arnel was singing to survive. His mother died when he was just 13, after a long illness that left the family bankrupt. He ended up homeless, sleeping in a park in Manila, collecting scrap metal to scrape up enough money to eat.
"I'm not sure I know a life story to whom this concept applies any more than yours," says Axelrod.
"Even before I discovered 'Don't Stop Believin', it has been my motto, you know, to never stop believing in myself," Pineda says, choking back tears. "The life that I've gone through. You know, all those hardships-- that I-- you see, I never-- I never stopped believing that someday there is something magical that will happen in my life."
"Never in my, like, entire life here on earth, that I would ever, ever stumble upon this kind of magic," Pineda continues. "Playing to all of these people around the world... What a ride. You know?"
Arnel's 2008 Journey debut album, Revelation, went platinum and spawned a successful world tour - including a triumphant homecoming concert in Manila for 30,000 of Arnel's countrymen.
The most meaningful part of the trip took place away from the roar of the crowd - when Arnel took his band mates back to the park he'd once called home. The visit was captured for a soon-to-be released documentary called "Every Man's Journey."
"That must have been a moment of great cohesion for this new incarnation of Journey," says Axelrod.
"Absolutely," says Cain. "He's made our camp a better camp. You know? His spirituality. His faith. His belief. You know, it's strong."
And it was the start of Journey's next chapter. Their new album, Eclipse, features a song called "City of Hope," inspired by the work Arnel is doing as the head of his own foundation, providing underprivileged Filipino children education and healthcare.
"I just want to give back," Pineda says. "So every time I'm free, I get to reach out and look out for these kids and help for them anyway I can. And I think this will be my advocacy. You know, to put them back to school."
"Advocacy and legacy," Axelrod suggests.
"Hopefully yes," says Pineda.
But Journey's lasting legacy is without a doubt that one signature song - which, whether they like it or not, they'll be playing tonight. And tomorrow night. And the night after that.
For more info:
Thanks for reading CBS NEWS.
Create your free account or log in
for more features.