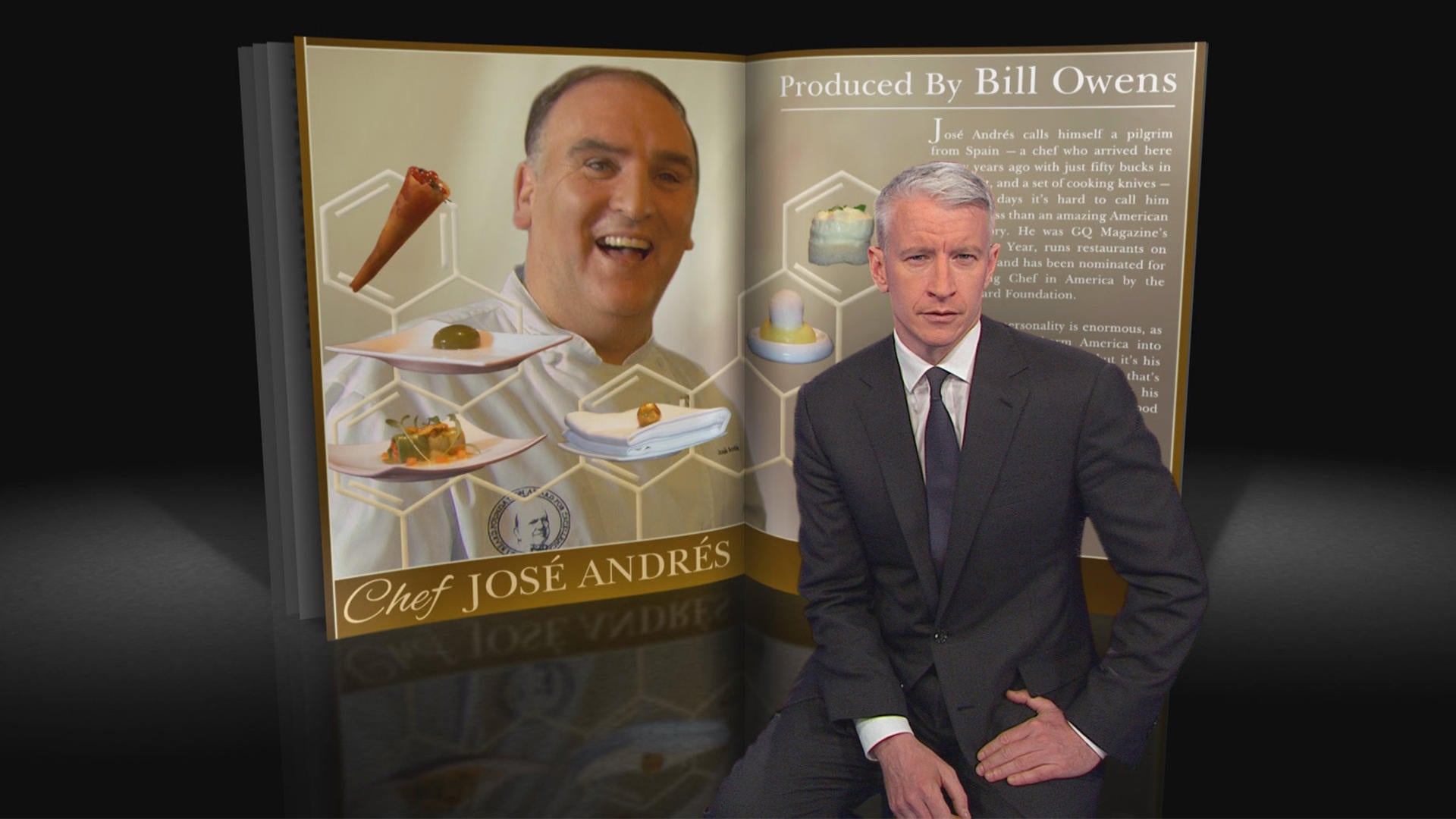 José Andrés on giving back to America
Michelin-starred chef José Andrés is famous for his avant-garde approach to cooking. Born in Spain, he now owns nearly 30 restaurants in America and has been named Outstanding Chef by the James Beard Foundation. But it's not his restaurants' food that caught 60 Minutes' attention this week; it's his humanitarian work.
On the broadcast this week, Anderson Cooper reports on the relief work Andrés has been doing in Puerto Rico in the aftermath of Hurricane Maria. Not a disaster relief expert, Andrés landed on the island a few days after the storm hit in September and just began cooking. In the weeks that followed, he recruited a team of chefs and volunteers, and together, they've served more than 3 million meals to the people of Puerto Rico.
"I am a cook," Andrés tells Cooper on the broadcast. "I feed the few, but I've always been super interested in feeding the many."
60 Minutes first got a look at Andrés feeding the few in 2010, when Cooper and producer Bill Owens reported on the way the chef was changing the American culinary landscape. Andrés was using a cooking technique called molecular gastronomy, and his D.C. restaurant Minibar was a kind of culinary laboratory where just six customers could experience his food at a time.
Andrés' food then was as much about the brain and the eye as it was the tongue and the stomach. Cooper sampled his caviar brioche topped with foam, meant to mimic taking a bite of air. Eel was wrapped in cotton candy, and caramelized popcorn was dished out of steaming liquid nitrogen.
At the time, Ruth Reichl, one of America's most respected food writers, told Cooper to "expect wonders" when trying Andrés's food.
Today in Puerto Rico, the people Andrés cooks for just hope for a hot meal. In the island's emergency situation, the chef now cooks more conventional food in less expected places, like enormous pans of paella and stews in a San Juan parking lot. It wasn't long after Andrés arrived that he and his team were making more than 100,000 meals a day.
"The problem was the urgency of now," Andrés explains on the broadcast. "It's a very simple thing when you're a cook. When you're hungry, you gather the food, you gather your helpers, you begin cooking, and you start feeding people."
Andrés's desire to help people was obvious seven years ago. Cooper followed him to the D.C. Central Kitchen, a community kitchen and culinary training course for people with little hope—former prisoners, drug abusers, and the homeless. The kitchen recycles food from around the city and distributes the meals to local service agencies in the process.
Andres wandered into the kitchen and offered his expertise shortly after he moved to D.C., driven, he said, by a need to repay his new country.
"I always felt like I have to give back to America what America has given me," he told Cooper.
"Chefs of America, we should be more outspoken about the way we are feeding America, not only about what I am feeding them in my restaurant or in the great restaurants of America," he said. "It's only one, two, or three percent of the Americans that eat in those restaurants. We should be more committed about the other 97 percent of Americans that don't come to our restaurants. That should be what I hope one day, it will be my little contribution."
Thanks for reading CBS NEWS.
Create your free account or log in
for more features.