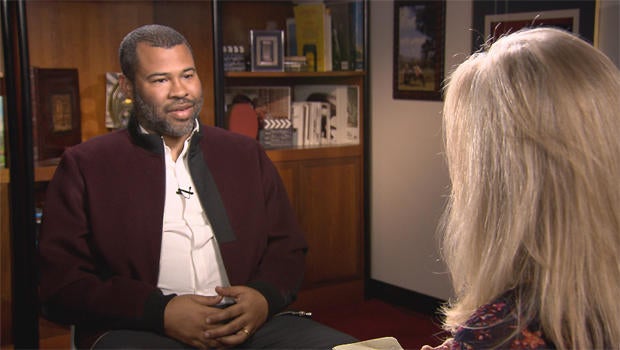 Jordan Peele on "Get Out" and more
Comedian, writer and director Jordan Peele opens up to CBS' "Sunday Morning" about race, President Donald Trump, and his career goals in a revealing interview with Tracy Smith, to be broadcast Sunday, January 21.
Peele sat down with Smith this week for a wide-ranging conversation as his film "Get Out," is generating Academy Award buzz -- and continues to be a flashpoint for discussions about race relations across America.
The film is a provocative study of race relations, disguised as a thriller, with a bit of comedy mixed in, something Peele says is necessary now, especially in light of the president's controversial statements about immigration.
"You know, the truth is the president is a racist, which is very sad," Peele tells Smith, "and I'm disheartened by policies that are xenophobic and sexist … there are many strides backwards every day.
"What does give me hope is, you know, so [President] Obama used to say, you know, 'Progress isn't always a straight line." Which -- who knows how true it is? But I believe it."
Peele has said his film is part of a national conversation about race that is taking place across the country, and that artists are focused on creating works that speak to the heart of diversity, race and more.
"So, what I am encouraged by is that the movie 'Get Out' has been heard and received, and that I'm seeing many other examples of art and film and television that are expressing these pains, frustrations, love in new ways, and that they're being received. And that I think will create progress," Peele said.
Before "Get Out," Peele was best known as being one-half of the popular comedy sketch team, "Key & Peele," with Keegan-Michael Key, where in their cable series they found new ways to joke about politics, race and more. The show ended after five seasons, and now Peele says he's not planning to act again.
"Yeah. That's the idea … Daniel Day Lewis and I are both out," he said with a laugh. "Acting is just nowhere near as fun for me as directing."
Don't miss Tracy Smith's interview with Peele this week on "Sunday Morning." The Emmy Award-winning program, hosted by Jane Pauley, is broadcast on CBS Sundays beginning at 9:00 a.m. ET. Executive producer is Rand Morrison.
"Sunday Morning" also streams on CBSN beginning at 9:30 a.m. ET, and is available on cbs.com, CBS All Access, and On Demand. You can also listen to "Sunday Morning" audio podcasts at Play.it. Be sure to follow us on Twitter (@CBSSunday), Facebook, Instagram (#CBSSundayMorning) and at cbssundaymorning.com.

For more info:
Thanks for reading CBS NEWS.
Create your free account or log in
for more features.