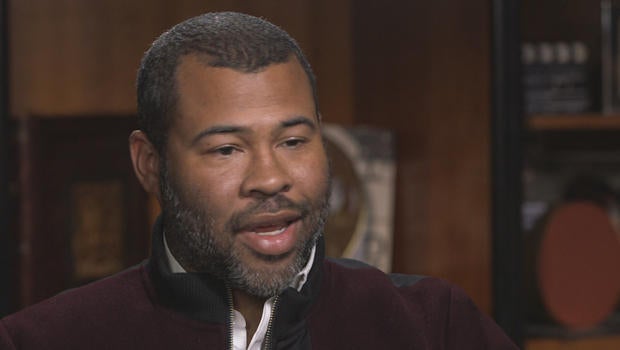 Jordan Peele on "Get Out," Trump, race and art
UPDATED: When they call for "The Envelope, Please..." at the Oscars, fans could be rooting for novice director Jordan Peele. His "Get Out" has been nominated for Best Picture, and he's been nominated for Best Director and Best Original Screenplay. Peele's new movie has created quite a stir, as Tracy Smith shows us:
To filmmaker Jordan Peele, a stroll on the set of Alfred Hitchcock's "Psycho" at Universal Studios is a little slice of horror heaven.
"Are you kinda geeking out a little bit?" asked Smith.
"I'm totally geeking out!" he laughed. "I feel like I'm standing in the same place that the great directors stood. And it's just the coolest thing!"
Right now, the coolest thing in Hollywood might be Jordan Peele himself -- the man who wrote and directed last year's suspense juggernaut, "Get Out."
It soared with critics and audiences alike … a ticket-selling monster that cost less than $5 million to make, and earned more than $250 million at the box office.
And here's something even more staggering: it's the first movie Peele ever directed.
The way his film was received, he said, was "Unreal."
The movie is a sharp look at race relations … a tense thriller with some much-needed comic relief. Daniel Kaluuya is Chris, a New York photographer who goes to visit his white girlfriend's family upstate. They all seem well-meaning at first, but Chris soon realizes they're anything but:

"The point is that, you know, at the end of the film everyone's cheering Chris on, no matter who you are," said Peele. "And so I felt, like, something about that would make for a better conversation about race after the film than before it."
"And you feel like that's happened?" asked Smith.
"Yeah, I've seen that happen. Where it's awkward to talk about race, it's less awkward to talk about the film 'Get Out.'"
Smith asked, "I know you talked about how important it is that people are having conversations now. That's one of the cool thing you like to hear. This is also a time when there are lawmakers who aren't going to attend the State of the Union because they think our president's a racist. Where are we?"
"You know, the president is a racist, which is very sad," Peele said. "I'm disheartened by policies that are xenophobic and sexist, and there are many strides backwards every day.
"So what I am encouraged by is that the movie 'Get Out' has been heard and received, and that I'm seeing many other examples of art and film and television that are expressing these pains, frustrations, love in new ways, and that they're being received, and heard."
These conversations about race are something Peel has been pondering his whole life.
His mother, Lucinda (who is white), raised him on her own, encouraging his creativity with homemade Halloween costumes and lots and lots of movies.
His dad (who was black) left the picture early on.
"It's no accident my art is exploring what the African American identity is and means," Peele said. "Not having my father around to guide me in what that means, I think, left me with a lot to question and explore."
His first chance to really explore that was "Key & Peele," the sketch comedy show Peele created with Keegan-Michael Key. They found new ways to talk and joke about race, in bits like this one where Peele played President Obama and Key his "anger translator," Luther:

Smith said, "Your Obama is one of your most memorable impressions."
"Well, now, are trying to get me to do it?" Peele said.
"Yes, actually. Thank you!"
"I don't need much prompting. I'm a ham. In my heart, I'm a ham," he laughed. "As long as it makes people laugh, I will shamelessly try to -- and it also feels so cool to be Obama. So much cooler than Jordan Peele!"
"Key & Peele" ended after five seasons. And while Peele won't say it's gone forever, he's got other priorities now.
When asked if it's true he won't be in front of the camera again, Peele laughed: "Yeah. That's the idea. Daniel Day Lewis and I are both out!"
"How can you say that?" asked Smith.
"Well, you know, acting is just nowhere near as fun for me as directing."
Peele signed a deal with Universal to make his next movie, and he's partnered with CBS All Access to produce a new "Twilight Zone" series. And he's busy at home, too. He and his wife, actress Chelsea Peretti ("Brooklyn Nine-Nine"), welcomed a baby boy last summer.
Smith asked, "I know it's cliché, but do you say, 'I'm gonna be that dad that I never had'?"
"Yeah, I guess so. Really, I want to be the type of dad that my mom was, you know?" he laughed.
No doubt Mom's proud. Peele and "Get Out" were nominated for two Director's Guild Awards … and the Oscar buzz is building. But suspense is something Jordan Peele seems well-equipped to handle.
He said, "Honestly, there's no award that will ever compare to the feeling that I've been able to give people a movie that they needed. I mean, it's just so unbelievable."
"That's better than any award?"
"Oh, 100%, 100%."
"But the awards would be nice," Smith offered.
"The awards would be nice, 'cause then I can be, like, 'See? I told you!'" he laughed.

For more info:
Thanks for reading CBS NEWS.
Create your free account or log in
for more features.