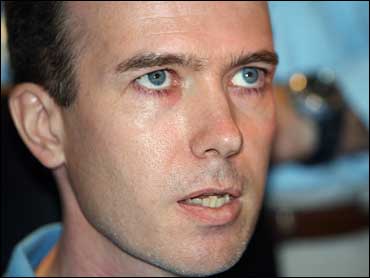 JonBenet Confession Under Scrutiny
As more details of John Mark Karr's confession to the killing of JonBenet Ramsey surface, several aspects of the former schoolteacher's account raise questions about his role in the 6-year-old's death in 1996.
Karr claims he drugged JonBenet and then had sex with the child, but an autopsy said a blood screening showed no drugs or alcohol in the child's body. Also, while Karr reportedly claims to have sexually assaulted JonBenet, no semen was found on her body. However, the little girl did have small vaginal abrasions.
Karr has not yet been formally charged, Boulder, Colo., district attorney Mary Lacy said in a news conference Thursday, adding that there is "much more work" to be done in the case. She warned the public not to "jump to conclusions," and suggested that the arrest may have been forced by other circumstances, including the need for public safety and fear that Karr might flee.
Karr's ex-wife, Lara Karr, who divorced him in 2001, told KGO-TV in San Francisco that during the 1996 Christmas season, when JonBenet Ramsey was strangled and beaten to death in Colorado, she and her then-husband were living in Alabama — and that she was with him the entire season.
A Thai police official said Karr told Thai interrogators that he picked up JonBenet at her school and brought her to the basement the day she was killed, Dec. 26, 1996, the day after Christmas — a highly unlikely scenario.
DNA was found beneath JonBenet's fingernails and inside her underwear, but Wood said two years ago that detectives were unable to match it to anyone in an FBI database. It was not known whether investigators had any DNA evidence against Karr, despite serving time in a California jail in 2001 on child pornography charges. Sonoma County Chief Deputy District Attorney Joan Risse confirmed the pornography charges and an outstanding arrest warrant against a John M. Karr, though she didn't know if he was the same person being held in the Ramsey case.

CBS News 48 Hours correspondent Erin Moriarty reports that investigators may have arrested Karr this week not because they had definitive evidence linking him to the Ramsey murder, but because they feared he might hurt a child in Thailand.

A former Boulder district attorney who investigated the Ramsey case tells Moriarty he has serious doubts about any confession because of the amount of public information surrounding the case. "I am very concerned about the viability of this case today, it does not sound to me like they've done their homework sufficiently to have arrested him at this time," says Trip DeMuth.

But the deciding factor will be the DNA evidence found at the crime scene.

"I think if this DNA excludes this suspect, this prosecutor has a serious problem on her hands," DeMuth says.

Sources tell CBS News tests have been conducted, but the results are not yet known. Karr was given a mouth-swab DNA test in Bangkok, according to a law enforcement official who spoke on condition of anonymity because of the ongoing investigation.

If the DNA does not match Karr's, this won't be the first time investigators thought they had evidence leading to the killer.

No evidence against Karr has been made public beyond his own admission. U.S. and Thai officials did not directly answer a question at the news conference Thursday about whether there was DNA evidence connecting him to the crime.

Even the Colorado professor who swapped four years' worth of e-mails with Karr and brought him to the attention of prosecutors in May refused to characterize the suspect either as killer or kook.

"I don't know that he's guilty," said Michael Tracey, who teaches journalism at the University of Colorado. "Obviously, I went to the district attorney for a reason, but let him have his day in court and let JonBenet have her day in court and let's see how it plays out."

A source described the e-mails to CBS News as "hair-raising — to see what he'd done, or contemplated doing, to children." And an FBI source tells Moriarty that Karr once wrote an e-mail to Patsy Ramsey saying he was sorry and that her daughter did not suffer.

Karr will be taken within the week to Colorado, where he will face charges of first-degree murder, kidnapping and child sexual assault, Ann Hurst of the Department of Homeland Security told a news conference in Bangkok. Karr was given a mouth-swab DNA test in Bangkok, according to a law enforcement official, and will be given another DNA test when he returns to the United States, the official said.

"I was with JonBenet when she died," Karr told reporters Thursday, visibly nervous and stuttering as he spoke. "Her death was an accident."

Asked if he was innocent of the crime, Karr said: "No."
---

Read a statement from John Ramsey,
JonBenet Ramsey's father.

---
As Karr was escorted to his guesthouse by U.S. and Thai authorities to pick up his belongings, he told the AP: "I am so very sorry for what happened to JonBenet. It's very important for me that everyone knows that I love her very much, that her death was unintentional, that it was an accident."

Asked what happened when JonBenet died, he said: "It would take several hours to describe that. It's a very involved series of events that would involve a lot of time. It's very painful for me to talk about it."

Dressed in a baggy turquoise polo shirt and khaki pants, Karr said that JonBenet's death was "not what it seems to be," though he declined to elaborate. "In every way," he added, as authorities bundled him into a waiting vehicle, "it's not at all what it seems to be."

Some feared the case would never be solved — and as investigators failed to produce suspects, some suspicion fell on the girl's parents, John Ramsey and his wife, Patsy, who died of ovarian cancer in June.

Karr had been in Thailand five times over the past two years, arriving most recently in Bangkok on June 6 from Penang, Malaysia, Suwat said. He was looking for a teaching job in Thailand, Thai police official Lt. Gen. Suwat Tumrongsiskul Suwat said.

Suwat told reporters that Karr insisted his crime was not first-degree murder.

"He said it was second-degree murder. He said it was unintentional," Suwat said. He said Karr told Thai interrogators that he picked up JonBenet at her school and brought her to the basement. "He said he loved this child, that he was in love her. He said she was very pretty, a pageant queen. She was the school star, she was very cute and sweet."

The Thai officer quoted the suspect as saying he tried to kidnap JonBenet for a $118,000 ransom but that his plan went awry and he strangled her to death.

Karr's ex-wife said he often spent time reading up on the cases of Ramsey and Petaluma, Calif., resident Polly Klaas, who was abducted and slain in 1993. She also said she does not believe that her husband committed the crime.

His father told The Denver Post that while Karr was in college as an adult, a professor encouraged him to write a book about the Ramsey case after being impressed with a school paper.

"He researched everything he could about her," Wexford Karr said.

Hurst said Karr, who had traveled extensively across the world, may also be connected to a prior case in California's Santa Rosa County. She did not provide further details.

Asked how long he had been a suspect, she said, "A long time. I can't say specifically."
Thanks for reading CBS NEWS.
Create your free account or log in
for more features.